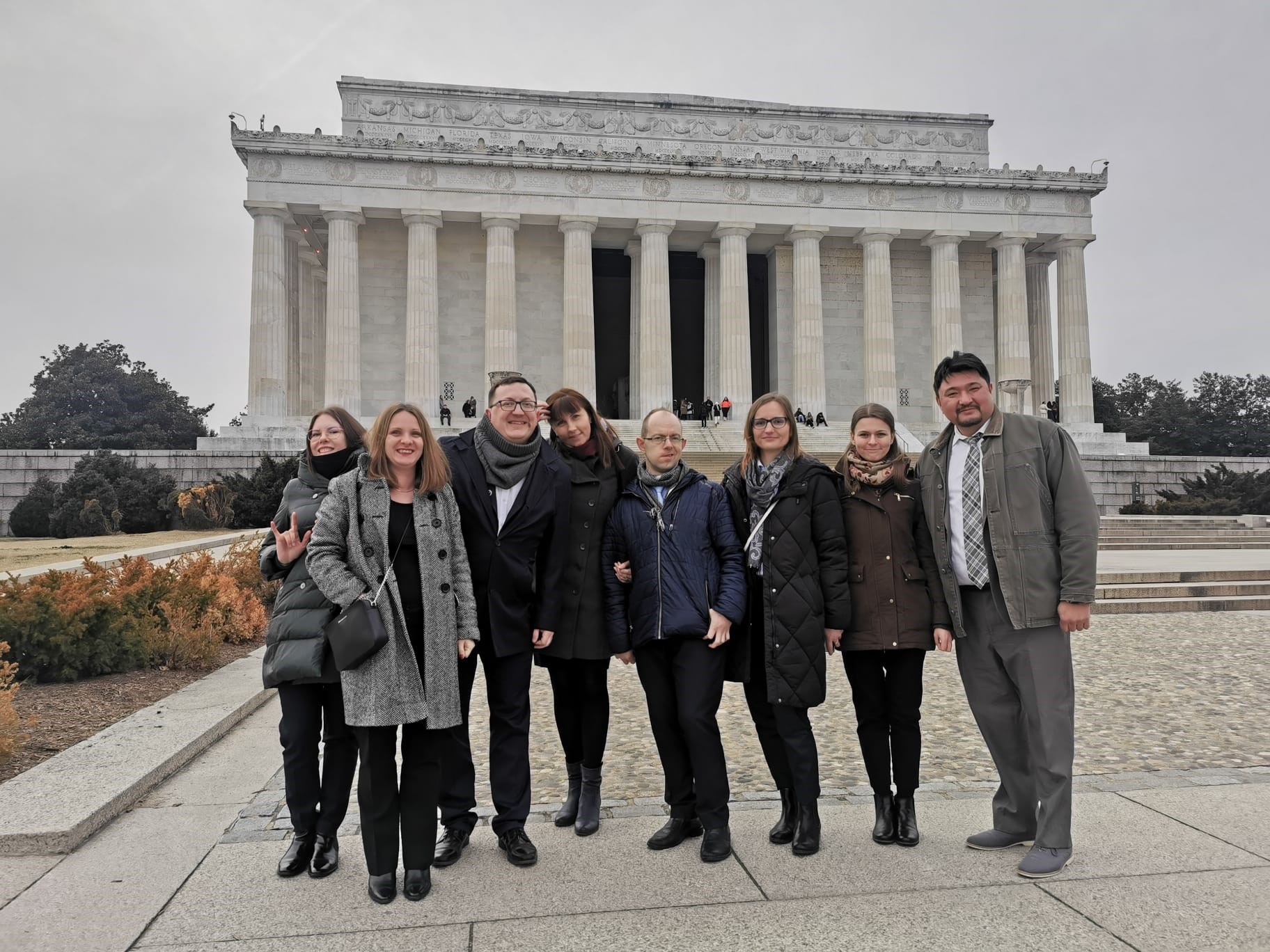 In February, the Open World delegation of professionals who serve and represent individuals with disabilities in Poland visited the United States for a project focused on the social inclusion of people with disabilities. Delegates represented different groups of people with disabilities and sectors, including social care, education, and advocacy for independence. During their program, the delegation exchanged cultural perspectives on support systems, accessibility, and social inclusion from American organizations, non-profit agencies, and educational institutions.
In Washington DC, the delegates visited Gallaudet University – the only higher education institution in which all programs and services are specifically designed to accommodate deaf and hard-of-hearing students. The delegation took part in a campus tour and had the opportunity to talk to University Representatives.
After two days in the capital, the delegation traveled to Kentucky to meet with the Friendship Force Western Kentucky, which allowed the delegates to exchange expertise, share ideas, and identify similarities and differences on policies and attitudes around social inclusion between the U.S. and Poland.
While in Indiana, the delegation met with city officials to learn about government assistance for people with disabilities. They met with Mayor Lloyd Winnecke in Evansville to examine policies that make services more accessible to those with disabilities, such as interpreters for 911 dispatch, low-cost group homes, and subsidies for mobility devices like motorized wheelchairs. The delegation also met with U.S. Congressman Larry Bucshon to discuss how people with disabilities can communicate their needs to representatives.
The delegation visited educational institutions in Indiana, including Mt. Vernon Middle School, West Elementary School, and the University of Southern Indiana, which coordinates services and academic accommodations for students with disabilities to ensure equal access to facilities, programs, services, and resources. At Brescia University in Owensboro, Kentucky, the delegates spoke with undergraduate students about advocacy for individuals with disabilities and how advocacy, laws, and life differ in Poland and the U.S. As unemployment of people with disabilities is still a significant problem in Poland, the delegates met with companies that provide accessible employment opportunities, including Toyota Motor Manufacturing Indiana, Old National Bank, and SMART Arts and Crafts.
By the end of their visit, the delegation received a variety of perspectives and methods of administering inclusive and accessible educational institutions, workplaces, and democratic systems of government, while sharing their language, culture, and identities with people across the U.S. American Councils is grateful to facilitate this exchange and looks forward to further collaborations surrounding the social inclusion of people with disabilities.
The Open World program is funded by the United States Congress and is operated by the Congressional Office for International Leadership. Open World brings emerging leaders from Eurasia to the U.S. for an intensive exchange with their professional counterparts. American Councils is a proud partner for Open World. Learn more about Open World.