Diversity, Equity, & Inclusion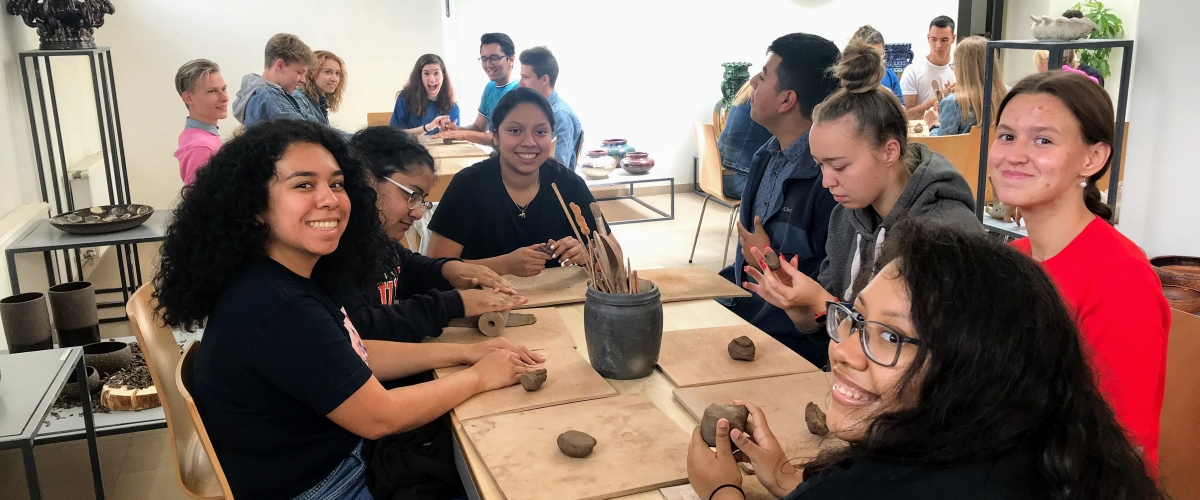 We believe international education is for everyone.
Who We Are
Diversity, equity, and inclusion are core to the mission and vision of American Councils as an international organization working to empower individuals and institutions to address challenges in a diverse and interconnected world.
Our programs work to build mutual understanding through cross-cultural learning and communication that values cultural diversity and reflection. Through these processes, our participants grow, and their understanding of the world deepens. The nature of our work uniquely provides us opportunities to grow as an organization, as we seek to understand and expand the diversity of perspectives, opinions, and backgrounds among program participants and staff members.
 
What We Believe
We believe diversity – including but not limited to differences of race, ethnicity, national origin, sex, sexual orientation, gender identity or expression, religion, age, disability, geographic location, and socio-economic status – makes our programs and our workforce stronger.  
We believe that international education should be accessible for all. We believe that cultural and demographic diversity enriches and strengthens our world and serves to cultivate respect for the communities with which we work. We promote diversity, equal opportunity, and inclusion, embracing individual and social differences both within our own ranks and among those we serve. We support a diversity of perspectives and opinions, which build a strong foundation for an effective, growing, and multifaceted organization.
 
What We Are Doing
We believe that diversity and inclusion should be embedded throughout all aspects of our work, and that change requires sustained and intentional effort at all levels of our organization. Below are some of American Councils ongoing activities focused on fostering inclusion among our participants and our colleagues.  
The Committee on Diversity, Equity, and Inclusion (CoDEI), formed in 2017, is a staff-led initiative that strives to foster interdepartmental collaboration across American Councils outbound programs to support equity, inclusion, and access to study abroad and cross-cultural educational opportunities for a diverse U.S. student population. CoDEI regularly hosts brownbag learning sessions focused on participant support, contributes to participant recruitment efforts, and shares diversity and inclusion resources across the organization. Among its activities, CoDEI supports the following scholarship opportunities for American Councils participants: 
The Staff Committee on Inclusion, Diversity, and Equity (SCIDE) focuses on leading discussions and proposing actions that promote diversity, equity, and inclusion within American Councils. Specifically, SCIDE concentrates on internal policies, procedures, and recruitment practices, including hiring, promotion, and development of American Councils staff. The committee includes staff from overseas field offices and Washington, DC, representing various departments, levels of tenure, and backgrounds. 
The Task Force on Diversity and Inclusivity has been established by the Board of Directors. Suggestions and recommendations of the Task Force will be presented to the Board of Trustees for discussion and subsequent action. The task force comprises of 3-4 members of the Board of Trustees and 3-4 AC staff members.
American Councils staff may join a number of Affinity Spaces designed for employees representing underrepresented groups, including but not limited to spaces for staff who identify as part of Asian, Black, or LGBTQ+ communities. 
All American Councils staff and participants have access to Ethics Gateway, where they may confidentially report any concerns or incidents including but not limited to biases, discrimination or harassment, or misconduct. 
We are also proud of our partnerships with leading organizations in the field of education abroad that promote diversity and inclusion, including the following:  
Diversity Abroad  
The Forum on Education Abroad  
NAFSA  
Generation Study Abroad  
Mobility International USA
Coalition for Racial & Ethnic Equity in Development
 
Where We Are Going
We strive to cultivate an inclusive work environment where all employees are engaged and have the opportunity to develop and succeed. 
American Councils recognizes that diversity, equity, and inclusion should be woven through all that we do as an organization, with an emphasis on action, and that this work is ongoing, with no defined endpoint.  
Through ongoing engagement with and commitment to this work, we will strengthen our capacity to engage in our mission as an organization. In addition to advancing our knowledge and representation of diversity, equity, and inclusion internally as an organization, we will continue to strengthen our work to recruit and provide inclusive support for diverse staff and participants on American Councils programs.