Philanthropic Initiatives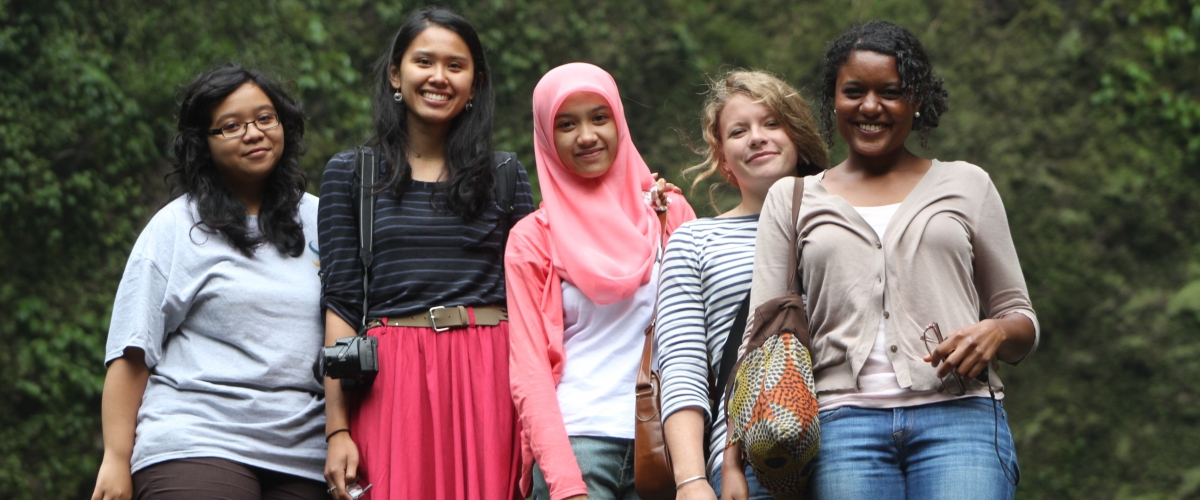 To date, we have built a community of more than 94,000 alumni, including national leaders, ministers, members of parliament, ambassadors, and CEOs. Donate today to help us expand access to international education and create a more productive and informed world.
These funds and fellowships support American Councils' mission to foster excellence in international education and provide vitally important opportunities for the next generation of global leaders.
 
Afghanistan Emergency Fund
We need your help to protect staff and participants in Afghanistan! The crisis in Afghanistan has caused immense upheaval for all of its citizens. Particularly at risk moving forward are those who worked for, or are openly associated with, U.S. organizations such as American Councils.
American Councils is committed to supporting our staff and alumni to the fullest extent possible as this emergency continues to unfold but we need your help! Please consider a donation to help support our current and former staff, their families, and program alumni during this time of extreme need. Your donation will help address the urgent needs of American Councils' staff and their families; former staff members; and past participants in American Councils programs who are at-risk due to previous involvement in U.S. funded activities.  The support includes payments to individuals––located both within Afghanistan and in third countries––to cover urgent short-term needs such as food, shelter, and medical care.
Fund for the Future
Your donation to the Fund for the Future directly supports American Councils and the pursuit of its mission. The Fund for the Future is a long-term campaign focused on strengthening American Councils, supporting direct investments into its scholarship programs, and pursuing research-based program initiatives directly related to its mission.
Diversity and Inclusion Fund
American students that study abroad often fail to mirror the diversity of the US at large. This fund supports traditionally under-served and disadvantaged segments of the US population, because international education is for everyone. Recipients may apply their award to one of 9 study abroad programs in countries such as Albania, Kazakhstan, and Taiwan.
Dan E. Davidson Fellowship
The legacy of Dr. Dan E. Davidson, American Councils president emeritus, continues through this fund. Designated for scholars and academics, this fellowship supports Americans engaged in the study of less commonly taught and critical languages, as well as field research and area studies in some of the world's most strategically important regions.
Robert Rose Education Award in Hydrogen and Fuel Cell Technology
The Robert Rose Education Award in Hydrogen and Fuel Cell Technology is a tribute to the late Robert Rose, a longstanding member of American Councils' board of trustees and founder of the US Fuel Cell Council, the national trade association for fuel cell technologies (now known as the Fuel Cell and Hydrogen Energy Association). The Rose Education Award is open to doctoral and master's students or recent graduates from across the globe seeking to gain leadership skills to improve global collaboration and community-building in the emerging field of fuel cell technologies.  
Kosovo American Education Fund (KAEF)
Established in 2004, this fund is dedicated to the long-term economic development of Kosovo through the education of its most promising youth and professionals. KAEF provides fully-funded fellowships to Kosovo's young leaders, enabling them to pursue graduate education at top-level US universities. Upon completing their graduate studies, fellows return home to utilize the tools and skills gained to generate sustainable, positive change in Kosovo.
Taiwan Abroad Scholarship
This fund supports American undergraduate and graduate students studying Mandarin Chinese, a critical world language, in the culturally rich and diverse setting of Taiwan. Donations help to prepare our next generation of global leaders develop a deeper, more nuanced understanding of the Chinese language.
Participant Emergency Fund
American Councils is proud to administer life-changing, year-long cultural exchange programs. Occasionally, students and program participants face obstacles beyond the program's scope, and a little bit of extra help is needed. That is where this fund comes in.
---
Ways to Give


 
By mail or phone (202.833.7522)

In securities

Through a legacy gift
 
Checks made payable to "American Councils" may be sent to:
Attn: Huma M. Shamsi
1828 L Street NW, Suite 1200
Washington, DC 20036