Albanian Civil Society Activist Preserves Cultural Heritage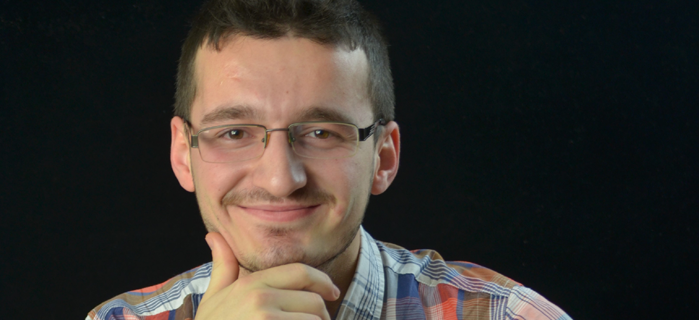 Mirgentian, a YES Alumni from Albania, sits down with a fellow alum to discuss his civil society work since his exchange year in Wisconsin. 
This interview with Youth Exchange and Study (YES) alumni Mirgentian was conducted by FLEX alumna Tatyana with minor edits from American Councils. Read the original interview here and check out the YES Program website for more stories from our YES alumni.
Albania has come a long way since its turbulent and uneven transition to democracy in the early 1990s. Although a member of NATO and an official candidate country for EU membership, the country remains one of the poorest in Europe. Still, many young people in Albania strive to cultivate a strong civil society with full democratic participation among its youth. Mirgentian, a Youth Exchange and Study (YES) alumnus, engineer, and civil society activist, is one such example.
Mirgentian has a remarkable resume that doesn't quite connect at first glance: By day, the YES alumnus works toward his Master's degree in Civil Engineering; by night, he volunteers with a local NGO to preserve and restore a former political prison in Albania. Prior to starting his master's, Mirgentian directed a youth center and participated in the Albania chapter of the UN Women's HeForShe Campaign.
Mirgentian sat down with fellow exchange program alumna Tatyana to discuss what he's been up to since his YES Program exchange year in Park Falls, Wisconsin and how he's combining his passion for engineering and social activism to affect change in Albania.
Tatyana: What are you currently involved in these days in Albania?
Mirgentian: I'm now in my second year of Master's [studies] in Civil Engineering, with a focus on infrastructure and transportation. Besides studying, I'm currently volunteering for the nonprofit Cultural Heritage Without Borders. The organization's mission is to rescue and preserve cultural heritage affected by neglect or human and natural disaster.
Tatyana: Tell us more about your volunteer project with Cultural Heritage Without Borders.
Mirgentian: I'm helping out with the [NGO's] Spa Prison preservation project. During the Communist era, Albania's political prisoners were confined in the Spa Prison but now most of the complex is ruined and the memory of the prison's past is rapidly disappearing.
Last year, the World Monuments Fund listed the prison complex as one of the 50 most endangered monuments worldwide. Our aim is to preserve the prison's history and share stories of the prisoners who were kept there. Some of these prisoners held the first democratic protests in the history of Albania and greatly contributed to the development of the country's civil society movement.
It's crucial to remember Albania's important milestones and build on [them]. I'm helping out by digitally sketching the prison. Once we redesign the existing buildings digitally, it will be easier to decide which elements should be restored.
Tatyana: Until May 2016, you served as the executive director of the youth center Borderless. What were the main areas of your work there?
Mirgentian: At Borderless, we focused on four main objectives: sustainable development through environmental action, youth-led EU integration, social enterprises, and youth entrepreneurship.
I came to Borderless through the National Youth Congress where I served as a board member. I met some activists from Borderless and was very impressed with the projects that they were doing. That's why I joined the organization in September 2014, and six months later was selected first as deputy and then as executive director.
Tatyana: What initiative would you consider to be one of the center's main achievements?
Mirgentian: In my two years with the organization, we completed a number of great initiatives. However, one specific project springs to my mind as a highlight: our participation in the UN Women's HeforShe campaign.
The campaign's objective is to encourage men and boys to take action against inequalities that women face worldwide. Our goal was to challenge the public's perception of equality through street surveys and actions in ten Albanian cities.
In the course of the project, we interviewed lots of passers-by, collected quotes, pictures, and other valuable data, and shared our experiences on social media. We aimed not to put people on the spot, but to sensitively engage them in discussions. After all, we didn't expect to change people's perceptions through short conversations, but we did hope to get them thinking about the issue.
Based on people's feedback, I can say that our approach was very effective. Hopefully, this project has contributed to bringing change into communities and transforming gender relations.
Tatyana: You are also very active in the YES community in Albania. This year, you initiated and led a project funded by the Transformational Leadership Training program titled #ARTitOUT Albania: Motivating Youth to Transform Social Issues. What was this project about?
Mirgentian: Social apathy among youth is a huge problem in Albania and I wanted to challenge this issue through art. By engaging them in artistic events with a social message, I aimed to inspire young people to become active in the change process.
Six painters and ten photographers were invited to take part in the initiative. Each artist was asked to create socially relevant work on the topics of unemployment, lack of educational opportunities, and poverty. Their finished works were displayed at an exhibition at the Youth Center [in] Tirana in March 2016.
Youth attendees were then asked to vote for the two pieces of art that had the biggest impact on them and the winners were announced at a special award ceremony at the end of the exhibition period. Interestingly, both winning works conveyed a message of hope. The selected painting, titled Go Beyond Your Limits, showed a young woman with beautiful colorful hair in front of a bright background. The [winning] photo, titled He is praying for a better future, portrays a thoughtful young man absorbed in prayer. This project was conducted in partnership with three other YES alumni: Klea (YES 2012), Elvana (YES 2012), and Sherina (2014).
Tatyana: Do you think the YES program influenced your interest in civil society work?
Mirgentian: It definitely did. My YES experience helped shape my interests in civil society and human rights and gave me the necessary drive to pursue this work. While in the US, I participated in a game marathon to raise money for children's hospitals and took part in other charity events.
Now everyone is asking me why I'm training to become an engineer if I'm so interested in civil society work. The truth is, I really love doing both and am hoping to contribute to my community through the combination of my technical and project management skills. My current project with Cultural Heritage Without Borders reassures my hope that it may be possible.
Tatyana: What advice would you give to future YES alumni?
Mirgentian: You've received a unique opportunity to develop yourself and you should build your career in the field that you love most. If you do so, it will unavoidably have a positive impact on others whether it's through music, engineering, healthcare, or IT. But don't forget to be a part of the community in which you live in as well and contribute to positive social change whenever you can.
About the YES Program
Congress established the Kennedy-Lugar Youth Exchange and Study (YES) program in October 2002 in response to the events of September 11, 2001. The program is funded through the US Department of State and sponsored by the Bureau of Educational and Cultural Affairs (ECA) to provide scholarships for high school students from countries with significant Muslim populations to spend up to one academic year in the United States.
Students live with American host families, attend high school, engage in activities to learn about US society and values, acquire leadership skills, and help educate Americans about their countries and cultures.