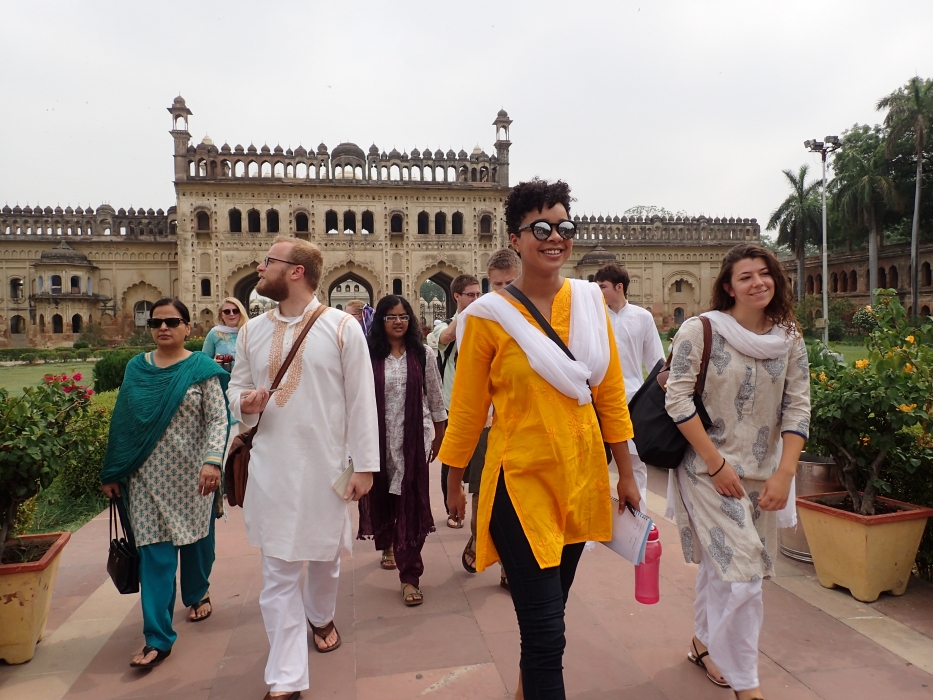 Critical Language Scholarship Program (CLS)
The Critical Language Scholarship (CLS) Program is a summer study abroad opportunity for American college and university students to learn languages essential to America's engagement with the world. CLS Program Scholars cover one year of university-level study over the course of a summer and develop essential intercultural fluency in regions that are critical to U.S. national security and economic prosperity. 
The CLS Program is part of a broader U.S. government effort to expand the number of Americans studying and mastering critical foreign languages. Participants are expected to continue their language study beyond the scholarship period and apply their critical language skills in their future professional careers. CLS Program Scholars are citizen ambassadors, sharing what it means to be American and promoting mutual understanding through meaningful exchanges with their host communities. 
Scholars are selected from a national pool of applicants representing a diverse range of institutions, including four-year colleges and universities, community colleges, and minority-serving institutions such as Historically Black Colleges and Universities, Tribal Colleges, and Hispanic-serving institutions. Students of diverse disciplines and majors are encouraged to apply.
While abroad, scholars are supported by expert on-site staff. A diverse community of CLS alumni also serve as a resource for scholars who are navigating a new cultural landscape. Expenses, including flights, tuition, housing, meals, and limited medical reimbursement benefits are covered by the program, making the CLS Program an accessible opportunity for students of various means.
In addition to the overseas institutes, CLS Spark, an initiative of the CLS Program, provides opportunities for American undergraduate college and university students to study Arabic, Chinese and Russian virtually at the beginning level. CLS Spark provides students the access and opportunity to start their language learning journeys even when critical languages may not be offered on their campuses or when they may have responsibilities that prevent them from studying abroad.
Key Benefits
Develop Key Expertise: The CLS Program provides its scholars intensive language and cultural instruction in an environment designed to maximize their language gains at every level.
Strengthen Your Career Skills: Alumni of the CLS Program apply their critical language skills in a variety of professional fields in public and private sectors as well as government, helping to support America's competitiveness in all sectors.
Become a Citizen Diplomat: CLS Program scholars represent the breadth and diversity of the United States. Through personal engagement they help to spread American values and develop mutual understanding with the people of other countries.
The Critical Language Scholarship Program is sponsored by the U.S. Department of State, with funding provided by the U.S. Government. It is supported in its implementation by American Councils for International Education.
What is a Critical Language?
The United States faces complicated global challenges in the 21st century that call for an interculturally competent workforce that is able to communicate in the languages that are driving the world economy. Critical languages are those that are less commonly taught in U.S. schools, but are essential for America's engagement with the world.
East Asia and Pacific

Chinese**
Indonesian*
Japanese
Korean

South and Central Asia

Eurasia

Azerbaijani*
Russian**
Turkish*

Sub-Saharan Africa

 

Middle East and North Africa

Western Hemisphere
* Offered at all levels, including for beginners with no previous experience in the language.
** The CLS Spark initiative provides virtual instruction of Arabic, Chinese, and Russian at the absolute beginning level. The CLS Program overseas institutes require one year of previous study for each of these languages.
Every aspect of the CLS Program is designed to contribute to significant language learning over a short period of time. Scholars study and learn in an immersive environment, live with local host families or roommates, and participate in 20 hours per week of classroom study, and cultural classes and activities that augment language coursework. Scholars use their improved language capabilities to advance their academic and professional careers back home.
Funded by
US Department of State, Bureau of Educational and Cultural Affairs
Eligibility
US undergraduate and graduate students (CLS Program); US undergraduate students (CLS Spark)