Image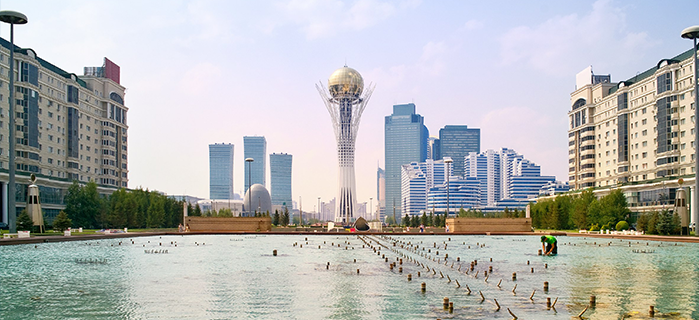 Kazakhstan will host Astana Expo 2017, a global gathering of key leaders from the business community, high ranking government officials, and cultural and educational representatives. 
Reposted from the International Projects at UW-Madison
Are you an outgoing person who enjoys interacting with diverse groups of people? Do you want to learn more about Central Asia and enhance your language skills in a native environment? Then embrace this opportunity of a lifetime join the team of Student Ambassadors for the USA Pavilion at the Expo 2017 in Kazakhstan!
Kazakhstan will host Astana Expo 2017 from 10 June through 10 September 2017 this year's largest global gathering of key leaders from the business community, high ranking government officials, and cultural and educational representatives. Over 100 countries and international organizations will participate in the Expo and an estimated two million visitors are expected.
The theme of the Expo 2017 is "Future Energy" with a focus on green technologies, sustainable development and energy for all. Featuring the theme of the Source of Infinite Energy, the USA Pavilion shares the partnerships, triumphs and dreams of the American people and seeks to inspire all visitors with the key message: "The Energy in Each of Us Together Empowers the World". The USA Pavilion illustrates the American belief that an innovator is anyone with vision and a change-maker is anyone with a dream and the determination to follow it through.
USA Pavilion Student Ambassadors proudly represent America's great diversity and play an instrumental role in forging people-to-people ties and bolstering America's image in Kazakhstan and Eurasia. Student Ambassadors are young people who will form a team to support the USA Pavilion during the three month Exposition. They will interact with visitors, sponsors, government officials and dignitaries. Eurasia Foundation, the University of Wisconsin-Madison, and American Councils for International Education are partnering to facilitate the Student Ambassadorship program for Expo 2017.
Student Ambassadors will receive two Study Abroad credits (fully-paid) through Bryn Mawr College, free housing, a monthly stipend, round-trip airfare to and from their current place of residency, and a unique opportunity to represent the USA at this international event. For more details, see the position description.
In total, approximately 40 Student Ambassadors (undergraduate, graduate students or even recent graduates from spring 2015), will be selected from United States colleges, universities and other academic, educational or diplomatic programs. US citizens or US permanent residents currently participating in an international education or diplomacy-related program abroad are also eligible. Familiarity with Russian and/or Kazakh is required.
Please submit your application for the Student Ambassador Program by 15 March 2017 (11:59 pm PST).
Note: Applications will be accepted and reviewed on a rolling basis, with qualified candidates being selected as early as February 28. Please see the Application Phases for more information about the application process.