Image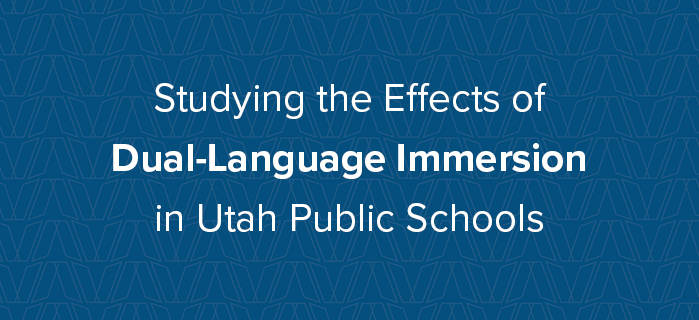 ARC is pleased to announce a two-year collaborative investigation of dual-language immersion in Utah Public Schools, funded by the Institute of Education Sciences. 
The American Councils Research Center (ARC) is pleased to announce the launch of a two-year collaborative investigation of dual-language immersion (DLI) in Utah Public Schools, funded by the Institute of Education Sciences (IES), US Department of Education. The new project will build on the results of a recently completed, IES-funded four-year investigation of dual-language immersion in the Portland Public Schools. That study, reported in the American Educational Research Journal 2017, found significant effects of enrollment in dual-language immersion on literacy. Another study, conducted in Utah and published in the International Journal of Bilingualism and Bilingual Education in 2016, found that 4th grade DLI students outperformed their non-DLI peers in math achievement1.
The new project will examine the impact of a significantly expanded system of DLI instruction at the state level. In 2009, the State of Utah enacted legislation awarding schools $10,000 per year for adding or expanding DLI programs and establishing a system of support for curriculum development, professional development, and teacher recruitment. As a result, DLI in Utah has grown from a handful of programs in 2008-09 to 196 schools serving 40,000 students in 2017-18. The study will examine Utah's DLI expansion, including an assessment of causal effects on student academic achievement and an examination of the mechanisms by which DLI yields those effects. The research will incorporate all 41 districts in the state, 22 of which currently offer DLI.
The ARC-led research team will make use of administrative data for all students who entered kindergarten in a Utah public school in the years 2004-05 through 2015-16 approximately 536,000 students. During the two-year grant, the research team will work with extant data to describe EL's access to immersion education in Utah as well as to assess the effects of immersion programs on student achievement. Instrumental variables strategy will be used to estimate causal effects on student achievement as well as differential effects of one-way and two-way programs for English learners vs. native English speakers.
1 - Burkhauser, S. Steele, J. L., Li, J., Slater, R. O., Bacon, M., Miller, T. & Zamarro, G. (2016) Partner-language learning trajectories in dual-language immersion: Evidence from an urban district. Foreign Language Annals. Volume 49, Issue 3, Fall, pp. 415 433.

---
RESEARCH TEAM
Principal Investigator: Robert Slater, Ph.D., rslater@americancouncils.org
Co-Principal Investigators:
Jennifer L. Steele, Ed.D., steele@american.edu
Johanna Watzinger-Tharp, Ph.D., j.tharp@utah.edu
Gregg Roberts, Gregg.roberts@schools.utah.gov
---
IMPLEMENTING PARTNERS
The American Councils Research Center (ARC) provides evidence for policy and management decisions on language in education and the workplace through the development, collection and dissemination of research results. As part of this mission, ARC builds on the accomplishments of American Councils in the areas of language assessment, advanced language acquisition, immersion learning, and intercultural development and contributes regularly to the evaluation and design of immersion programs.
The Utah Public School System (K-12) operates within Local Education Agencies (LEAs) governed by locally elected school boards and superintendents. In 2015, Utah had 633,896 students enrolled in a total of 1,085 schools in 148 LEAs (41 school districts and 108 charter schools). As of the 2016-17 school year, the Utah statewide system is composed of a total of 161 dual-language schools: Spanish (88 schools), Chinese (45), French (20), Portuguese (6), and German (2). These schools include elementary, middle and high school.
The University of Utah, the state's flagship university, is located in Salt Lake City, Utah. It offers over 100 undergraduate and over 90 graduate degree programs, serving over 30,000 students from diverse backgrounds. As an R-1 institution, and ranked among the top 25 public research universities, the University of Utah is dedicated to serving the people of Utah and the world through the discovery, creation and application of new knowledge.
American University, a Carnegie-classified research university located in Washington, D.C., is deeply committed to creating knowledge in the arts, humanities, social sciences, natural sciences, and the professions. The research will be undertaken in partnership with AU's School of Education, which is dedicated to creating and ensuring excellent learning experiences for every child.
SPONSOR
The study is sponsored by the US Department of Education's Institute of Education Sciences (IES) through a two-year research-practitioner partnership grant.