Image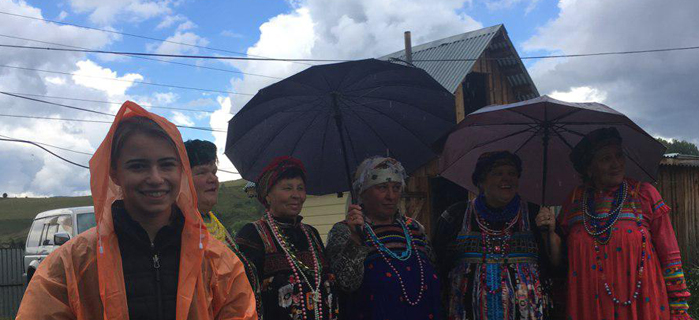 Hello!

I'm Isabella, and I'm very excited to tell you all about my very busy past semester as a participant on the American Councils Russian Overseas Flagship Program, hosted at Al-Farabi Kazakh National University (KazNU) in Almaty, Kazakhstan!

I've been studying Russian since I was a freshman in college. When I started, I did not think that it would turn into anything very serious. But since then, I have not stopped, and I'm always looking for new ways I can use my Russian. I am really lucky to have gotten the opportunity to study on the Russian Overseas Flagship Program because it has allowed me to completely immerse myself in the language to a degree that I haven't been able to in the past and in a unique and supportive environment.

This year got off to an exciting start. Even before formal language classes began, we set off for our first long-distance trip to the peaceful village of Poperechnoye, which is located in Northeastern Kazakhstan, not far from the border with Russia.

In Poperechnoye, we got a glimpse of rural life in this area of the world: we made cheese from farm-made products, carried water from the local stream to the house where we were staying using a traditional contraption, relaxed in our hosts' private banya, dressed in traditional Russian clothing, learned how to heat a Russian oven, made traditional dolls used for protection against unclean spirits, and went hiking in the Altai mountains, which are renowned for their beauty and diversity of natural life. I also made a special friend in the village--a kitten who had taken up residence in the front room of the house where I was staying. I named him Ponchik, which means "doughnut" in Russian because he was so sweet! Our trip to the village showed us a side of Kazakhstan that is the complete opposite of the image we see in Almaty, and proved just how diverse the different regions of Kazakhstan are.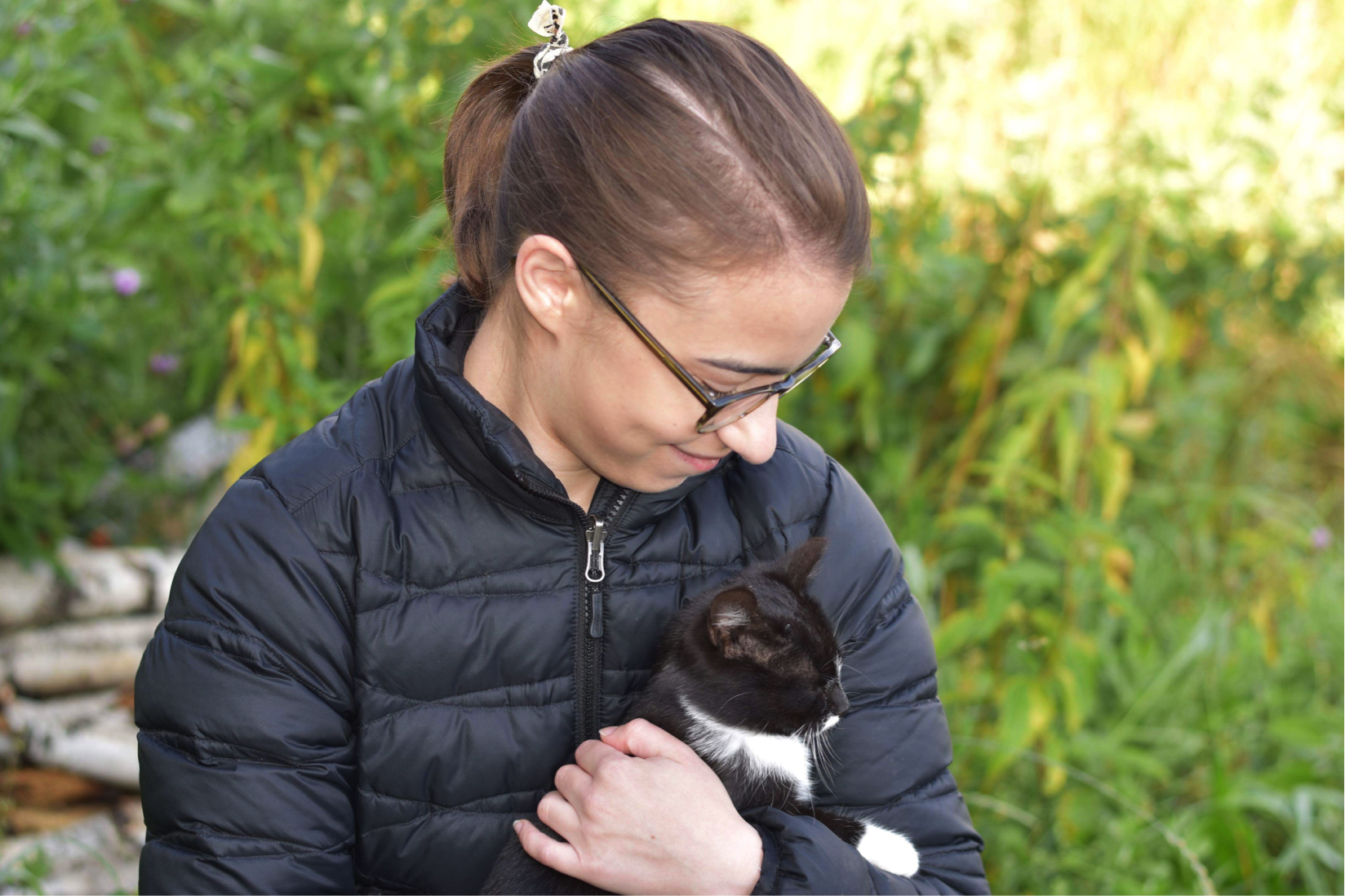 After our trip, classes began in full swing. This semester I have taken classes focusing on all aspects of the language: speaking, listening, reading, and writing. We also had classes on academic writing and presentations, intercultural communication, and Russian language through literature. As electives, I've also been learning the Kazakh language and Russian and Kazakh folk dance.

Our teachers here are excellent, and our program is very rigorous, but it wasn't long before I started to feel serious progress in my language skills. We're in class about four or five hours a day, and then we often have another hour of individual tutoring. It can be tiring, but having such in-depth instruction is an invaluable resource to have. The more I learn in class, the more interesting and natural my speech sounds in informal settings as well.

It is very rewarding to know that I can use my language skills not only for academic and practical purposes, but also on an interpersonal level. I can use Russian to express my thoughts and views of the world and express myself in a way that feels natural and true to me.
One such opportunity to use my language skills, where the main focus was not learning the language itself, was in my direct enrollment course. We were given full freedom to choose a class of interest to us. I chose a class on macro-sociolinguistics. We talked mostly about cultures in which there are more than one language spoken amongst the general population.
For example, in the US, Spanish is widely spoken along with English. However, even more widely used are both Kazakh and Russian across Kazakhstan. English also plays an important role, especially as more Kazakhstani students are choosing to continue their higher education in English-exclusive programs.
In class, we discussed what advantages and disadvantages are associated with living in a multilingual culture, and what languages are used in what situations and why. My classmates were living examples of Kazakhstan's multilingualism, as they were all Kazakh-speaking first-year Master's students studying in Russian, with English as their main foreign language.
I felt lucky to be able to participate in conversations with them, and to see how the languages that surround me every day function in their lives, including my own native language. The use of multiple languages was so interesting to me that for my final project I did a comparative study about multilingualism in Kazakhstan and the US.
Another helpful aspect of the program is the language partner that I meet multiple times per week. She's a fourth-year student at KazNU, and it turns out we have a lot in common: we both study languages, do yoga, and watch a lot of Grey's Anatomy. We usually get coffee together and chat, or sometimes we go over specific vocabulary that I've heard in everyday conversation. In addition to these activities, we've also seen movies together and gone ice-skating and swimming. Having a language partner around my age has been a really fulfilling part of the program for me. I can ask her questions about the local language and culture that I might be hesitant to ask my teachers or host family. She has shown me a local perspective on the world that is not so different from my own.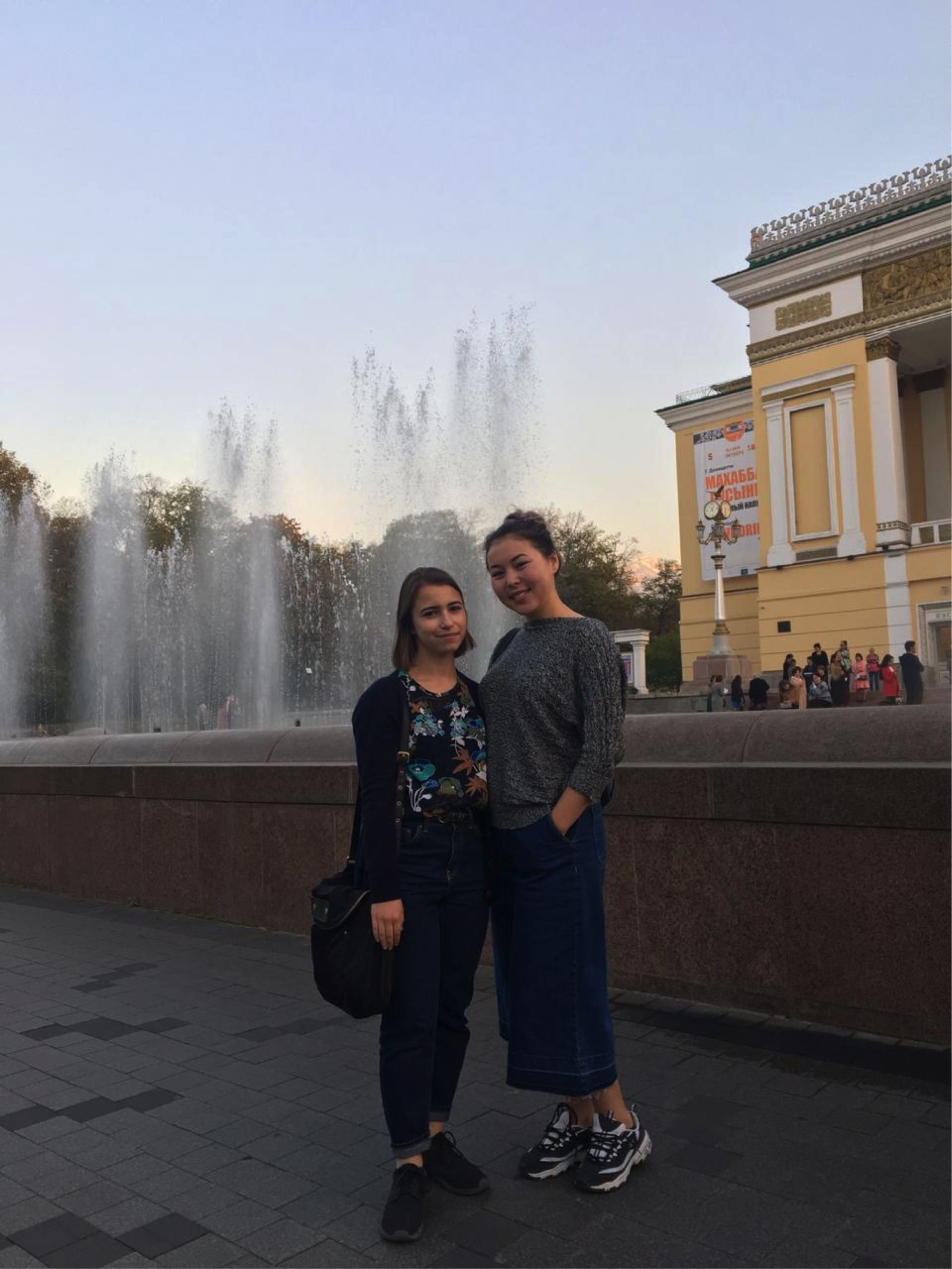 Toward the end of the semester, I also started visiting the organization where I will have my internship next semester. The organization is called the Kazakhstan Fund for Cultural, Social, and Educational Development (KFCSED), and it's a center that offers professional and personal development classes for young women studying in professional schools in Almaty. I have gone a few times to the office to get to know more about the work there, but already my colleagues at KFCSED have given me opportunities that I wasn't expecting: I went to a local TEDx Event about women's equality, I went to a gathering of the center's graduates from all years since its founding, and in the spring, through my colleagues at the fund, I expect to be able to give local lectures on my favorite subject – folklore
Of course, as everyone always says, living with a host family has also been a highlight of this first semester. Living with a host family has given me an even deeper look at life in Kazakhstan and has given a personal face to the culture I see around me every day.
During my undergraduate career, my studies focused on Russian culture, and the opportunities I found following graduation were also Russian-centered. Being immersed in Kazakh culture is certainly a leap into an unfamiliar environment.
When we first got to Almaty, I admit that I felt disoriented hearing unfamiliar names, seeing signs on storefronts in Kazakh, and hearing multiple languages on the street and on KazNU's campus. Living in a host family has given faces, names, and personal stories to this culture that originally felt nothing but foreign to me.
My host family has done everything they can to make me feel at home in their home, and that more than anything has helped me create a personal connection to my new surroundings. I feel especially lucky because my Kazakhstani family is twofold. Not only do I have a warm and welcoming set of host parents with whom I live, but I also have a kind and funny host-sister, who is only a couple years older than me and lives with her husband just around the corner. Thanks to her, I've taken pantomime classes and painting classes and attended free lectures around the city.
Writing all of this out, I cannot believe how many fun and fulfilling experiences I was able to fit into one semester. This is not my first long-term experience abroad but, just as before, I am often hit with the idea that I have found myself in a place that I was never meant to be--that is, in a place I never expected to find myself, but am very grateful that I have.
I remember when I was in the process of applying to this program, one essay question asked us to explain how our participation in this program would help to build bridges between America and the Russian-speaking world. After only the first semester, I can say that my participation in the Russian Overseas Flagship Program has already brought my language skills to a highly advanced level, opened a door to a new culture, and helped me to build a network of teachers, colleagues, friends, and family. This program is unique in its expectations for the development of our linguistic and cultural knowledge, and I am excited to delve deeper into the local languages and cultures in the coming semester.
Best wishes from Almaty,
Isabella
---
Isabella Palange is a Dan E. Davidson Fellow who is participating in the Russian Overseas Flagship.

The Russian Overseas Flagship program is a component of The Language Flagship, a national effort to change the way Americans learn languages. Flagship offers pathways for students of all academic majors and language levels to pursue advanced-level language study in one of seven languages: Arabic, Chinese, Korean, Persian, Portuguese, Russian, or Turkish.

The Russian Overseas Flagship, established in 2004, is an immersive overseas experience for undergraduate students enrolled at one of four US Flagship universities. 
The Dan E. Davidson Fellowship supports highly qualified and deserving individuals who would otherwise not have the opportunity to build the skills that allow them to operate, negotiate, and establish ties in countries critical to US economic, political, and social interests through language study and area studies coursework. Carrying on Dr. Davidson's legacy, fellowship recipients demonstrate a dedication to successful international collaboration and the development of greater mutual understanding between the US and countries around the world.