Image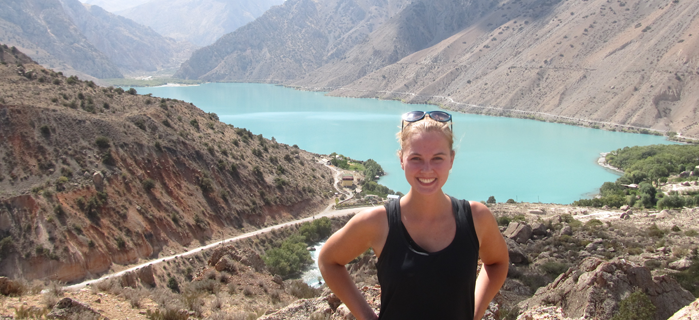 Editor's Note: Abigail is a senior Russian studies major and political science minor at Macalester College in Saint Paul, Minnesota. She spent the fall semester of 2014 studying Persian in Dushanbe, Tajikistan. She is currently writing an honors thesis about nationality and center-periphery relations in Russia.
---
Nervousness and a sinking feeling in my chest marked the first days of my semester in Tajikistan. Jetlag fatigued my body and the unfamiliar Persian alphabet twisted my mind as I struggled to read from right to left for the first time in my life.
I am very lucky to have had a number of opportunities to live outside of the United States, but no matter how many times I leave and return home I always seem to forget how overwhelming the challenges of transition can seem.
Reflecting on these obstacles a year later, however, what strikes me the most is how deep they lie buried under memories of academic successes, travel adventures, and friendships. The rough spots were smoothed out, Persian words and grammatical structures came more easily over time, and new customs and routines became familiar parts of my day-to-day life.
Learning a language in an immersion environment where this kind of transitional period is inevitable introduces skills that go beyond learning words and constructing sentences. Had I studied Persian in a classroom in the US, I would likely have spent most of the semester practicing the alphabet and simple greeting phrases. Learning Persian in an environment where I had to use it constantly not only forced me to learn the basic building blocks of the language in a matter of days, but also linked the process of learning to speak a new language to invaluable skills like active listening and mental flexibility.
It took weeks for me to understand enough Persian to carry on a conversation with my host family at the dinner table that was more complex than pointing at objects and naming them. Lacking the tools to express myself, I spent a lot of time listening. Even though I couldn't understand entire conversations, I took advantage of opportunities to learn new vocabulary. The kind of listening that is necessary when learning a new language is more intentional and active than the passive listening that we engage in every day. Not only did I listen for new words and phrases, but I also gathered information from my surroundings, and the tone and body language of the people I was listening to.
Not only am I a better listener after my time in Tajikistan, I am also better able to process and engage with the opinions of others. Understanding multiple languages gives me access to perspectives that are not always translated or translatable because I am able to consult with media sources that are not published in English and I can discuss issues directly with people in their native language. Although this allows me to access more information, it also exposes me to perspectives that are very different from and sometimes contrary to my own. Evaluating information from conflicting sources requires me to put aside my own assumptions, but ultimately allows me to make better decisions based on more complete information.
Language Matters Because
Language matters to me because it expands modes of self-expression, and facilitates understanding based on careful observation and the ability to evaluate information that may be in conflict with preconceived assumptions.
---
About the Eurasian Regional Language Program
The Eurasian Regional Language Program (ERLP) offers intensive, highly-individualized instruction in more than 15 Eurasian languages, including Armenian, Azeri, Dari, Farsi, Georgian, Kazakh, Kyrgyz, Romanian, Ukrainian, and Uzbek. Through homestays, conversation partners, internships, and volunteer activities, participants enjoy an unprecedented opportunity to immerse themselves in daily local life while receiving ongoing support and guidance from our expert overseas staff.
Add Your Voice 
Share your story on how language has changed your world by using the hashtag #LanguageMatters. Make sure to tag @AC_Global and follow the conversation!