Image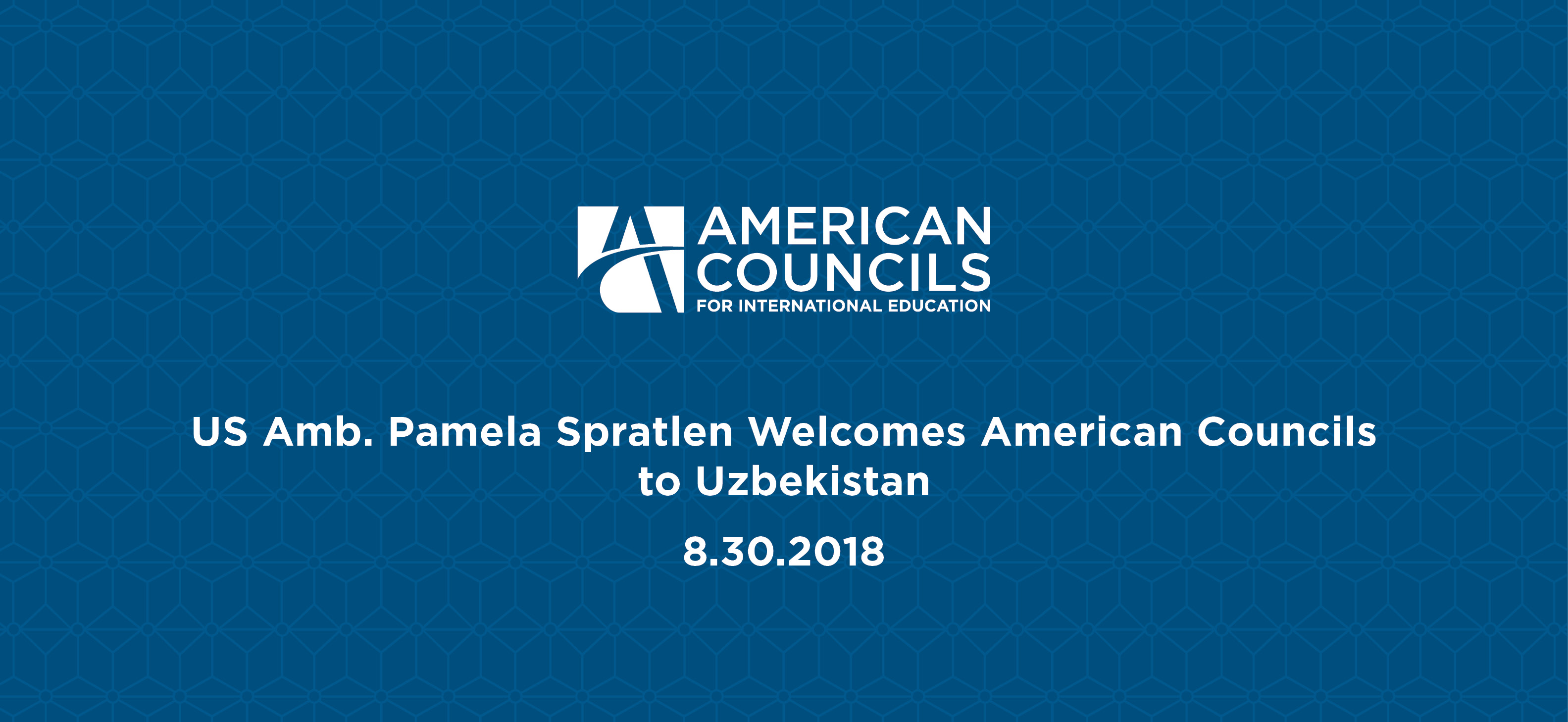 WASHINGTON, DC — US Ambassador Pamela Spratlen and Deputy Justice Minister Akbar Tashkulov officially welcomed American Councils for International Education to Uzbekistan yesterday. The US Department of State announced that American Councils is the first nongovernmental organization (NGO) to be registered in Uzbekistan in 15 years. This announcement was formalized when Uzbek President Shavkat Mirziyoyev visited the White House earlier this summer.
The new partnership between AC and the government of Uzbekistan demonstrates a "growing strategic partnership between the United States and Uzbekistan, and the government of Uzbekistan's commitment to meaningful reform and international engagement," according to Heather Nauert, Acting Under Secretary of State for Public Diplomacy and Public Affairs at the US Department of State.
"We are extremely pleased to reengage with Uzbekistan," said David Patton, executive vice president at American Councils. "We look forward to providing opportunities for American and Uzbek citizens to work together through education. There is a great deal of interest and energy on both the US and Uzbek sides to launch a variety of programs that include institutional collaboration, teacher and faculty development, research, Uzbek and English language study, experiential learning, and a host of other areas. We are excited to play a role in strengthening important ties."
Mr. Mirziyoyev visited the White House in May for the first time for a meeting on the "new era of strategic partnership" with the United States, according to a White House release. During his visit, the Uzbek president noted plans for cooperation with American Councils on several educational initiatives. 
The White House release stated: "The presidents welcomed the pending accreditation of the American Councils for International Education in Uzbekistan, which will contribute to educational cooperation between the two countries."
American Councils President Lorne Craner met with Mr. Mirziyoyev last fall at the US-Uzbekistan Business Forum in New York City. During his keynote address at the forum, Mr. Mirziyoyev expressed his interest in collaborating with American Councils, as well as the Uzbek Ministry of Higher Education, and the Uzbek Chamber of Commerce and Industry. 
Read the full White House release from earlier this year here and view yesterday's announcement from the US Department of State here.