Image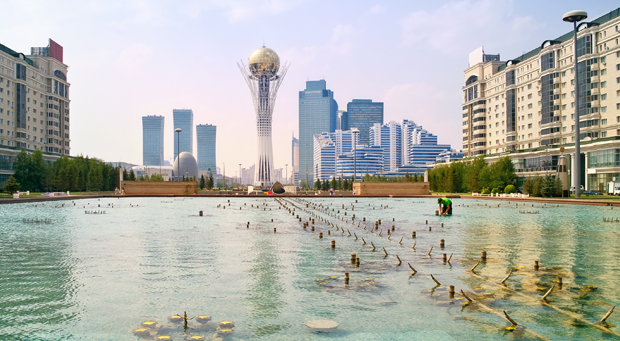 American Councils for International Education and Holding Kasipkor have signed a Memorandum of Understanding (MoU) to cooperate in the implementation of an advanced system of vocational and technical training in the Republic of Kazakhstan.
American Councils and Kasipkor will collaborate in several areas, including:
introducing new vocational-technical training models into state colleges in Kazakhstan
training faculty in advanced teaching and methodology
implementing a system-wide program in English as a Second Language for Kazakh students and faculty
This agreement complements and augments other efforts already underway by the government of Kazakhstan to establish a world-class, countrywide vocational training system.
Under the framework of the MoU, American Councils will collaborate with Kasipkor on transforming selected state colleges into centers of specialized vocational excellence; designing bilateral exchanges of US and Kazakh faculty and administrators; and recruiting international faculty with distinct industry specializations to teach and work with faculty in Kazakhstan.

For these programs, American Councils will tap its vast network of prestigious US institutions that have industry expertise in areas targeted by Kazakhstan's vocational training, including some of the finest community colleges in the US, such as Lone Star College System in Texas. With its partners, American Councils will serve as the evaluator and identifier, facilitator and project overseer, and assessor and quality controller of the partner-college program.
"The signing of the MoU marks the latest phase of American Councils' long-standing cooperation with the Republic of Kazakhstan in the education sector. The US and Kazakhstan have much to learn from one another in the educational field, which can contribute directly to the expansion of economic and scientific cooperation in the years ahead. We are very pleased to partner with Kasipkor as we embark on this exciting new project," commented Dan E. Davidson, PhD, president of American Councils.
American Councils will also cooperate with Kasipkor and the Ministry of Education and Science to develop, design, and implement an ESL training model for Kazakh students and teachers that will combine training in Kazakhstan with overseas study in the US. American Councils will share best practices in US higher education and vocational education systems through study tours and information trips for Kasipkor, the Ministry of Education, and Science, and other Kazakh government officials.
American Councils has grown its presence and its partnerships in Kazakhstan since 1991, administering educational programs funded by the US Department of State, the Library of Congress, the United States Agency for International Development (USAID), and the US Central Asia Education Foundation.
American Councils has also played a key role in the implementation of the Kazakhstan government-funded Bolashak Presidential Scholarship program, which includes placing students in US institutions, the testing and selection of students, and monitoring student progress.

Current US State Department programs include the Future Leaders Exchange (FLEX) Program, which provides Kazakhstan high school students with the opportunity to study in a US high school and live with a US family for one academic year, EducationUSA Advising Centers, which provide information and advice to students seeking entrance to US post-secondary institutions, and the Junior Faculty Development Program (JFDP), which provides faculty from Kazakh institutions with the chance to spend a semester observing instruction in their field of study in a US institution.

The Library of Congress Open World Program and USAID Community Connections programs provide opportunities for entrepreneurs, local government officials, legal professionals, and NGO leaders to visit similar organizations and institutions in the US in order to learn about a variety of topics that are germane to their respective industries.

The US Central Asia Education Foundation provides funding for undergraduate study of business and economics at KIMEP University (Almaty) and American University of Central Asia (AUCA) for students who would not be able to fund their own study in addition to extracurricular activities and internships to enhance their educational experience.

American Councils also enables American students to study in Kazakhstan on prestigious programs including the Eurasian Regional Language Program (ERLP), which provides graduate students, advanced undergraduates, scholars, and working professionals with intensive individualized instruction in the Kazakh language, and the Energy in Central Asia Program (ECAP), a short-term, Central Asian business culture studies program for US undergraduate and graduate students. American Councils has also been a primary administrator of the TOEFL test in Kazakhstan.
About Kasipkor
Kasipkor is a nonprofit joint-stock company established by the Ministry of Education and Science in June 2011. It will be primarily responsible for developing vocational and technical education. Planning is underway for four world-class colleges to be built in Astana, Almaty, Aktobe, and Shymkent. In accordance with the Education Ministry, schools of engineering, architecture and construction, information and communication technologies, design, agro-industrial complex, metallurgy, and mechanical engineering as well as the crafts school will be offered in these colleges.