With support from the U.S. Department of State and the U.S. Embassy in Kyiv, alumni of the Ukrainian Public Diplomacy Enhancement Program (UPDEP) continued their professional examination of public diplomacy while attending the University of Southern California Center of Public Diplomacy's (USC CPD) annual Summer Institute at the Annenberg School for Communications and Journalism. The two-week program brought together UPDEP alumni Iryna Borovets (Director General for Public Diplomacy and Communications, Ministry of Foreign Affairs), Alim Aliev (Deputy Director, Ukrainian Institute), and Yevheniia Yemshenetska (Deputy Director for International Relations, Diplomatic Academy of Ukraine, Ministry of Foreign Affairs) with other public diplomacy practitioners from five countries to develop new skills, engage in peer-to-peer practice exchanges, and expand their professional networks.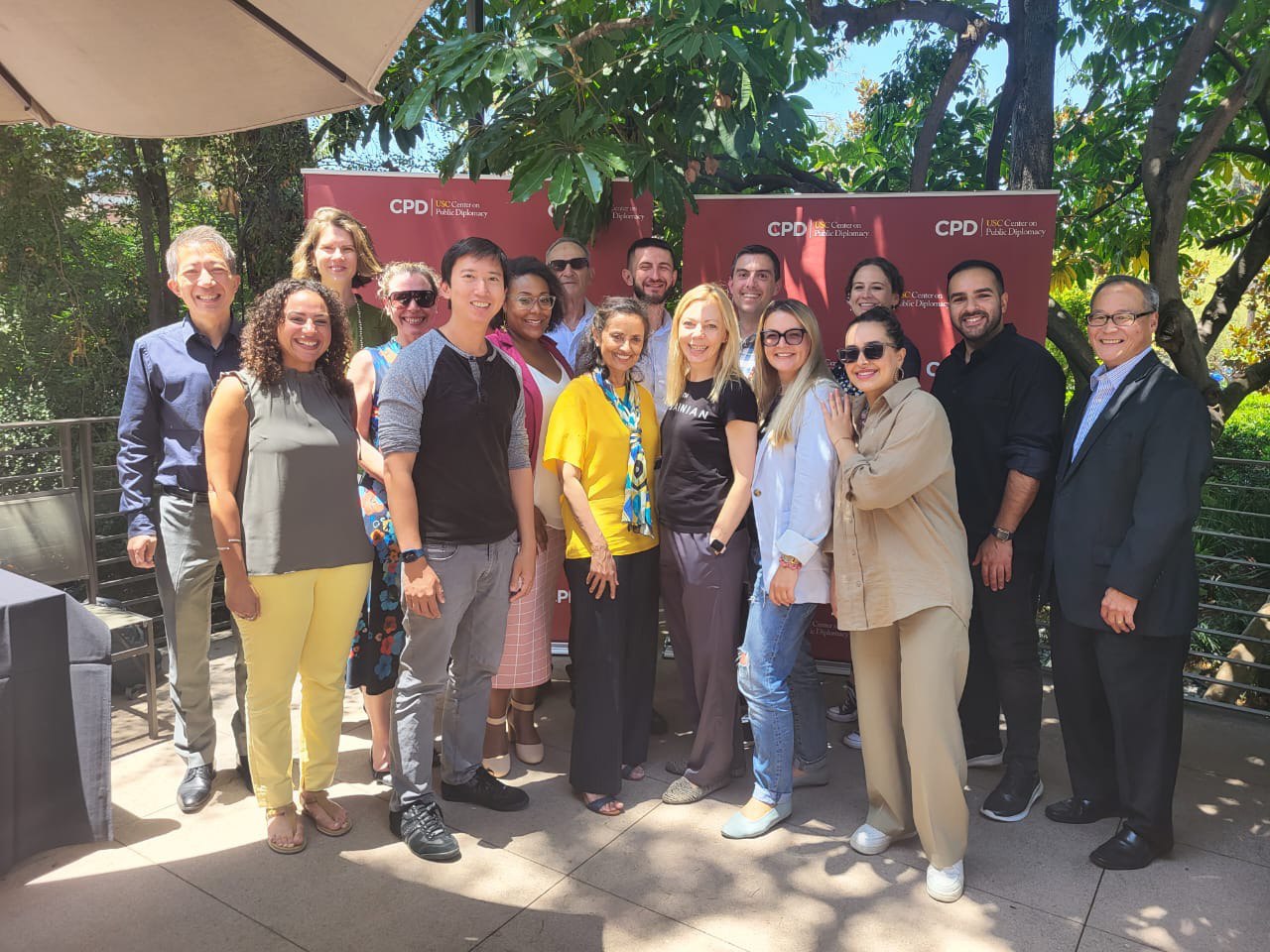 Faculty-led and guest-speaker sessions covered theory and practice-oriented approaches to public diplomacy, providing participants with tools to develop their professional civil service skills. Participants engaged in discussions ranging from Ukraine's EU candidacy, Russia's war against Ukraine, and relations between China and Taiwan. The discussion topics allowed diplomats to share insights on the events in Ukraine and receive new perspectives on different issues while acquiring digital marketing and business development skills. Peer-to-peer collaborations between participants provided an engaging and multicultural learning experience while working on projects.
The UPDEP alumni reported that their experience at the USC-CPD Summer Institute was beneficial for their career development, particularly the element of collaborating with a multicultural team. Participants from different countries and industries developed cross-cultural professional relationships during the Summer Institute that will continue to grow to benefit their respective communities. "We are very grateful to the American Council for making our participation possible and supporting this project further," said Iryna, Alim, and Yevheniia.
The Ukrainian Public Diplomacy Enhancement Program is funded by the U.S. Department of State through the Public Affairs Section of the U.S. Embassy in Kyiv and administered by American Councils. UPDEP aims to institutionalize capacity development at the Ministry of Foreign Affairs of Ukraine, prepare Ukrainian diplomats and civil servants to exercise public diplomacy functions, and coordinate ways to internalize contemporary public diplomacy approaches in Ukraine. Built off the achievements of its predecessors––the Ukrainian Public Diplomacy Capacity Building Project (UPDP) and the Knowledge Transfer Initiative for Ukrainian Public Diplomacy (KTI)––UPDEP facilitates diplomat training and professional development education provided by the Diplomatic Academy of Ukraine. American Councils is proud to administer UPDEP and looks forward to seeing how these exceptional Ukrainian diplomats will use their acquired skills.