Image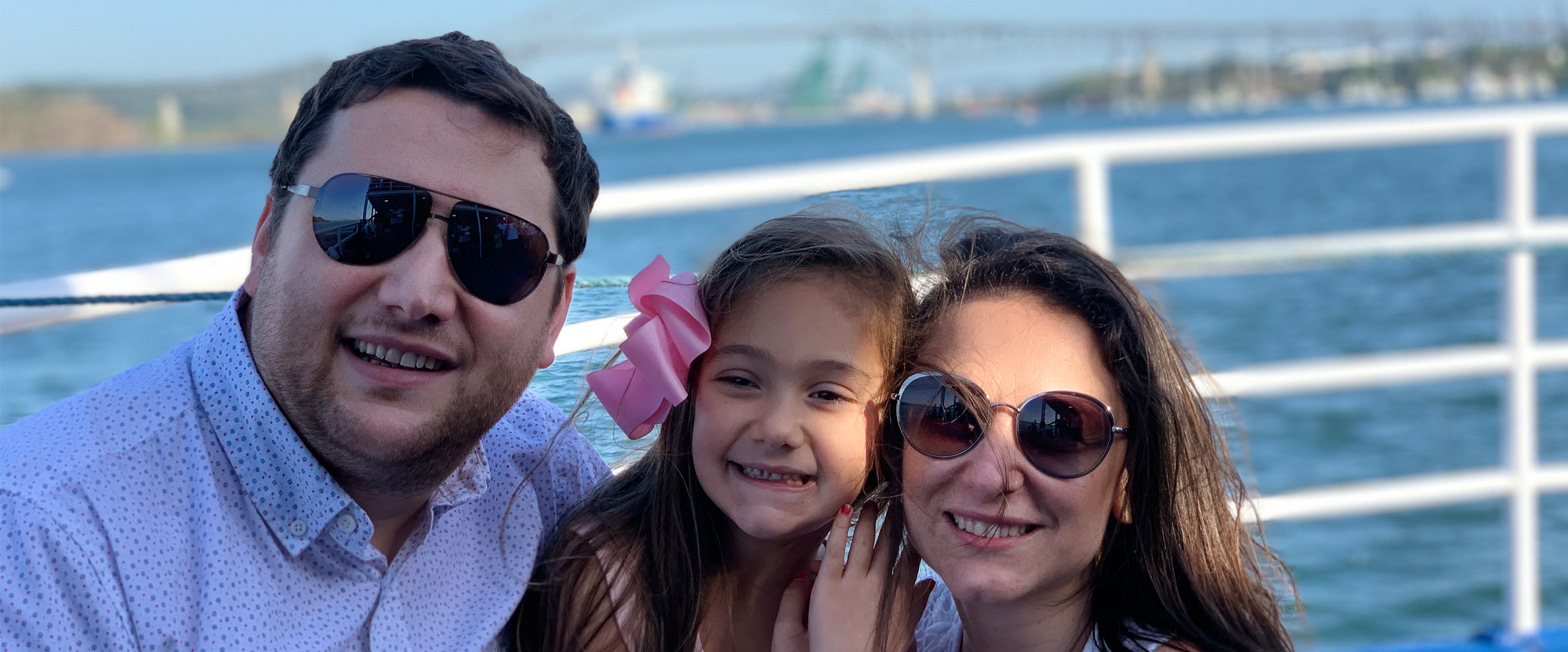 As a little girl in Kosovo, Zana Zeqiri Rudi's role models didn't come from fairy tales or TV shows. Instead, she looked up to the ambassadors she heard on the evening news.   
She was born in Pristina, Kosovo in 1983, when it was still a part of Yugoslavia. Her childhood coincided with conflict as Kosovo struggled for independence, and her early English skills allowed her to watch the international news reports with her parents each night. Those reports contained both horror and hope, and for Ms. Rudi, the hope often came from one source: ambassadors.  
"All these reports led to the world knowing about us and I thought, what could be better than becoming an ambassador and doing something for my country now?" she said during an interview in Panama City, Panama. "I wanted to be that voice with them in the future. It was a crazy dream. We didn't have a country [at the time], but I always had that in the back of my mind."  
All these reports led to the world knowing about us and I thought, what could be better than becoming an ambassador and doing something for my country now?
In the 20 years since she watched and sometimes translated the news for her parents, she attended university and grad school in the United States, she worked with other bright young Kosovars to draft election laws and policies, Kosovo achieved independence, and that dream in the back of her mind became reality. In 2017, she was named the first ambassador from Kosovo to Panama. She also served as Kosovo's first ambassador to El Salvador, Honduras, Costa Rica, Belize, Saint Kitts and Nevis, Saint Lucia, and Guyana.  
Arriving in that position took ten years of hard work, long hours, and a strong support network, but Ambassador Rudi noted that good timing also helped. 
"I'm driven, but also in Kosovo it was the best years to work in the government," she said of the then emerging nation. 
After attending college in the US, where she majored in political science and international relations, she returned to Kosovo and joined the efforts to establish independence, starting out in the ministry of local government administration. She later helped the working group on elections to write legislation and election laws ahead of Kosovo declaring independence in 2008, the same year she got married. 
 
This experience helped her choose to apply to Harvard University's Kennedy School, where she hoped to bolster the skills she was learning on the job in her government role. But she also wanted to see the elections through, so she deferred her enrollment for one year. 
At that point, despite her work in government and clear passion to help her country, she hadn't yet given voice to the childhood idea of becoming a diplomat. She credits her fellowship award with the Kosovo American Education Fund (KAEF) with making Harvard and her career that followed possible. KAEF provides full scholarships for deserving young Kosovars who are committed to developing their country. 
"If I had gone to study and paid and gotten some school loan, I would have not been able probably to follow what my passion was," she said. "I had the freedom to choose what I wanted to do after school."  
And her time at Harvard was instrumental in shaping that choice.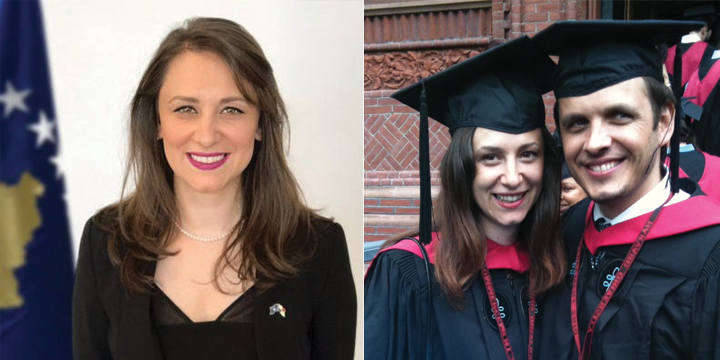 She met professors and former ambassadors. She learned to network and hone essential skills like memo writing. She also had time to step back from her role in Kosovo's government and from all that the young country had gone through.  
"As we get older, the sense of service, in my case anyway, became really strong," she said. "I was able by living in the United States to analyze what had happened to us as a country and to see the importance of serving our country."  
With diplomacy now firmly on her mind, she set out to build a well-rounded resume, working in a private investment bank before returning to Kosovo to take the foreign service exam. (Passing the exam was the first step to a career in diplomacy.) That same year, she was quickly hired as the advisor to Kosovo's foreign minister.
"That's the thing about my country—you belong," she said. "There's a sense of belonging."  
Her new role kept her busy writing speeches and connecting with foreign governments, asking them to recognize Kosovo's independence.  
"I loved what I did too," she said. "I helped write the foreign policy goals of Kosovo, the security documents relating to foreign policy—important work that drove me every day to go to the office with no regular hours."  
This was her final role before becoming an ambassador, a story she tells modestly. She was part of a delegation to Panama seeking to establish diplomatic relations. Upon arrival she greeted their hosts in Spanish, impressing the group. (She had studied Spanish as a minor at university.) Later during the trip, she was asked to open Kosovo's first embassy in Latin America, in Panama City.  
That was in August of 2013. She moved that November and started the process of establishing an embassy, everything from picking out couches to hiring staff and smoothing the way for the first ambassador to start working. 
She was officially appointed to that historic role in February of 2017.
"I always tell my staff I should pay for this job, not be paid," she said with a smile. "I go outside, and I am Kosovo—in Panama."  
Today, a little girl in Panama City is looking up to ambassadors, but she doesn't need to turn on the news to find them. Five-year-old Lisa Rudi calls her hero, "mom." The very first dual citizen of Kosovo and Panama is a walking tourism bureau for the country her mom represents. 
"She sometimes has to explain because not many people know where Kosovo is," Ambassador Rudi said. "She says, 'Dua Lipa's land! Era Istrefi, Rita Ora!' She has it in her to also say that in school or ballet or whatever she does."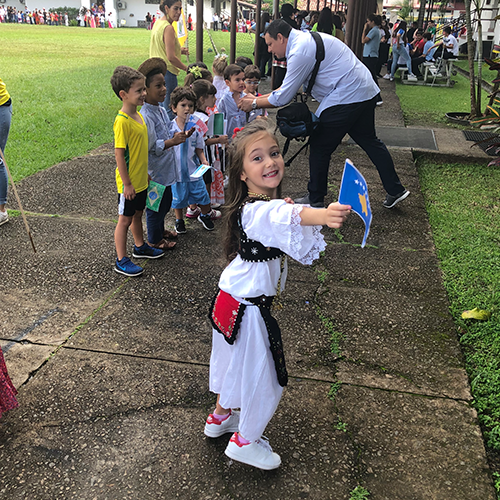 She greets strangers in the elevator with a child's perspective on global events. ("Did you know that in Haiti they had a big earthquake and then they no longer had restaurants, or movie theaters, or ice cream?") She also learned the platforms of every presidential candidate in the last election in Panama.

"People are like, why do you know this?" Ambassador Rudi laughed. 
 
She and her husband sometimes laugh thinking about how their daughter—who is growing up speaking Albanian, Spanish, and English—will write her college entrance essays. Ambassador Rudi has considered writing a memoir of her time as a diplomat, if only to share with her daughter someday. It's one of several possibilities she is considering after her term as ambassador to Panama and the region ends.  
 
"You serve, you love what you do, and then your country may want something else of you or you may want something else," she said. "So, I'm here, I'm comfortable—but as a diplomat you learn to expect that things can change."  
And as for her tiny diplomat, Lisa thinks that being from Kosovo is a great thing and being in the position to represent Kosovo abroad is the best job. She has joined her mom at many volunteer events and has already developed a sense of service. 

"It's my duty to be everywhere. I am Kosovar and Panamanian," Lisa said. "Both countries are peaceful and important."
---
Editor's note: Ambassador Rudi ended her mission in Panama on September 30, 2019. In addition to establishing the first diplomatic mission in Latin America and the Caribbean, she is proud to have initiated and signed agreements and established friendship and cooperation with Panama and countries in the region. She was instrumental in shaping and communicating Kosovo's policy toward Venezuela during these difficult times in the country. She looks forward to spending time with her family before taking on the next challenge.