Image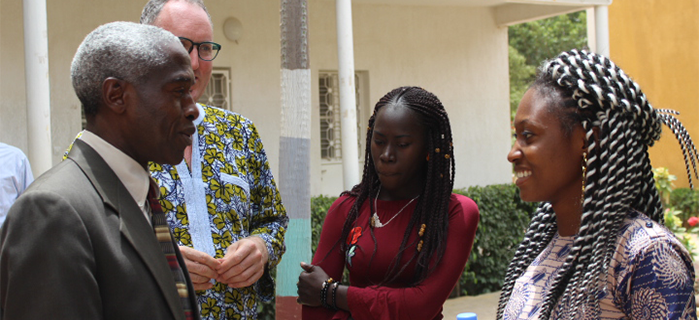 The students at the Youth Exchange and Study English Camp in Senegal had a chance to practice their language skills with a diplomat last month. The camp offers exchange program semi-finalists two weeks of intensive English training and preparation before their academic year abroad in the United States, and last month the camp included a visit from US Ambassador to Senegal, Dr. Tulinabo Mushingi. 
The 17 students, alumni assistants, and staff welcomed Ambassador Mushingi with drums, dances, roundtable discussions, and a lunch with embassy staff. The ambassador encouraged the students to make the most of their year and reminded them of the value of cultural exchange.
"It is important for you to make connections with American people," Ambassador Mushingi said. "Remember you are ambassadors from Senegal to the United States." 
He reminded them to study hard, try their best, and build a network, advice that alumni assistant Moustapha Absa Ndiaye also shared with students. Moustapha, who spent his exchange year in Hyde Park, near Chicago, said he tried to have lunch at a different table every day during the English Camp in order to share his experience with the next generation of students from Senegal.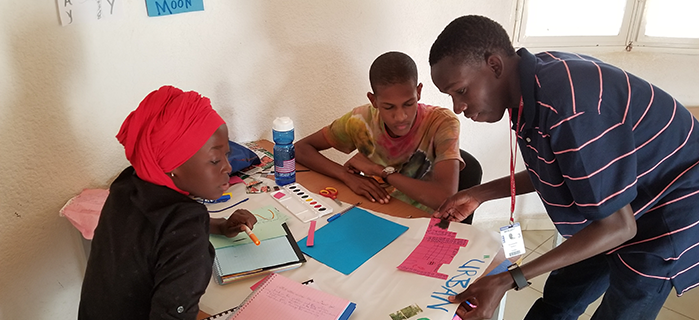 "(I told them) try to make friends at your school and community so that you can teach them about Senegal because Americans are willing to know about the other part of the world," he said. 
Moustapha was the first student from Senegal to complete the Workshop for Youth Leaders in English during his exchange last year. The workshop helps exchange students from the Kennedy-Lugar Youth Exchange and Study program and the Future Leaders Exchange program learn how to teach English in their home communities.
When Moustapha returned to Senegal, he started a program to help elementary school children start learning English. He wanted to provide additional support since English isn't offered in schools until the seventh or eighth grade, he explained. Working at the English Camp was a special chance to continue teaching English, but also to share his expertise about going on exchange. 
Another alumni assistant, Ophelia Asare Bediako, from Ghana, also shared her advice with students throughout the camp. She believes exchange programs and working with people from other countries are important for everyone. "It ties a bond that can help us collaborate to develop the world," she said. 
---
About the YES Program
Congress established the Kennedy-Lugar Youth Exchange and Study (YES) program in October 2002 in response to the events of September 11, 2001. The program is funded through the U.S. Department of State and sponsored by the Bureau of Educational and Cultural Affairs (ECA) to provide scholarships for high school students from countries with significant Muslim populations to spend up to one academic year in the United States. 
Students live with American host families, attend high school, engage in activities to learn about U.S. society and values, acquire leadership skills, and help educate Americans about their countries and cultures.
---
About WYLET 
The Workshop for Youth Leaders in English Teaching (WYLET), a program of the US Department of State's Bureau of Educational and Cultural Affairs (ECA), selects current FLEX and YES students to build on their U.S. experience through an intensive, week-long training program in Washington, DC. The Workshop cultivates skills specific to teaching English, such as student-centered methodology, effective use of technology, classroom management, organization skills, and lession design and delivery. Participating students will also develop and practice important leadership skills such as public speaking, team-building, and goal-setting. Workshop alumni will be expected to return to their countries and organize or participate in English teaching opportunities in their home communities.