Image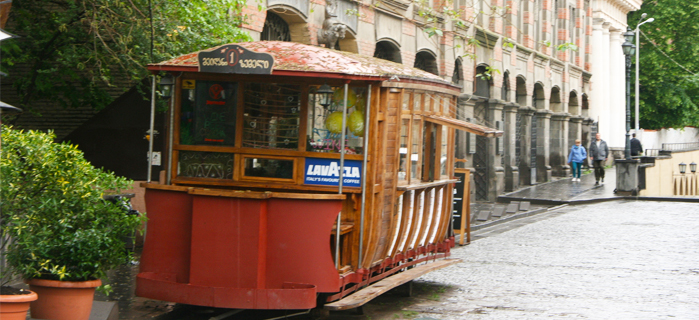 An American Councils volunteer recounts her experience in Georgia. 
It was 3 a.m. We had been traveling over 24 hours. As we presented our passports to immigration control in Tbilisi, Georgia, however, we were greeted with huge smiles, "Welcome to Georgia," and presented with a bottle of Georgian wine. Exhaustion turned to excitement for the adventures to come.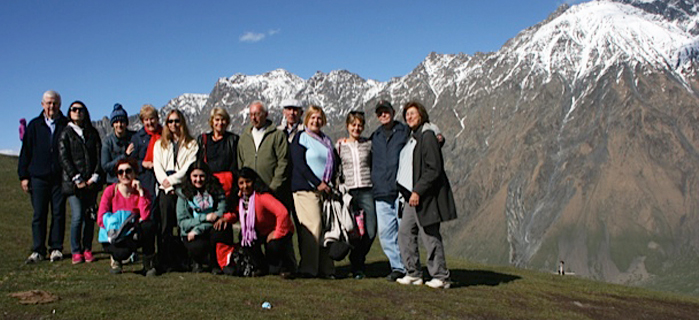 The volunteers at Jvari Monastery (credit: Sarel Kromer)
We traveled to this former Soviet Republic under the auspices of American Councils for International Education, an international nonprofit that administers the Future Leaders Exchange (known as FLEX) program, which brings promising young high school students from Eurasian countries such as Georgia to the US for an academic year, where they attend high school and live with an American host family. Most members of our traveling group of 12 volunteers at American Councils to evaluate student scholarship applications; we jumped at the opportunity to learn first-hand about a country we had gotten to know through the writings of aspiring FLEX scholarship students.
We had been briefed on Georgian art, history, and culture and knew we were coming to a country rich in heritage from its adoption of Christianity in the fourth century through its more modern struggles with its former Soviet neighbors and now that we had arrived in Georgia, it was almost as if we were the students.
From our first morning in Tbilisi as we embarked on the climb to the fortress and Mother Georgia (Kartvlis Deda) statue which hovers over Tbilisi, and continuing throughout our trip, we were joined by FLEX students now college students and professionals who showed us around, told us about their time in the US, what they are doing now, and how their lives and their ability to make a difference in their country grew out of their exchange experiences.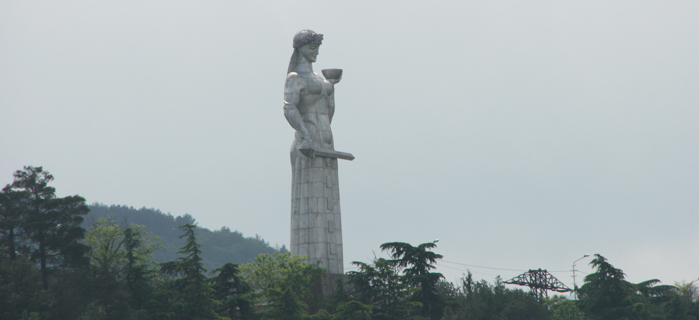 Mother Georgia looking out over Tbilisi (credit: Sarel Kromer)
Exploring Tbilisi and Beyond
The first three days of our 10-day trip were spent exploring Tbilisi the bustling capital protected by its aforementioned Mother Georgia, who holds a bowl of wine in one hand (to greet friends) and a sword in the other (for her enemies). We then traveled southwest to base in Akhaltsikhe for two days, via Gori, Kashuri, and an alumna's home for a wonderful evening with her family after which we returned to Tbilisi and took day trips to explore various parts of eastern Georgia.
In Gori we visited Joseph Stalin's birthplace, museum, and the private train in which he traveled to the Teheran and Yalta conferences; then were shown around Gori English Language School by the principal. The Gori School serves as a FLEX interview and testing site for promising candidates. The students from Gori told us of the 2008 invasion of their city by Russian tanks and troops. Some had been sent to Tbilisi by parents who stayed to fight. Others were in the States on the exchange frantic about their hometown, unable to contact anyone. Suddenly, the war was real to us.
In the National Museum two days earlier, along with the ancient treasures and Golden Fleece, we had seen a photography exhibit of the Ukraine conflict with Russia. On our way to Gori, we drove past one of the resettlement communities for the 230,000 internally displaced Georgians from Abkhazia and South Ossetia, both annexed by Russia. One member of our group, who works in refugee resettlement, was given a government tour and interviewed refugees. Now we could understand what these countries are sharing and why Georgia has sent armed forces to support Ukraine.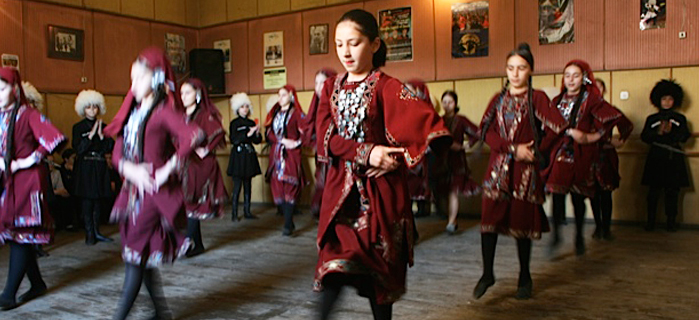 Student dancers at the Akhaltsikhe School (credit: Sarel Kromer)
Upon arriving at Akhaltsikhe (literally "new castle") School, we were treated to the students' dress rehearsal for the upcoming Youth Olympics: an exhilarating performance by boys and girls from early elementary school through high school that includes martial dances, the traditional wedding dance, solo, and choreographed team dances.
A day trip out of Akhaltsike brought us to Vardzia Cave Monastery, a city built into the mountainside under the rule of Queen Tamar in the 12th century. At one time it housed over 150,000 people, with full irrigation system and drainage, forge, wine storage facilities, cave paintings. There used to be 18 levels but earthquakes have since destroyed many.
We returned to Tbilisi via a small resort town called Borjomi, enjoying its park and sampling its "healing sulfur waters." Yuck! Unfortunately, the Ferris wheel was closed!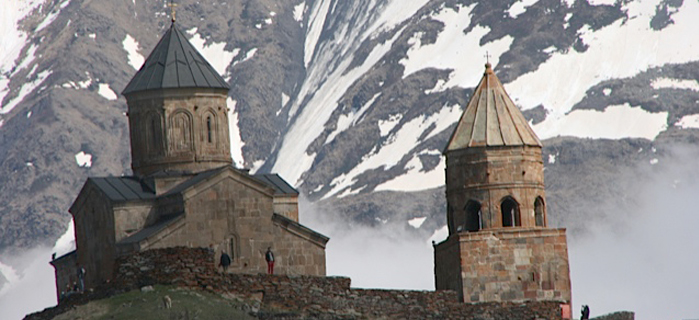 Jvari Monastery (credit: Sarel Kromer)
On one of our three action-packed day trips from Tbilisi we drove toward the Russian border over snow-capped mountains, crawling up a fog-bound road crowded with tractor-trailers and herds of sheep headed to or from pasture to Jvari Monastery, built in the 6th century. Surrounded by mountains, Jvari hovers above fields of yellow flowers, and is accessible only by four-wheel drive. Before entering the monastery, boxes of scarves were provided so women could drape them around waists to approximate skirts, for appropriate dress.
Our final day trip was to Telavi's wine vineyards. While there is a burgeoning wine industry in Georgia, that doesn't begin to tell the story. Imagine this: every family has its own vines and makes wine for private consumption, storing it in stoneware casks!
Two young women, both FLEX alums, had us to their homes one for dinner, the other for lunch. Our group was welcomed with hugs and cheer. One of our hostesses invited her English teacher, who had personally taught nine FLEX participants. At both occasions, the tables were laden with food: salads of every variety, khachapuri (circular bread filled with cheese), khinkhali (dumplings), eggplant with walnuts, chicken with walnut sauce and these were just the appetizers, followed by soup, freshly grilled meats, fish, stews, all prepared by the women of the family. The father was toastmaster and welcomed us with toasts throughout the meal, which we were honor-bound to reciprocate. Most toasts are made with drinking horns, and the horn is to be drained but we, as guests, were forgiven for not participating in that ritual. Toasting is a very important part of Georgian hospitality.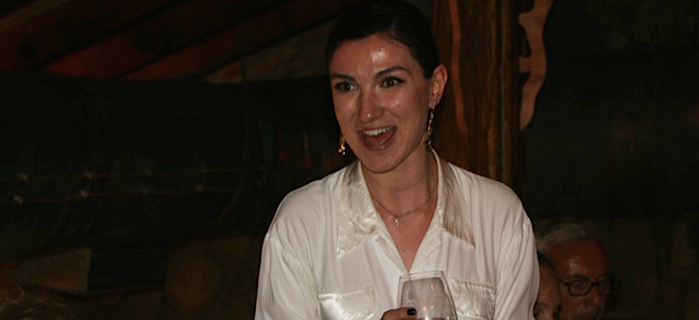 A farewell toast (credit: Sarel Kromer)
Lasting Memories
Beyond the sites and the history, my lasting memories were small moments that offered us a glimpse into day-to-day Georgian life: a quiet stroll through the park in Borjomi after intrepidly scaling fortress walls in the rain with Natia; the flea market in Tblisi with four alums who helped us select unique Georgian artifacts for our silent auction; my lunch with the young professional I hosted a few years ago; and a wonderful hour exploring all the aisles of a typical supermarket, enjoying the spices, candies, wines, dumplings, fresh and prepared foods.
What made this trip so special was the outpouring of love from FLEX alums who wanted to say "thank you" and share their country with us; a country rich in hospitality, dance, history, scenery, food and, above all, friendship.
HELP US CELEBRATE GEORGIA AT AMERICAN COUNCILS ON SEPTEMBER 24
At the American Councils' Annual Silent Auction themed A Glimpse of Georgia we'll share the experiences of Georgia we have brought back for you through an evening of Georgian dance, music, and food. Items from our trip will be available for auction: the knit hats, scarves, and baby booties purchased on the mountain top heading to Jvari Monastery; the jewelry, artwork, books, and metal work from the markets of Tbilisi; pinecone honey, Georgian fruit and walnut candy, spices of every variety (including rare saffron); and, most importantly, Georgian wine.
For more information and to purchase tickets, visit our Silent Auction page.
About the Author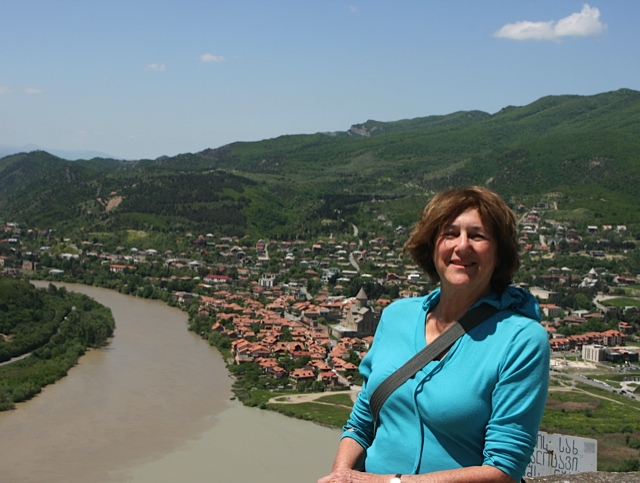 Sarel Kromer is a retired public interest attorney. In addition to volunteering with American Councils as an application reader and member of Friends of Kosovo, she works in the field of peace building. She has published articles on Rwanda genocide and reconciliation, developed teaching tools from narratives of young genocide survivors, and taught courses at OLLI (Osher Life-long Learning Institute). Her passions are photography, tennis, and travel.
About the Future Leaders Exchange Program
Sponsored by the US government, the Future Leaders Exchange Program (FLEX) is a secondary school exchange program for students in over 15 countries across Eurasia and Eastern Europe. The program offers scholarships for students to travel to the US to attend high school for a full academic year while living with a host family. While in the US, FLEX students learn leadership skills, civic values, and volunteer in their local communities. To learn more about the FLEX alumni community, visit the Bradley Herald and find them on Facebook.
Volunteer with American Councils
Do you believe that youth exchanges can foster international political and economic development? Do you want to learn about different cultures and countries through the eyes of their young people? Then learn more about volunteer opportunities with American Councils.