Image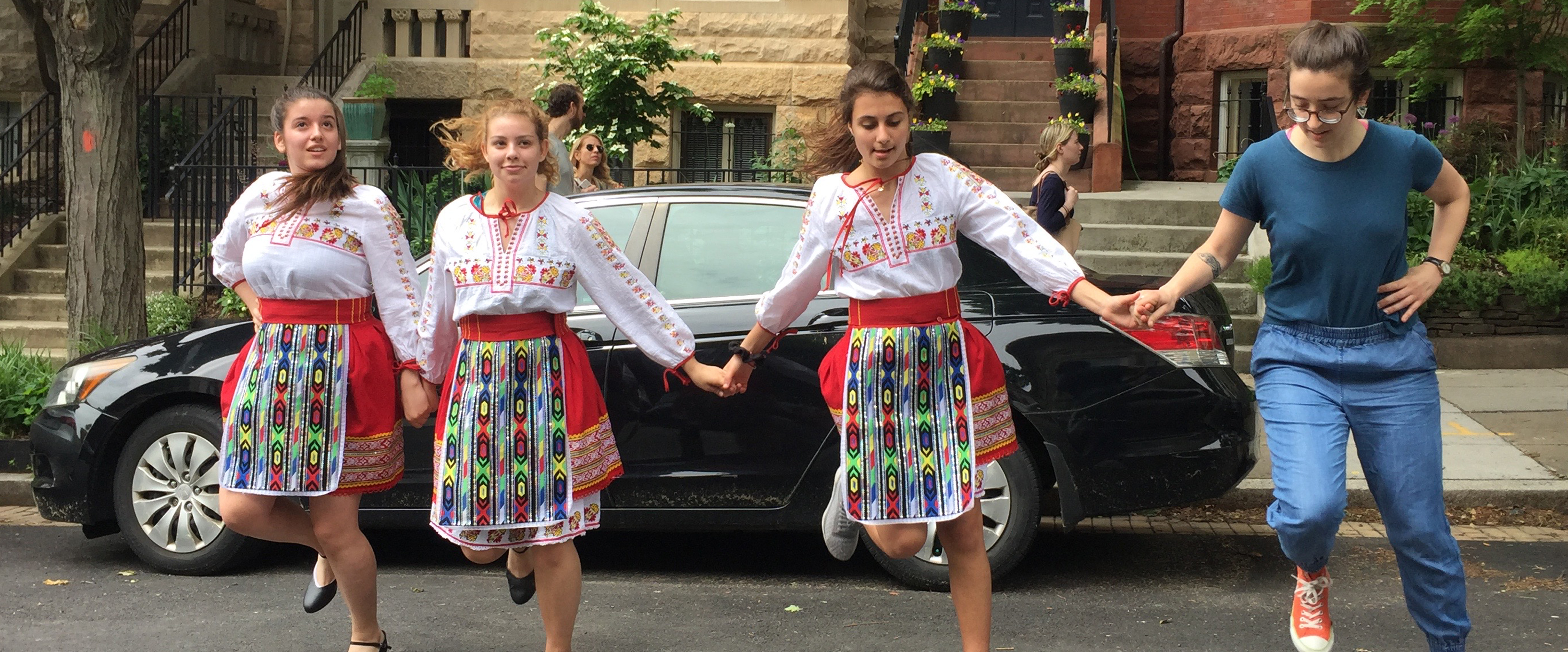 Editor's note: Hannah Combe is not a dancer by trade, but her enthusiasm for dance helped her find community while living overseas. Ms. Combe has lived in Georgia, where she taught English as a Peace Corps volunteer. She has also taught English in Bulgaria as a Fulbright scholar. She is currently a program assistant on the AC Study and Research abroad team.
---
When I was four years old I refused to wear anything but my pink tutu. At the peak of my illustrious dance career, I ran around a stage with my preschool classmates, buzzing with the energy of performance. Maybe I appreciated the community of moving with others, linking crooked elbows to form shapes. Maybe I was thinking only about the doughnuts reserved for post-show revelries. Either way, it was my first and last dance class.

I never suspected that 20 years later, I'd rediscover dance in a small town in Bulgaria.
Raised by parents who fostered curiosity through education, travel, and exposure to new cultures, it was only a matter of time before I entered the world of international education. After college, I prepared for Peace Corps service in Georgia by reading books and talking to people who had visited the country I knew so little about. My favorite research though, was watching videos of Georgian folk dancers. They were energetic and physical, appealing to my tutu-clad inner four-year-old and a youth spent playing competitive sports.
During my two years in Georgia, I immersed myself in the language, my host family, and my village, but I stuck to my comfort zone and played soccer with students in the roads and stadiums. I observed one dance class for children, but I was intimidated by my 4th grade English students. At the end of Peace Corps service, my only regret was not taking dance lessons.
When I applied to be a Fulbright English Teaching Assistant in Bulgaria, my research again included videos of folk dancing and a wide spectrum of Bulgarian music. This time, I promised myself I would pursue dance in Bulgaria no matter how much it intimidated me.

Bulgarian folk dancing, called horo, is similar to other regional folk dancing traditions in the Balkans, particularly in Serbia, North Macedonia, Romania, and Greece. Horo is a form of line dance, and as such, dancers hold hands throughout the entire piece, though in more complex stage pieces they will break off into smaller lines. There are distinct styles of dance in different regions of the country. Some horo are slow and simple, and some are incredibly fast and terrifyingly complex. 
I discovered firsthand (or firstfoot) the challenge of adapting to this unfamiliar rhythm during my Fulbright in-country orientation. We learned the classic (and simple) devetorka-style horo. This pan-Balkan pattern is a staple at parties, holidays, weddings, and other celebrations in Bulgaria, most often paired with the highly popular song Byala Roza or "White Rose." Deceptively simple, it took a solid 45 minutes to adjust to the asymmetrical meter and my cohort and I repeatedly stumbled into one another and bumbled around the circle. My preschool classmates would have been ashamed. 
Two months later, I found the courage to attend horo classes in my 2,000-person town from an unlikely source. Milen, a student at the local school where I taught English, offered to accompany me to the classes at the local chitalishte. Throughout Bulgaria and countries in the region you can find such "community centers" that serve as hubs for cultural preservation and performance, almost always including dance and music classes. Milen had just returned from a year of studying abroad and paid forward the kindness he had been shown by offering to help translate between me and the dance teacher. He ended up joining the class and becoming a cultural teacher to me.
In December, I returned to the dance stage and performed a simple horo during the community Christmas concert. Another Fulbrighter and I chose a favorite dance and led the horo at our annual Christmas party, snaking the line throughout the entire restaurant. Many friends in Bulgaria refer to the "breath of the horo"- the organic expansion and contraction that a line of people takes on as they dance the steps. Horos happen everywhere; I danced with students in my classrooms, on an excursion to mountain caves, at the closing ceremony of a speech and debate tournament, with strangers in a square in the capital city of Sofia, and, twice a week, in my local chitalishte.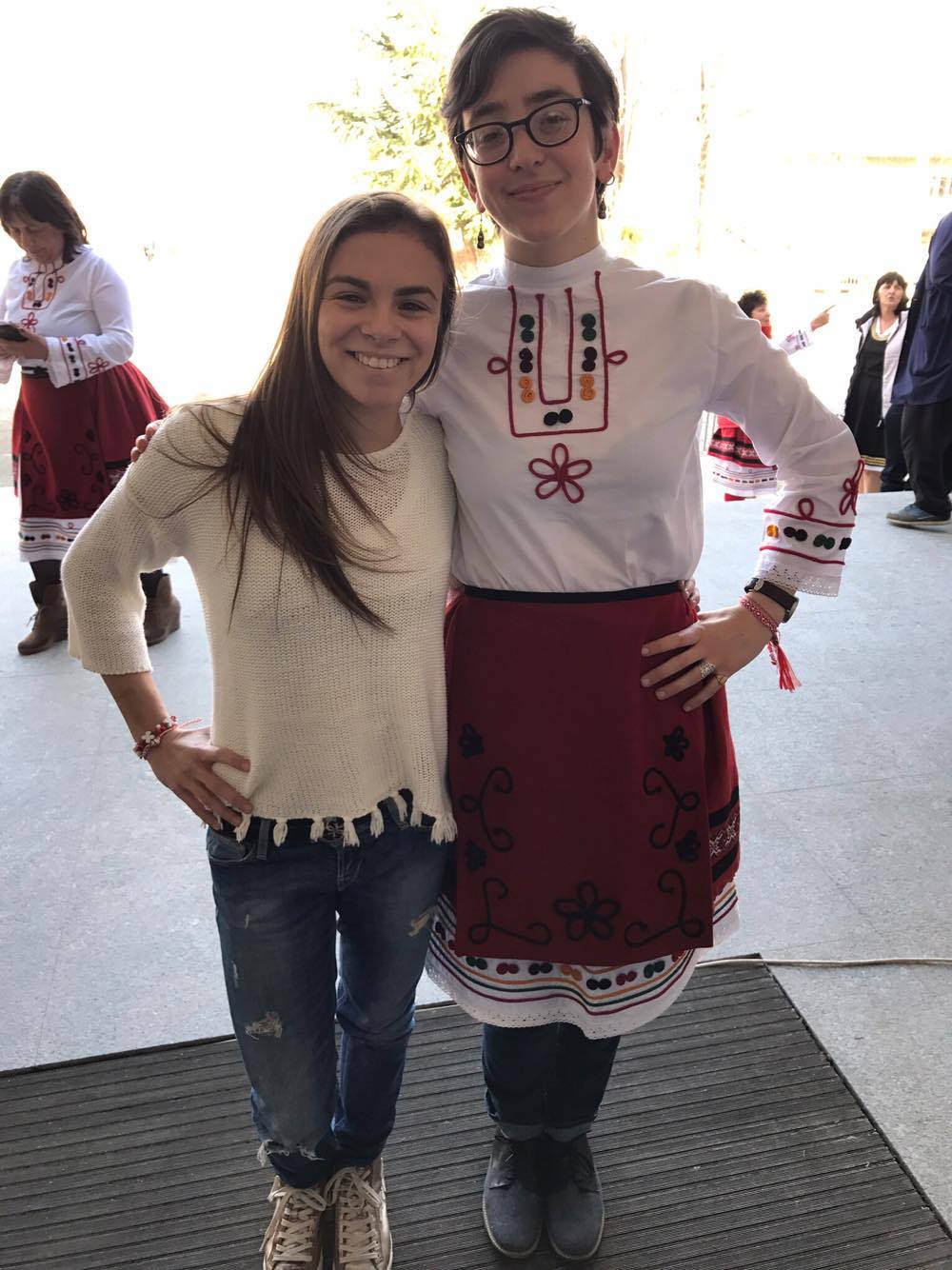 My overall Bulgarian language skills were still not what I hoped for, but my Bulgarian dance language skills had significantly improved by the spring. I knew the steps to complex dances and could impress the others, even though I wore running shoes instead of dancing heels. I began to feel more and more a part of this small community, stepping in time with the breath of the horo. On March 1st, a popular spring-welcoming holiday in Bulgaria, I donned traditional folk dress along with other teachers and danced in the front school yard, which delighted many teachers and students.
The most obvious way to connect with people from other cultures is to share a common spoken language. This helped me to connect with teachers and students and host family members who I met in Georgia and Bulgaria, to express my opinions, to teach, and to engage in tasty local gossip with neighbors who dropped in for coffee. It is a vital component of cultural exchange and studying abroad. But there are other ways to immerse yourself in a place, to build connections with people, and to learn more about the culture and context of where you find yourself. 

Last week I put on my running shoes and walked from my house in Washington DC to a Bulgarian folk dance class at Zharava. Their mission is to "preserve the rich Bulgarian folk-dance tradition, and to enhance the awareness of Bulgarian folk arts (including dance, music, song and rhythm) throughout the US and the world." This includes beginner classes in horo dancing taught by the impeccable Desi Jordanoff. The classes are made up of local Bulgarians and a few intrepid non-Bulgarians, and they always accept newcomers. If you haven't tried it yet, whether you are in Bulgaria, the Balkans, in DC, or elsewhere, I recommend grabbing the hands of the people beside you and dancing in circles. Dancing heels not required.