Image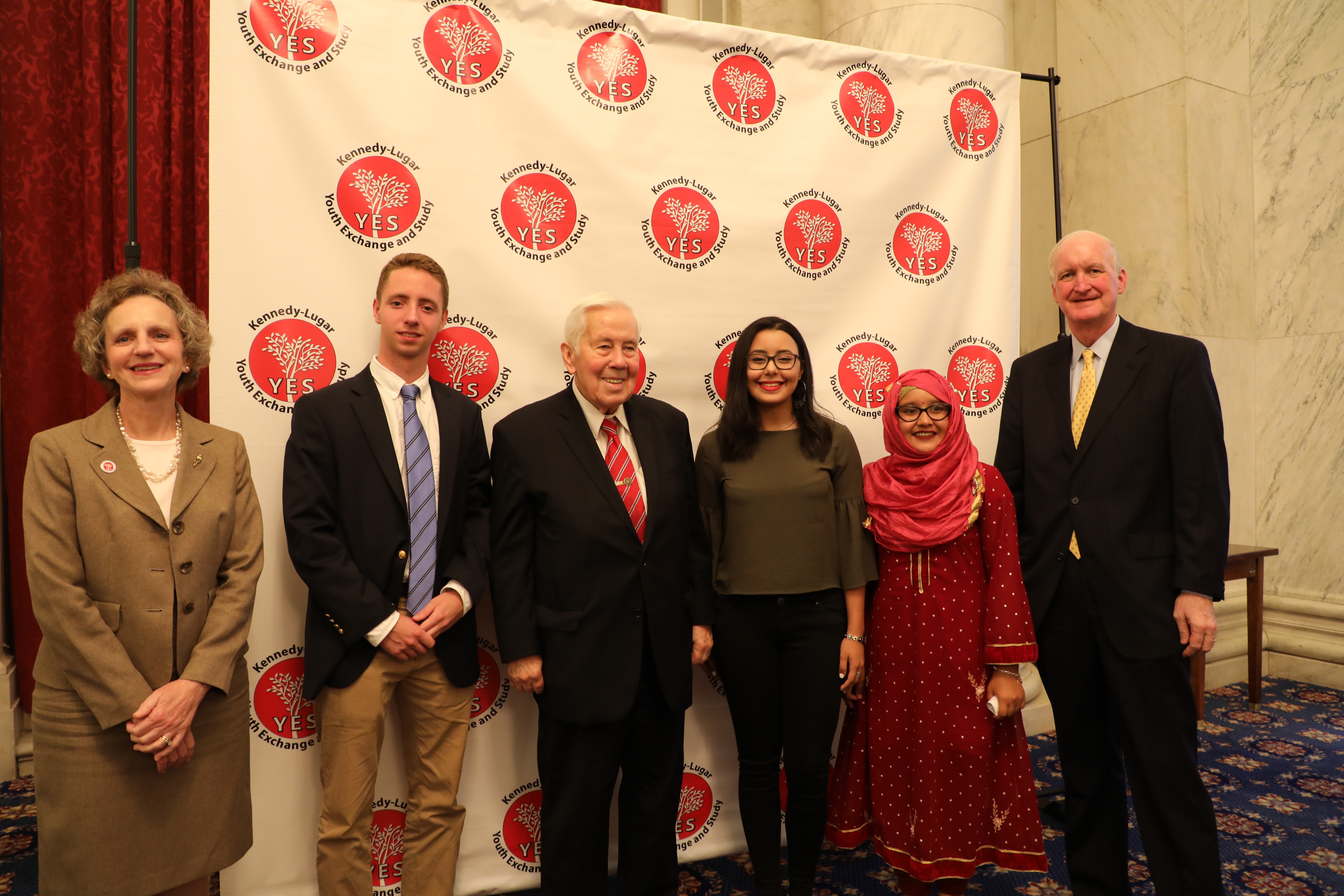 The Kennedy-Lugar Youth Exchange and Study program celebrated its 15th anniversary and the newest group of alumni this week on Capitol Hill.
The Kennedy-Lugar Youth Exchange and Study program celebrated its 15th anniversary and the newest group of alumni this week on Capitol Hill.
The event, held in the Kennedy Caucus room, included remarks from YES co-founder, former US Senator Richard Lugar, who received booming applause and a standing ovation from the more than 200 students in attendance. The YES program is sponsored by the US Department of State and funded by Congress.
Mr. Lugar commended the students on the courage it took to apply for the program, recalling his first trip overseas as a Rhodes Scholar, in a time when the only way to communicate with his parents was to write letters. Mr. Lugar's exchange experience inspired his desire to work with people around the world and make a difference on a variety of issues, like climate change.
"These are questions we need to be thinking about as a world – one world," he said.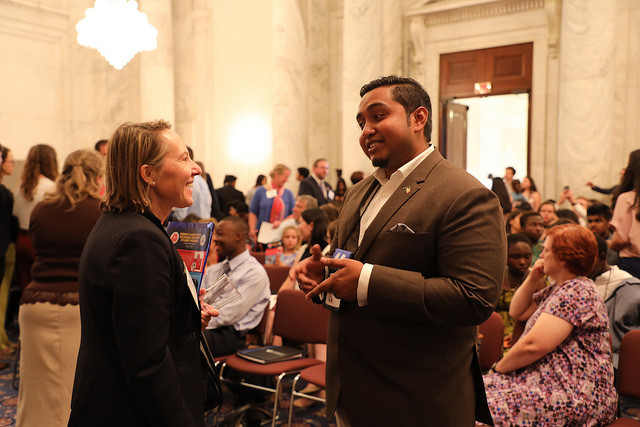 Principal Deputy Assistant Secretary of State of the Bureau of Educational and Cultural Affairs, Ambassador Jennifer Galt, opened her remarks by pausing to honor Sabika Sheikh with a moment of silence. Sabika, a YES student from Pakistan, was killed in the Santa Fe, Texas school shooting in May.
Ms. Galt was moved by Sabika's father's address at her memorial service in Pakistan.
"The purpose of the YES program, to promote mutual understanding, which Sabika embraced, lives on," she said, paraphrasing Sabika's father.
She then challenged the teens sitting before her to become a "worldwide network of problem solvers," who work together to continue promoting better understanding between all of their home nations.
"Please continue to be active and engaged role models to your peers," she said.
Three student speakers rounded out the afternoon celebration, talking about their host communities, new perspectives, and their volunteer service. This year's group completed more than 40,000 hours of volunteer work.
For Syeda Sadaf, from Bangladesh, being a YES student was a dream three years in the making. She made the most of her time in America, joining nearly every extracurricular activity at school, tutoring, and volunteering at the Special Olympics, something she'd like to start when she returns home. Home means something new to her after this year.
"I will forever have a home in two places," she said.
Kelton Miller, who spent his year abroad in Bosnia and Herzegovina, said a proud moment came when a friend at school expressed a desire to visit America because "all Americans seem nice."

"I said, 'But you only met one!'" Kelton said with a laugh. "My YES Abroad mission accomplished."
Ten months in Illinois seemed at times long and short to Salma Houmane, who is from Tunisia.
"I am blown away by all the loves ones I've gained in that time," she said.
She shared how proud she was of her fellow alumni and noted that they all had lots of work ahead of them when they returned home.
"I recognize that my YES experience has just begun," she said.
Lorne Craner, president of American Councils for International Education, the organization that administers both YES programs, told the students that the world, while imperfect, is a better place because of exchange and YES.
"We hope that your year has awakened in you a sense of responsibility for your community and those around you," he said.
See the YES Flickr account for more photos of the event.
About the YES Program
Congress established the Kennedy-Lugar Youth Exchange and Study (YES) program in October 2002 in response to the events of September 11, 2001. The program is funded through the U.S. Department of State and sponsored by the Bureau of Educational and Cultural Affairs (ECA) to provide scholarships for high school students from countries with significant Muslim populations to spend up to one academic year in the United States. 

Students live with American host families, attend high school, engage in activities to learn about U.S. society and values, acquire leadership skills, and help educate Americans about their countries and cultures.