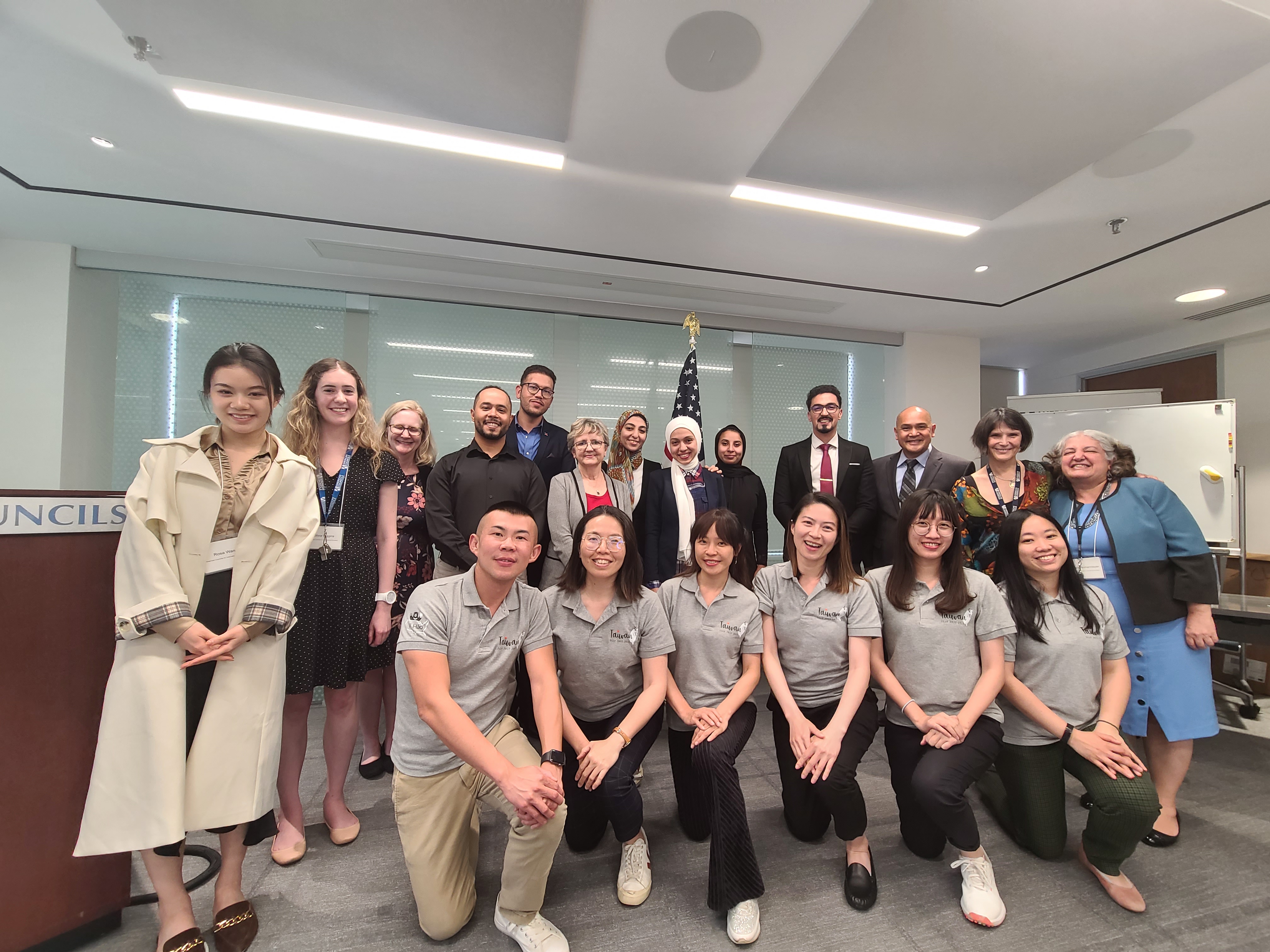 From May 11-13, 2023, the 2022-2023 Teachers of Critical Languages Program (TCLP) cohort of exchange teachers traveled to Washington, DC, to attend the annual TCLP Spring Leadership Workshop. The TCLP exchange teachers from Egypt, Morocco, and Taiwan have spent the academic year teaching Arabic and Mandarin to U.S. students in primary and secondary schools, developing partnerships with U.S. schools, and sharing resources, teaching methods, and aspects of their cultures.
The workshop began at the American Councils' office with opening remarks by Emmanuel Pimentel, Program Officer at the Bureau of Educational and Cultural Affairs (ECA) of the U.S. Department of State, and Zara Hovhannisyan, Director of Teacher Programs at American Councils.
The exchange teachers attended two sessions led by guest presenters. Jennifer Manise, Executive Director of The Longview Foundation, led a session titled "The Importance of Preparing Globalized Citizens," where exchange teachers learned how to utilize English as foreign language instruction to enhance their students' global competency skills. Ms. Manise and the exchange teachers discussed methods to deliver international learning experiences to their students.
During the second session, "How to be a Transformational Leader in your Educational Community," with Liz England, Principal of Liz England and Associates, exchange teachers learned about transformational leadership in education. The cohort discussed how theories of change apply to them as educators and mentors and how to establish communities of practice in their home countries. The session asked exchange teachers to create a project that included goals, implementation, and assessment for when they return home.
The workshop concluded with closing remarks and the issuing of program certificates by Jennifer Gibson, Branch Chief of Fulbright Teacher Exchange Programs in the Office of Global Educational Programs at ECA, and Lisa Choate, Executive Vice President at American Councils.
"Thank you for agreeing to go beyond your familiar home environments to embark on a journey of teaching and learning during a challenging year and for serving as cultural ambassadors for your countries," said Ms. Choate. "We are certain that this is not the end of our partnership. This is not a goodbye but rather the beginning of a new phase. We look forward to having the privilege of working with you as dynamic TCLP alumni in your home countries."
TCLP is a multi-layered cross-cultural program sponsored by the Bureau of Educational and Cultural Affairs of the U.S. Department of State. TCLP is designed to increase the study and acquisition of important world languages in U.S. schools by bringing international teachers to the U.S. to teach their native languages and culture for an academic year. Learn more about TCLP here.