Image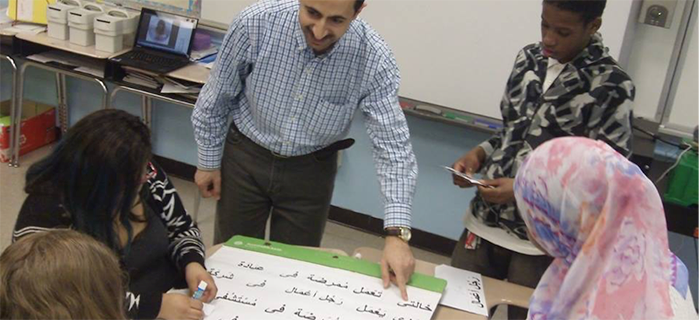 Government and private industry need people with 21st century skills, which more and more include the ability to communicate in two or more languages.
Government and private industry need people with 21st century skills, which more and more include the ability to communicate in two or more languages. The demand for language ability is clear, but the scope and ability of our education system to supply graduates with the required language skills is not.
Thanks to a grant from The Language Flagship at the Defense Language and National Security Education Office (DLNSEO), American Councils for International Education working in conjunction with the American Council on the Teaching of Foreign Languages (ACTFL), the Center for Applied Linguistics (CAL), and the Modern Language Association (MLA) are undertaking the Comprehensive Survey of US Foreign Language Enrollments: K-12 and Higher Education Project.
The work will comprise national surveys of elementary and secondary language programs, combined with the findings of the MLA 2013 Language Enrollment Survey, to provide a comprehensive overview of K-16 foreign language education enrollments in the United States today.
"Foreign language education has decreased dramatically at the elementary and middle school levels over the past decade, thus erasing gains made in previous decades," notes Dr. Terrence E. Wiley, President of CAL.
At the same time, however, there is a growing movement among many schools to provide innovative language instruction at the elementary school level, through immersion programs, online, and in summer and after-school programs.
"A 2009 American Councils census of senior secondary enrollments in the less commonly taught languages revealed considerably greater diversity among learners, school districts, and languages taught in the US than in past decades, particularly for Chinese, Japanese, and Russian," according to Dr. Dan E. Davidson, President of American Councils and a co-author of the earlier study.
The Comprehensive Survey will document and inform stakeholders and policymakers at all levels of the educational system about the locations, levels, enrollments, and types of programs that currently constitute the K-16 educational capacity in world languages in the US Among other benefits, the information from this study will enable more effective and efficient national language planning, including the building of "pipelines" for recruitment and enrollment in programs needed in the private and public sectors, like The Language Flagship.
The American Councils Research Center (ARC), the research arm of American Councils, will oversee the project in cooperation with the ACTFL, CAL, and MLA. The DLNSEO grant award is administered by the Institute of International Education (IIE) in cooperation with Bryn Mawr College.
About American Councils
American Councils for International Education is a premier, international nonprofit creating educational opportunities that prepare individuals and institutions to succeed in an increasingly interconnected world. Through academic exchanges, overseas language immersion, and educational research and development programs, American Councils designs and administers innovative programs that broaden individual perspectives, increase knowledge, and deepen understanding.
For 40 years, American Councils programs span 80 countries, 40 languages, and are represented by over 50,000 alumni worldwide, including government leaders, top international educators, business innovators, public officials, and K-16 students.