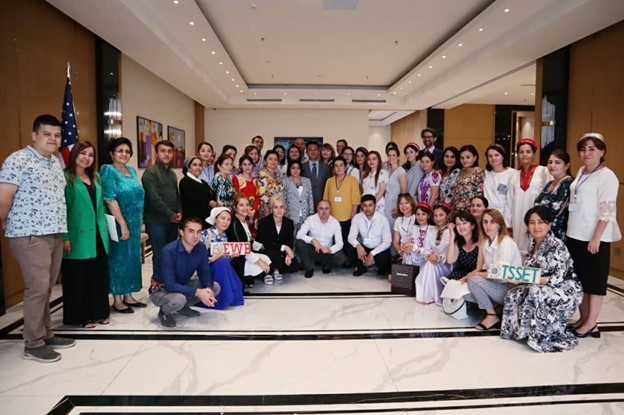 On August 14, the Tajikistan Secondary School English Teachers Professional Development Program (TSSET) held an Opening Ceremony in Dushanbe. This pivotal event signified the official commencement of a 60-hour cascade professional development program for secondary school English teachers, equipping them to represent TSSET as national trainers and continue improving English pedagogy in Tajikistan.
Implemented in a collaboration between American Councils and English Without Borders, TSSET is a strategic effort aligned with the U.S. Embassy in Dushanbe's mission to enhance English education and student growth in Tajikistan. Its mission is to fortify English language instruction methodologies, enhance practicing teachers' classroom English proficiency, and optimize student English learning outcomes, thereby improving graduates' employability prospects.
The ceremony commenced with the opening remarks delivered by the representatives from the Ministry of Education. Thirty-nine teachers from various regions of Tajikistan participated in the rigorous nine-day professional development program from August 14 to 23. Delivered by two English Speaking Nation (ESN) U.S. coaches and six ESN trainers from Uzbekistan, the curriculum drew inspiration from George Mason University's "Teaching English Through English" materials and was thoughtfully adapted for Tajikistan's secondary school English teachers.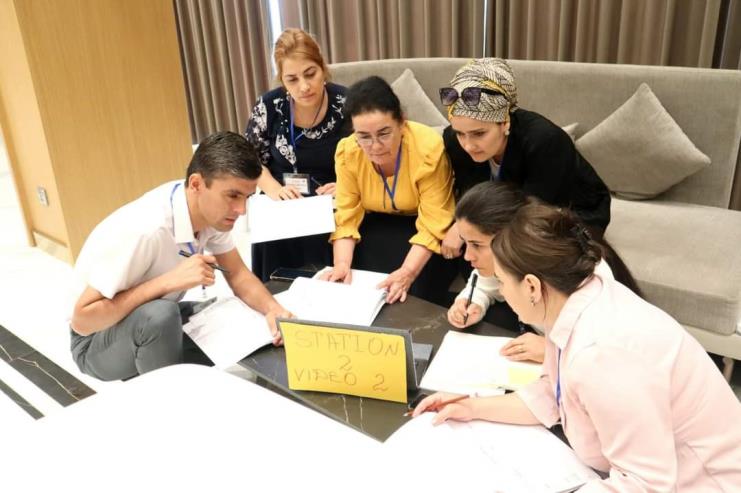 The training's primary objective was to expose Tajikistan's English teaching professionals to contemporary methodologies and empirically grounded approaches to teaching English as a foreign language. Concurrently, the TSSET professional development aimed to bolster public school teachers' English proficiency and instructional skills. These teachers, once prepared to serve as national trainers, will go on to train 400 regional peer mentors, who will, in turn, mentor 4000 Mentees.
On August 23, TSSET celebrated the completion of the 60-hour cascade training. The Ambassador of the U.S. to the Republic of Tajikistan, Manuel Micaller, Jr. attended the event and congratulated the Tajikistan Secondary School English Teachers, the future National Trainers, for their first milestone achievement. He emphasized the value of collaborative efforts towards contributing to English language education in Tajikistan.
TSSET will significantly bolster the professional capacity of over 4,440 coaches and educators in Tajikistan. This expanded pedagogical capacity will amplify teaching proficiency and elevate student language acquisition, nurturing cross-border connections among educators in the United States, Uzbekistan, and Tajikistan.
For more information about TSSET, please visit: https://tajikistan.americancouncils.org/tsset-about