Image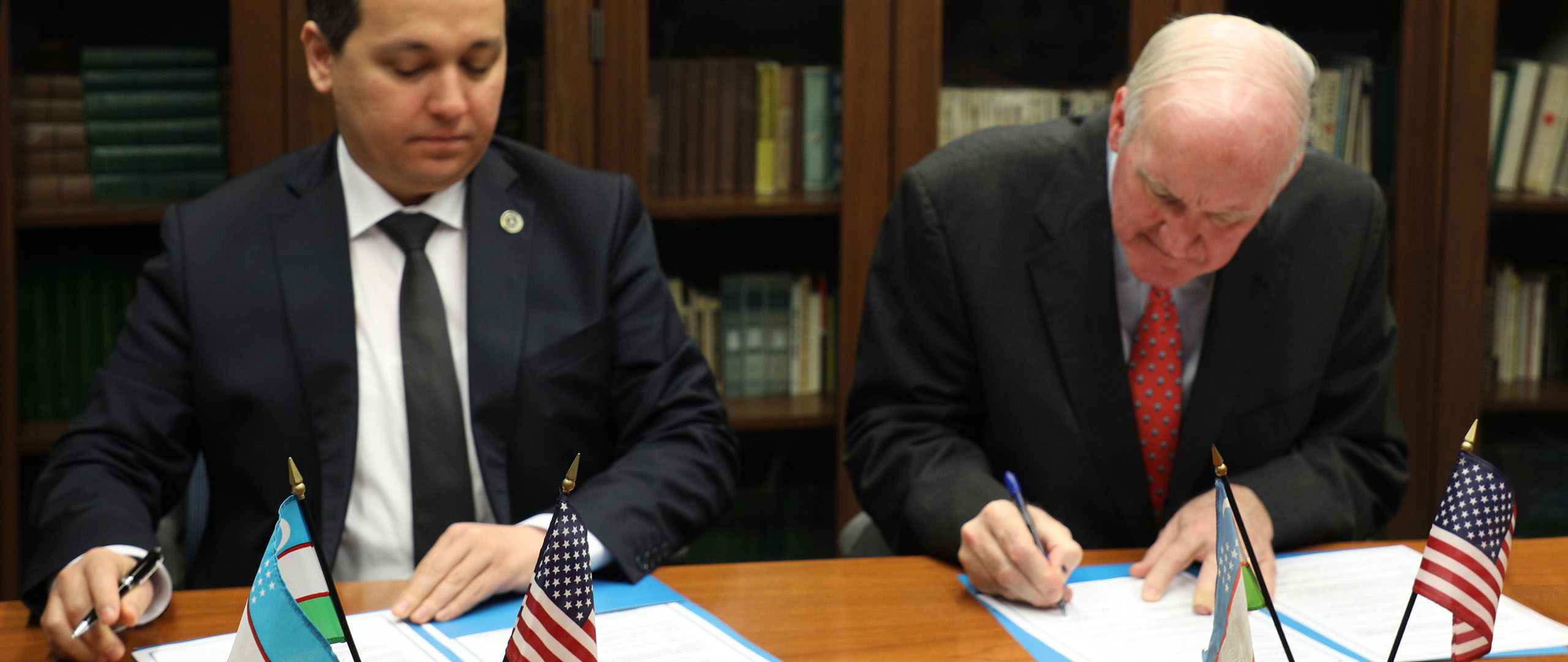 Washington, DC —American Councils for International Education and the Ministry of Public Education of the Republic of Uzbekistan signed a memorandum of understanding (MoU) to formally advance international education initiatives between Uzbekistan and the United States. American Councils President Lorne W. Craner and Minister of Public Education Sherzod Shermatov, Republic of Uzbekistan, signed the MoU on Thursday morning at American Councils' headquarters in Washington, DC.
"We look forward to our renewed engagement with Uzbekistan to provide opportunities for Uzbek citizens and Americans to work together through education, including cultural exchanges between high school students of both countries. This partnership will strengthen important ties and signals Uzbekistan's significant efforts to improve the education of its citizens," said Mr. Craner.
The MoU outlines several areas for collaboration, including cultural exchanges between secondary school students in the Republic of Uzbekistan and the United States, teaching seminars, and advanced training for English language instructors. The MoU also discusses institutional collaboration and educational reform and modernization as it pertains to school systems.
Befitting the occasion, Mr. Shermatov is himself an alumnus of American Councils. In 2000, he attended Yale University through the Umid program—"umid" means "hope" in Uzbek—where he received a master's degree in economics. The Umid program was financed by the government of Uzbekistan, and administered by American Councils.
In addition to Mr. Shermatov and Mr. Craner, several officials attended the signing ceremony, including Acting Deputy Minister of Public Education Atabek Nazirov; Second Secretary Amir Sultanov, Embassy of Uzbekistan; American Councils Executive Vice President Lisa Choate; and Director of American Councils Research Center Dan E. Davidson; and American Councils Director of Teacher Programs Zara Hovhannisyan.
American Councils is the first nongovernmental organization (NGO) to be registered in Uzbekistan since 2006. This announcement follows Uzbek President Shavkat Mirziyoyev's visit to the White House earlier this summer.
The new partnership between American Councils and the government of Uzbekistan demonstrates a "growing strategic partnership between the United States and Uzbekistan, and the government of Uzbekistan's commitment to meaningful reform and international engagement," according to Heather Nauert, Acting Under Secretary of State for Public Diplomacy and Public Affairs at the US Department of State.
Mr. Mirziyoyev visited the White House in May to mark the "new era of strategic partnership" with the United States, according to a White House release. The White House release stated: "The presidents welcomed the pending accreditation of the American Councils for International Education in Uzbekistan, which will contribute to educational cooperation between the two countries."
Mr. Craner met with Mr. Mirziyoyev last fall at the US-Uzbekistan Business Forum in New York City. During his keynote address at the forum, Mr. Mirziyoyev expressed his interest in collaborating with American Councils, as well as the Uzbek Ministry of Higher Education, and the Uzbek Chamber of Commerce and Industry. 
Read the full White House release from earlier this year here and view the announcement from the US Department of State here.