Image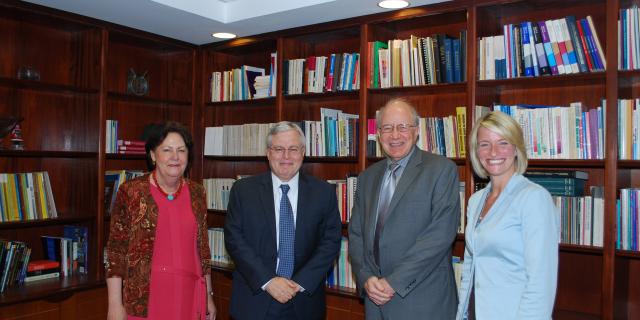 PITTSBURGH—American Councils for International Education announced an important expansion of its long-standing partnership with The Council of Independent Colleges (CIC) today at CIC's annual CAO conference. The new initiative provides CIC colleges and universities the opportunity to become institutional members of American Councils and gain access to a wide range of American Councils services designed to expand overseas study options for students and strengthen the internationalization of CIC campuses.
The CIC-American Councils membership initiative enables participating institutions to increase the number of overseas study, internship, and research opportunities available to students and faculty; design and conduct pre-departure orientations for students and faculty traveling overseas; develop customized study-abroad programs with the support of an organization that has deep cultural and linguistic expertise in the proposed region of study; and, ultimately, better prepare students for the demands of the global economy.
"The CIC has long understood how vitally important it is for institutions of higher education to provide their students rich opportunities to engage with the world through both study abroad and through substantive encounters with international students and faculty on their home campuses. Exposing students to different cultures and new, often challenging world perspectives is a critical step in enabling students to develop the nuanced communication skills, the cross-cultural understanding, and the adaptive, innovative spirit demanded by today's global market. American Councils is honored to announce this new partnership with the CIC to expand and strengthen opportunities for international engagement at many of America's leading independent colleges," said Dr. Dan E. Davidson, President of American Councils.
CIC colleges are small to mid-sized, independent, liberal arts institutions in the US The CIC-American Councils partnership was forged to ensure CIC member institutions have the resources necessary to develop and maintain successful international programs, recruit students and faculty from abroad, and respond to a host of complex issues, ranging from student health and safety overseas to US visa rules.
Among other benefits, CIC-American Councils members will have access to partial tuition waivers on American Councils' extensive summer, semester, and academic-year study-abroad programs; resources to promote their programs and develop potential partnerships with overseas institutions; a wide range of support services for international students who are living and studying in the US; and broadened opportunities to recruit international faculty for full- or part-time positions. Depending on student enrollment and potential overseas locations, CIC-American Councils members will also have the opportunity to explore customized study abroad programs with American Councils. In addition, they will be eligible for pre-vetting by American Councils as potential host institutions for international students and scholars.
About CIC
CIC is the major national service organization for all small and mid-sized, independent, liberal arts colleges and universities in the US CIC focuses on providing services to campus leaders through seminars, workshops, and programs that assist institutions in improving educational offerings, administrative and financial performance, and institutional visibility.