Image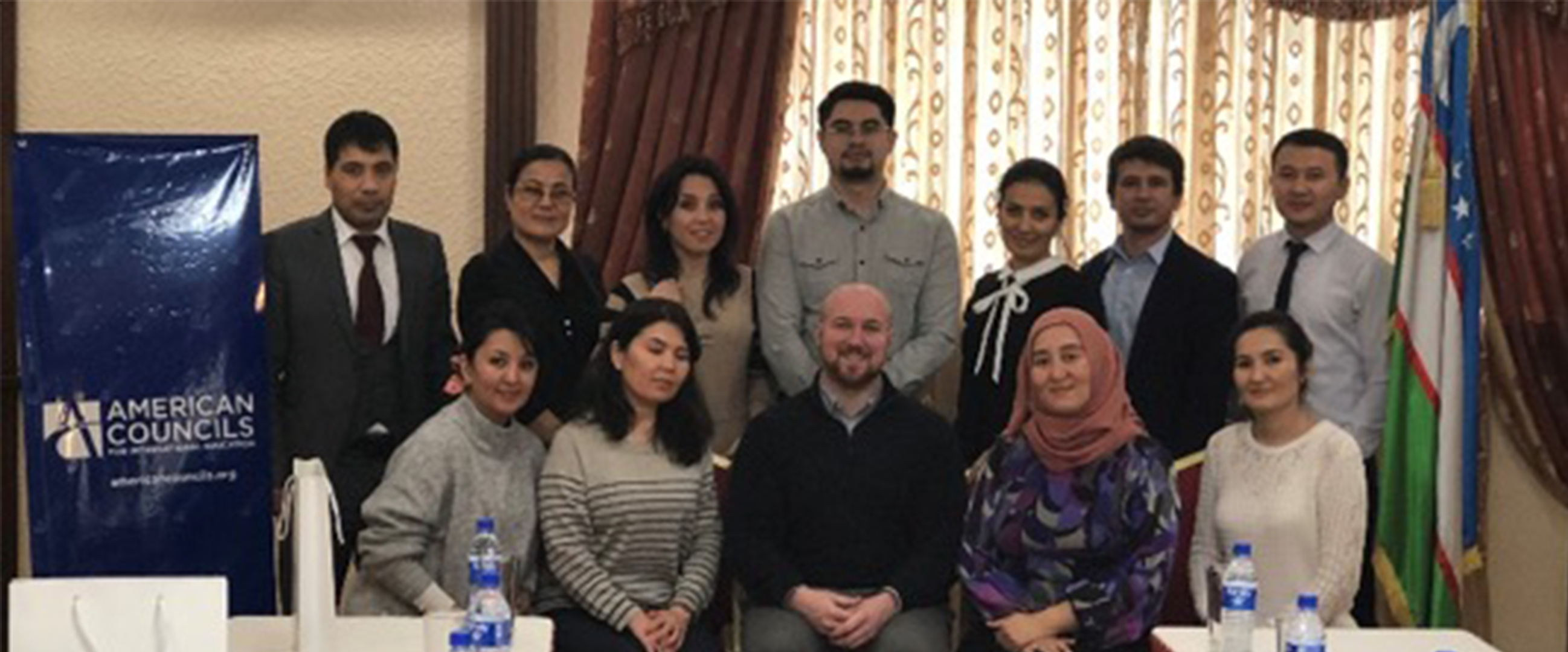 TASHKENT, Uzebkistan—For the first time in 13 years, a cohort of Uzbek scholars are spending several months in the US through the Faculty Enrichment Program. 

American Councils for International Education launched the Faculty Enrichment Program (FEP) in the Republic of Uzbekistan late last year. FEP is a visiting scholar program that provides university instructors from Uzbekistan with the opportunity to enhance their pedagogical skills and professional disciplinary expertise through a four-month academic enrichment program in the US. The 10 finalists took part in a pre-departure orientation in Tashkent in December.

Zafar Hakimov, the head of the Center for Development at the Ministry of Higher Education spoke on the first day of the orientation and offered his congratulations and assurances that the Uzbekistan Ministry of Higher Education would continue to support all FEP participants following their return home. 

In addition, Saida Chorieva, from the public affairs section of the US Embassy in Tashkent, provided congratulatory and supportive remarks on behalf of the Department of State, the program funder. American Councils hosted all 10 program finalists, along with guest speakers from both the ministry and embassy, at a farewell dinner in downtown Tashkent. 
Last month, the finalists met with Deputy Minister Uzokboy Begimkulov of the Ministry of Higher Education. 

"You are Uzbekistan's new educational 'golden fund' and we will be looking to you for proposals on how to enhance the system of education in Uzbekistan," Mr. Begimkulov said to the group. 

The deputy minister also congratulated the finalists on behalf of the ministry and the Republic of Uzbekistan. The ministry encouraged the FEP finalists to take advantage of this opportunity and serve as role models for future participants of the program. The finalists departed from Tashkent International Airport on their way to Washington DC on January 9, the first outbound group of American Councils program participants to depart from Uzbekistan since 2006.

Before leaving, Gulnora Nasirova, a faculty member at Uzbekistan State World Languages University who will be visiting St. Michael's College in Colchester, Vermont shared her hopes for the program.

"I was very lucky to be a grantee of US State Department sponsored program–FEP," she said. "Before, I believed that academic tasks which we are doing are just for getting grades and developing academic skills. Now, I changed my mind–this type of experience might be very helpful in real life situations."

Ms. Nasirova's colleague, Azizjon Bobojonov, an economics professor at Tashkent State University of Economics, will be a visiting scholar at Fairfield University in Connecticut. Mr. Bobojonov was thankful to for the program support.
"We appreciate the support of the Ministry of Higher Education of Uzbekistan and endeavor to adjust the successful methods of teaching and learning in the United States," he said.