Image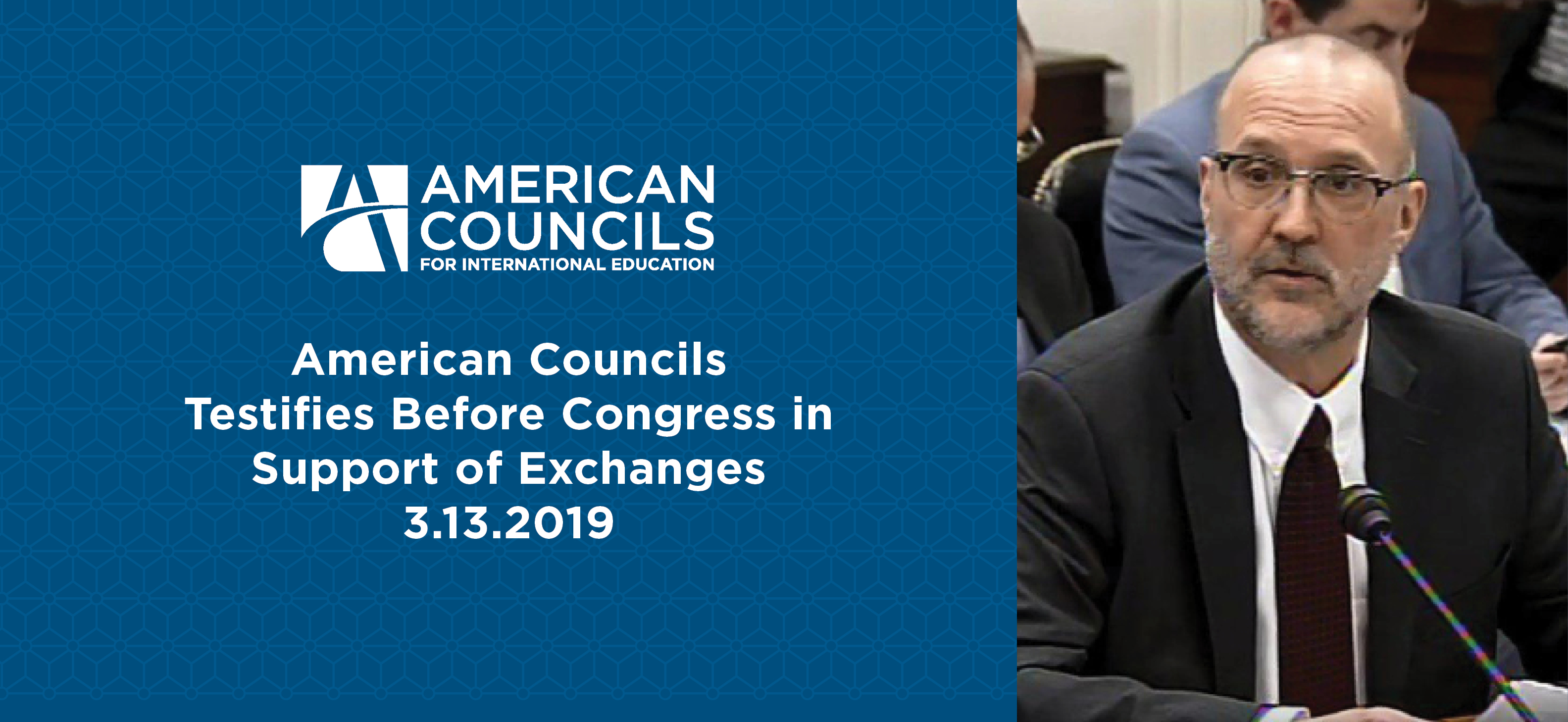 WASHINGTON — The US House of Representatives invited American Councils' Acting President David Patton to offer testimony yesterday on the impact of citizen exchange programs.
Speaking at the Public Witness Hearing for the Subcommittee on State, Foreign Operations, and Related Programs, Dr. Patton recommended increased funding for fiscal year 2020, and encouraged continued support of exchange programs, particularly in Eastern Europe and the Independent States of the former Soviet Union. Dr. Patton was one of the outside witnesses asked to provide perspective and expertise that will help Congress assess the impact and effectiveness of foreign assistance programs.

"To be effective, US public diplomacy must reach beyond the English-speaking elites of foreign capitals," he said during his testimony, noting this is among the goals of virtually all State Department funded programs administered by American Councils. "No instrument of soft power is more cost-effective than American outreach to the rising generation of young leaders and professionals through these programs."

Dr. Patton also lauded the long-term multiplier effect of exchanges through the program alumni, who often go on to serve in important roles in their home countries across all sectors. Before concluding his remarks, Dr. Patton thanked the committee for their historic support of these programs.

Dr. Patton stressed the need for future generations of Americans to learn critical world languages and be able to engage international peers in culturally appropriate ways to succeed in the 21st century.

Congresswoman Nita M. Lowey (D-NY), chair of the House Appropriations Committee and the State, Foreign Operations, and Related Programs Appropriations Subcommittee, thanked Dr. Patton and the other witnesses for being "critical" voices as they assess the president's budget.

"For as long as I have been a part of this subcommittee, we have had bipartisan agreement that foreign assistance is critical to our national security and to maintaining America's leadership role in the world," she said. "As chairwoman, I have every expectation that we will produce a bill that maximizes each taxpayer dollar while responding to today's many needs."

Watch Dr. Patton's complete testimony below, starting at 44:10. Read his full written testimony, here.