Image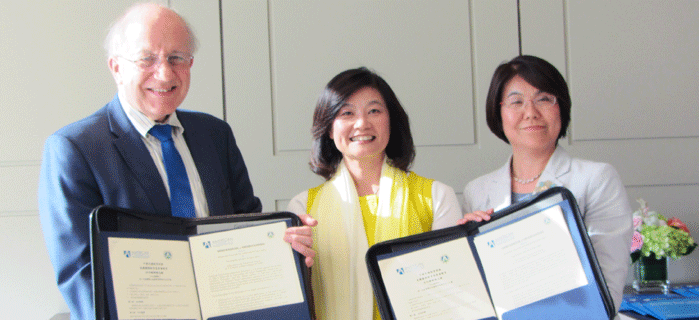 A new generation of Taiwan-based programs introduces US students to Chinese language and culture
 
American Councils for International Education and the Taiwan Ministry of Education took an important step towards deepening academic cooperation between Taiwan and the United States and promoting economic and social development in both countries.
In a formal agreement signed by the Taiwan Ministry of Education's Director General Dr. Ming-Ling Yang and American Councils President Dr. Dan E. Davidson during the NAFSA annual conference, both parties outlined their dedication to preparing the next generation of American and Taiwanese students and educators to succeed in an increasingly interconnected world.
Taiwan: A High-Quality Study Abroad Destination
More specifically, the memorandum of understanding describes the intention of the two organizations to promote Taiwan as a top study abroad destination to a new generation of American students in addition to the significance of studying the Chinese language and culture. The agreement also highlights support for the development of the United States' capacity for teaching Mandarin language and East Asia area studies, the introduction of new training programs for Taiwanese teachers in the US, the assurance that a new generation of Taiwanese students continue to study in the US, and more.
"The Taiwan Ministry of Education and American Councils are taking an important step to increase the overall numbers of Americans engaged in study abroad and building our own nation's capacity in Mandarin language, while ensuring that a new generation of Taiwanese students and teachers continue to study and cooperate with US educational institutions. The new agreement also provides for bilateral exchange of students, teachers, and researchers," said Dr. Davidson in his remarks to the attending delegation.
Phase One: Invest in Study Abroad
The first phase of this collaboration is focused on increasing the number of American undergraduates studying Chinese language and culture in Taiwan supported by a $600,000 investment being made by the two organizations over the next three years. The funding will be used to design these academically accredited programs for American students in Taiwan and to provide full and partial scholarships for 160 of these students. Part of the scholarship funding is being raised by American Councils from donors who want to support the mission.
Phase Two: Launch Opportunities to Study Mandarin in Taiwan
American Councils will launch a nationwide promotion of this program in the next few months to recruit US students interested in learning about Chinese language and culture from all across the US, with the intention of attracting more underprivileged students who otherwise would not have the financial means to study in such a culturally-rich immersion setting as Taiwan. These student ambassadors will become the next generation of scholars, business people, diplomats, and politicians in the United States, and who will share their knowledge and love of Taiwan with fellow American students and colleagues.
President Dan E. Davidson of American Councils hosted the delegation from Taiwan, which proudly included the Taiwan Ministry of Education's Political Vice Minister Dr. Lucia Lin. Vice Minister Lin addressed the audience at the reception and commented, "I am excited to learn that our colleagues are working with such a leading international education organization, which has created educational opportunities for American individuals and institutions to succeed in an increasingly interconnected world over the last 40 years. Taiwan is ready to be a partner!"
About American Councils
American Councils for International Education is a premier, international nonprofit creating educational opportunities that prepare individuals and institutions to succeed in an increasingly interconnected and rapidly changing world. Through academic exchanges, overseas language immersion, data-focused research, and educational development programs, American Councils designs and administers innovative programs that broaden individual perspectives, increase knowledge, and deepen understanding.
For 40 years, American Councils has responded to the needs of the communities where we work with hundreds of robust, international education programs that span over 80 countries, 40 languages, and are represented by over 55,000 alumni worldwide, including government leaders, top international educators, business innovators, public officials, and K-16 students.