Image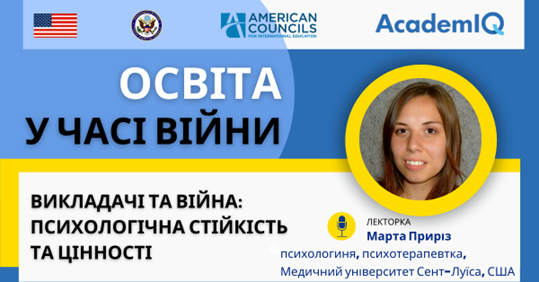 Academic IQ, a program produced through a partnership with American Councils, the U.S. Embassy in Kyiv, the Ministry of Education and Science of Ukraine, and Ukraine's National Agency for Education Quality Assurance, has been working hard to adjust their plans due to Russia's war.
The program, which develops a professionalized workforce of educators and administrators who support academic integrity across Ukrainian higher education institutions (HEIs) and secondary schools, has shifted to help support Ukrainian universities maintain continuity in their curriculum. Immediately after the war begin in February, the Academic IQ team began issuing weekly newsletters to the participating 60 universities with opportunities for faculty members, scholars, and students that aided them continue their work despite the complications created by the conflict. In March, the program collaborated with the university partners on "safety checks" trying to ascertain the risks that the most vulnerable HEIs were exposed to and assist in humanitarian efforts wherever possible.
In April, following the example of the Professional Fellows Program (PFP) and Ukrainian Business Leaders: Promoting Innovation and Entrepreneurship (UBL/PIE) program, together with the EdUSA Ukraine Team, Academic IQ launched the Ukrainian University Humanitarian Support Fund (UUHSF). This initiative invited partner universities, many of which are or were near the front lines, to apply for grants of up to $2,000 to support of emergency funding routed through key university faculty and administrators.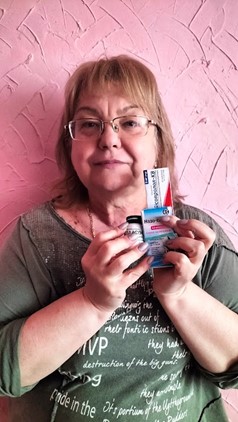 Academic IQ has received 19 applications and funded 17 UUHSF projects to date. Some applicant universities have suffered heavy bomb and artillery damage, including Karazin Kharkiv National University and Sumy State University, yet have remained in operation in their home cities. Others, like Priazovskyi State Technical University from Mariupol, Donbas State Pedagogical University from Bakhmut, Berdyansk State Pedagogical University, among others, have been displaced. Some participating institutions are hosting internally displaced universities and their faculty and students, including National University Ostroh Academy, Uzhhorod National University, and Vinnytsia National Technical University. Academic IQ expects projects launched through the Ukrainian University Humanitarian Support Fund, which focus on IT and virtual connectivity, emergency power, educational materials, as well as humanitarian needs, to be completed later this spring.
Academic IQ recently conducted a survey at a participating university in Ukrainian territory currently occupied by Russia to gain a better understanding about their needs and difficulties. On April 22, the program also launched a series of webinars called "Education in Wartime." The first webinar was targeted to university faculty and titled "Faculty and War: Common Stress Reactions." Soon after, a second webinar, "Students and War: Simple Things that Help to Deal with Stress" was recorded for students. These webinars have netted over 1100 views on the Academic IQ YouTube channel. Upcoming webinars will cover topics such as teaching and learning at universities during wartime and emergencies, psychological support for faculty and students in wartime, and tips for asynchronous course design.

The Academic IQ Team is also facilitating communication between virtual learning facilitator Blackboard and the program's participating universities. Blackboard wants to provide free access to their platform to all interested Ukrainian HEIs. Currently, Kharkiv National Medical University has begun using the platform and received preliminary access.