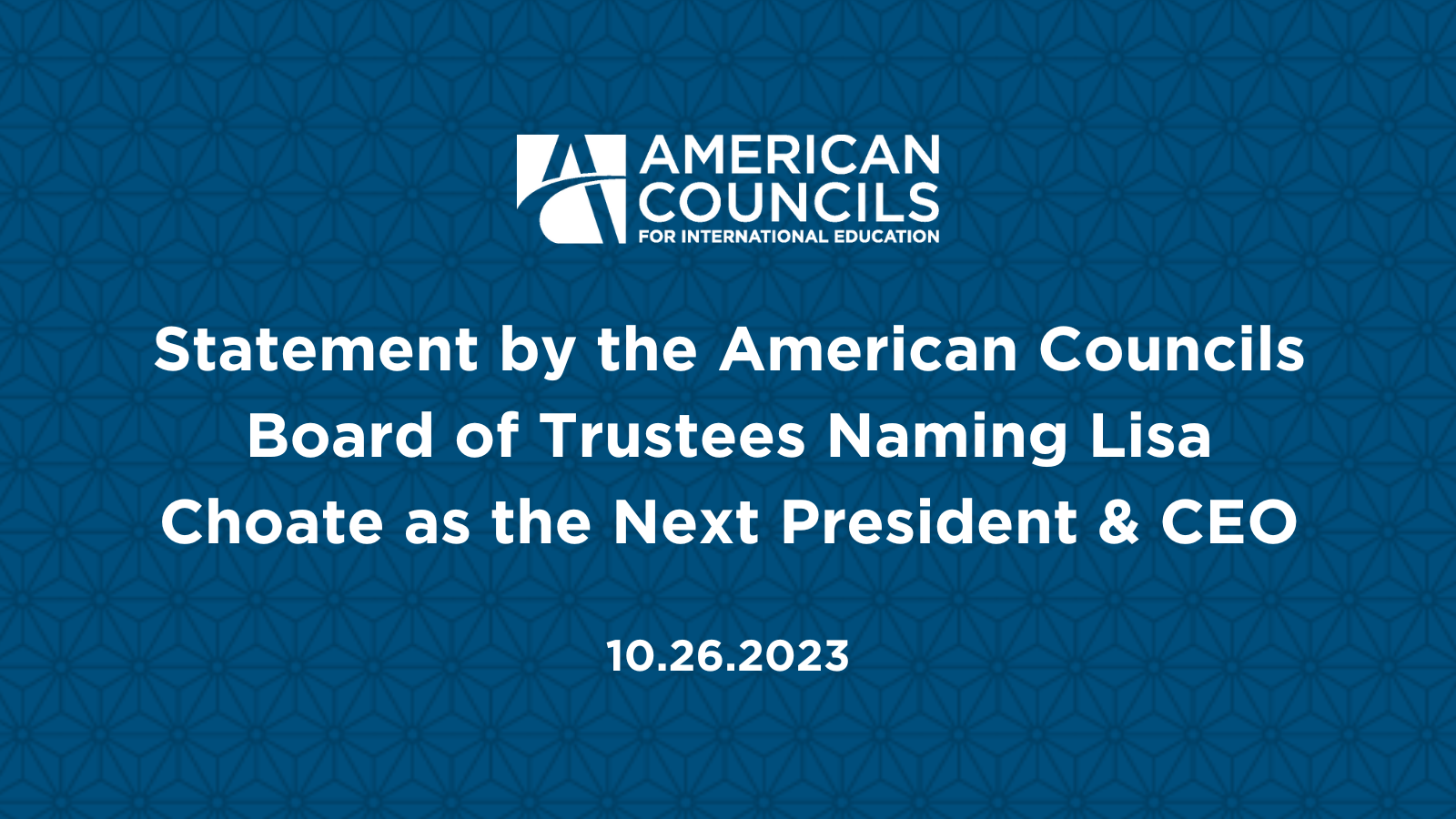 Dear Friends and Supporters,
After an extensive search that engaged the expertise of our dedicated Board as well as numerous external and internal stakeholders, American Councils and its Trustees are excited to announce that it has chosen an exceptional, visionary, and proven leader in international education to lead American Councils. As of January 31, 2024, Ms. Lisa Choate will become American Councils' fourth, and first female, President and Chief Executive Officer. When Ms. Choate assumes her new position, American Councils' current President, Dr. David P. Patton, will transition to an advisory role and remain involved in supporting the continued growth of the organization.
On Ms. Choate's appointment, Dr. Patton noted that he was "delighted by our Board's decision to select Lisa as the next President and CEO of American Councils." Praising her experience, Dr. Patton also noted "I have no doubt that Lisa's unique skills, vast global experience, dedication to the mission, and remarkable professionalism will ensure continued organizational growth and expanded impact for years to come."
Ms. Choate joined American Councils in 1987, a time when the organization employed fewer than ten staff and focused its efforts almost exclusively on language programming between the U.S. and the Soviet Union. Ms. Choate worked with the organization's founder Dr. Dan Davidson to establish American Councils offices in Washington DC and as an early leader of the organization has strongly influenced its tremendous expansion to an organization that now counts over 650 staff, 38 offices, and 100,000 students, teachers, and professionals in over 140 countries as its alumni. Ms. Choate was named American Councils' Executive Vice President in 2012 and represents the organization on American Councils' Trustee and Finance Committees. In addition, Ms. Choate has led signature U.S. State Department public diplomacy, teacher development, and professional programming including the Future Leaders Exchange Program (FLEX), the Youth Exchange and Study Program (YES), and the National Security Language Initiative for Youth (NSLI-Y), as well as the Congressional Office for International Leadership's Open World Program, benefiting thousands of young people and professionals annually. Most recently, Ms. Choate has advanced American Councils' expansion into Asia and the South Pacific, opening significant new opportunities for the organization in the process.
Ms. Choate is an alumna of American Councils academic year Russian language program.  She completed her master's degree in education and second language acquisition at Boston University and her bachelor's degree in Russian language and literature at Bryn Mawr College.
Outgoing President and CEO, Dr. Patton, has been an inspiring and tireless leader, guiding American Councils through a period marked by significant global challenges but also remarkable programmatic and financial growth and expansion of the organization's impact that has touched millions of individuals worldwide. The Councils is a better organization thanks to his leadership and is well positioned for continued future success.  Dr. Patton will continue to work closely with Ms. Choate as she transitions to her new role. We are deeply grateful for Dr. Patton's dedication to the organization and his commitment to continue his support for Lisa and American Councils moving forward.
This transition marks an exciting phase for American Councils, and we are confident that with your support we will continue to strengthen and expand the transformational experiences and programming we offer to our participants, institutional partners, and the communities with which we work.
In the coming weeks we will announce opportunities to meet with Ms. Choate and other American Councils leaders. In the meantime, the members of the Board of Trustees thank you for your unwavering support and dedication to American Councils and its mission.
Sincerely,
Robert M. Rhea
Chairman of the Board of Trustees 
American Councils for International Education: ACTR/ACCELS