Image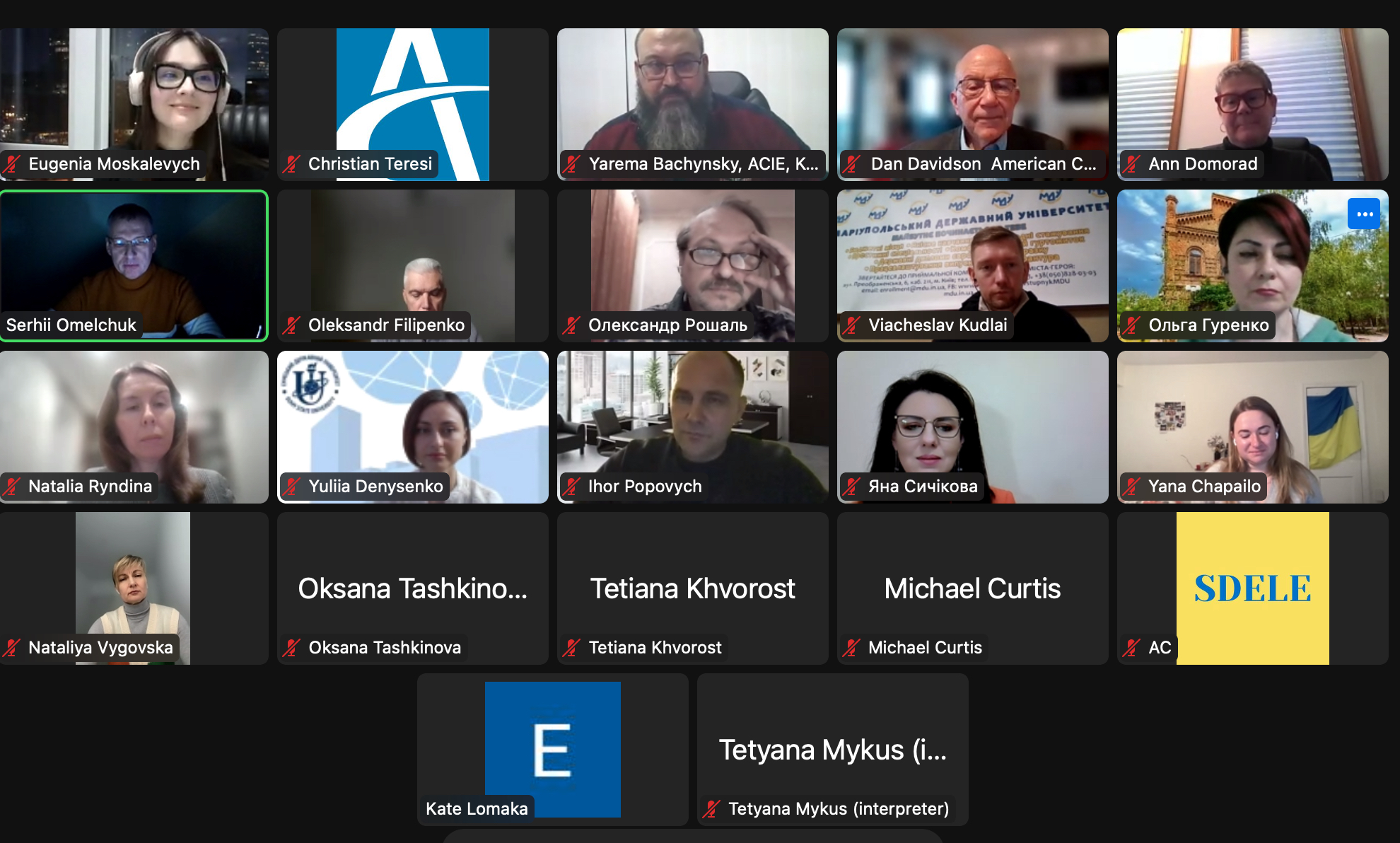 American Councils is pleased to announce the inaugural cohort of Visiting Fellowship Awards for Ukrainian Displaced Scholars (VFA/UDS) to a distinguished group of scholars from war-distressed universities in east and southeastern Ukraine. Fellowship awards provide a semester or year of financial support to enable scholars to continue their research and teaching activities. The Visiting Scholars Program is made possible by grants to American Councils from the Carnegie Corporation of New York, the Richard Lounsbery Foundation, and The Stirling Foundation.
The 2022-23 cohort includes 15 temporarily displaced fellows of diverse academic backgrounds, including agricultural science, biology, chemistry, education, humanities, medicine, and the social sciences. Fellows represent 13 Ukrainian universities severely affected by the war in the cities of Berdyansk, Kherson, Kharkiv, Mariupol, Melitopol, Mykolayiv, Sumy, and Zaporizhia. All the fellowship holders are currently relocated within Ukraine after being forced to flee their homes to escape occupation and shelling.  
During a December meeting of awardees hosted by American Councils' office in Kyiv, fellows described the impact of the war on their institutions, the physical destruction of libraries, laboratories, and classrooms, as well as the continuing disruption caused by air raids and frequent power outages across all of Ukraine. According to most fellows, the primary challenge to their work is the physical destruction or damage inflicted upon their universities that prevents access to teaching facilities and research equipment. "We are a university without bricks and walls," one fellow remarked. 
A scholar from Kharkiv National University referred to his school as a "ghost university" because of the level of devastation. Yet, despite frequent shelling that prevented the university from opening regularly to students and personnel, more than ten thousand Kharkiv University students have chosen to continue learning online in 2022-23. Another fellow noted the importance of protecting valuable scientific material and equipment via secure long-term storage, but also how this practice has limited current teaching and research activities. Regardless of the challenges, the desire to maintain academic and research activities was obvious among all VFA/UDS fellows whose ingenuity and commitment has enabled new paths for supporting and carrying out their teaching, research, and service to their university communities.  
Numerous Ukrainian universities forced to cease academic activities in the spring were able to relocate over the summer months and resume virtual, hybrid, or in-person activities in the fall. Two scholars from Mariupol, for example, whose universities relocated to Dnipro and Kyiv, reported how their institutions were able to recruit considerable numbers of incoming students for the 2022-23 academic year. Scholars from currently occupied areas expressed gratitude to sister institutions in Ivano-Frankiivsk, Kyiv, and Zaporizhiya for allowing them to share educational facilities, while other scholars noted the eagerness of Ukrainian and even international students to continue their studies, despite the ubiquitous effects of the war.
Finally, fellows related gratitude to the U.S. funders and American Councils for the VFA/UDS program. "I want to say a huge thank you to American Councils Ukraine and our colleagues in Washington, and to the U.S. foundations for supporting Ukrainian universities and Ukrainian faculty in this difficult time."