Image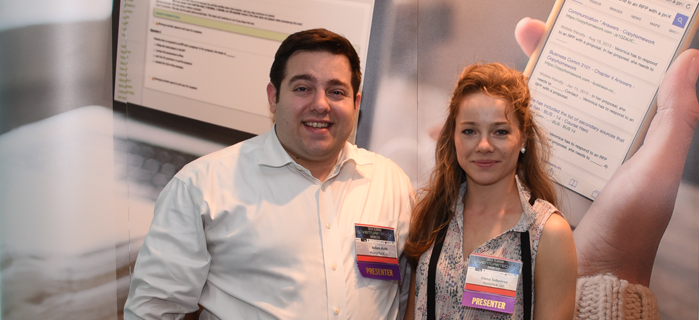 Elena Soboleva founded an academic integrity system to help colleges and universities grapple with new methods of cheating.
Two alumni from the Florida Atlantic University College of Business (FAU) discovered a way to prevent students from finding test answers online during exams.
Elena Soboleva was pursuing her MBA at FAU on an international student visa when she noticed a large number of American students receiving high marks without studying; she discovered that many of these students find their test answers online.
A local news station in Orlando, Florida had also investigated cheating methods at a local station by following a University of Central Florida student as they took an exam, gaining perfect marks without even reading the test questions.
Elena, a recipient of the US-Central Asia Education Foundation Enterprise Fellowship to earn her undergraduate degree at the American University of Central Asia, was concerned over the breach of academic integrity in Florida's universities. She brought up the concern to Adam Roth, a fellow FAU student and software developer with a passion for entrepreneurship. Together, they developed a way to detect this method of cheating.
The duo formed Honorlock LLC in 2014 and have since raised over $700,000 from local investors, applied for several patents, and expanded the team to 12 employees; 5 of which are FAU students. The team anticipates earning over $1 million in revenue by the end of the year.
Unlike existing proctoring companies, which rely on reviewing student webcams, Elena and Adam created a two-part solution to address the root of the problem.
They first developed a tool that searches the Internet for unauthorized copies of test bank material. When illicit test content is found, an automated system files copyright takedown notices to the host. This process has resulted in the removal of over one million test banks since the company began.
Second, the team uses a patent-pending technology to detect students who attempt to access blacklisted URLs of illegal test banks. The system records the student's visit and then sends a notification to the instructor's course dashboard. The recording of their attempt to reach these websites provides clear proof of a violation, in addition to the video recordings and session logs.
The business partners' idea won over $36,000 in the FAU Business Plan Competition in 2014 and FAU Tech Runway Business Accelerator, which has also granted them office space and mentorship from tech entrepreneurs in South Florida.
During the first university pilot, the software identified that 38 percent of students at FAU had been using internet test banks during an exam. Nearly 60 percent of those violations occurred on secondary devices such as cellphones and tablets. The percentage of students accessing test bank websites dropped significantly in the following trials after the offending students were presented with the evidence of their behaviors.
FAU courses have been using Honorlock for over a year and the new software has been well received by both faculty and students.
"Online proctoring has historically been a not-so-pleasant experience for students," recalls Adam Roth, Honorlock CEO. "We thought we could do a better job of not only ensuring academic integrity but making the software modern, the customer support more friendly, and the overall process improved for students and faculty. The feedback from users has been the greatest part for me personally; yesterday we received a thank you note from a student claiming we reduced her test anxiety by walking her through the entire process. Messages like that are really motivating."
Now the team's proctoring solution is being used across colleges and universities in the US and abroad. Honorlock's technology has also gained attention from the world's leading publishers such as Pearson and McGraw-Hill Education in efforts to help protect their intellectual property.

About the US-CAEF Education Foundation
The US-Central Asia Education Foundation Enterprise Student Fellowship Program (US-CAEF) is an academic scholarship program of the US-Central Asia Education Foundation and is administered by American Councils for International Education. US-CAEF provides funding for undergraduate study in business administration and economics through the Enterprise Student Fellowships.
Fellowships fund student enrollment at the American University of Central Asia and the Kazakhstan Institute of Management Economics and Strategic Research, which are leading Western-style institutions in the region. The fellowships are awarded to qualified students based on academic merit and financial need. Classroom experiences are enhanced through the Enterprise Regional Internship Program, which allows students to gain valuable work experience at local companies following their second year.
The foundation further strengthens the quality of business education through professional workshops for regional faculty to improve teaching skills, knowledge and course curricula.