Image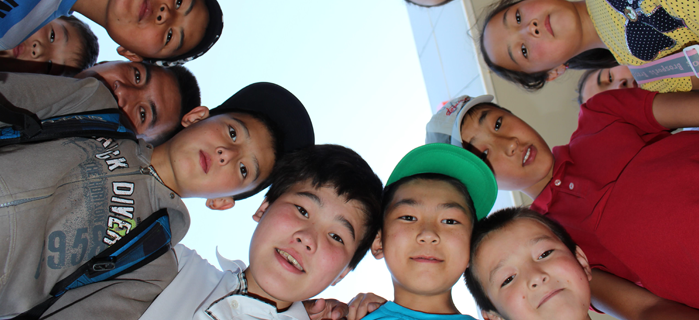 US-Central Asian Foundation alumnus Kuttubek launched a summer camp for students in a rural community in his native Kyrgyzstan. 
By Kuttubek Rakhmanberdiev, US-Central Asian Education Foundation (US-CAEF) alumnus
In this rapidly changing world and this age of increasingly globalized technologies, education has become available practically to anyone who wants to study. Now youth from developing countries, including Kyrgyzstan, can study at leading world universities and work at big international companies. However, many young people in remote provincial regions of our country still do not have enough information about these opportunities.
Therefore, together with a US-CAEF fellow, Aizhan Kerimbekkyzy, and an American University of Central Asia student, Begimai Amantaeva, I organized a 10-day educational summer camp in July for secondary school students in Talas, a small town located in the Talas Valley in northwestern Kyrgyzstan, cut off from the other Kyrgyz regions by a chain of mountains.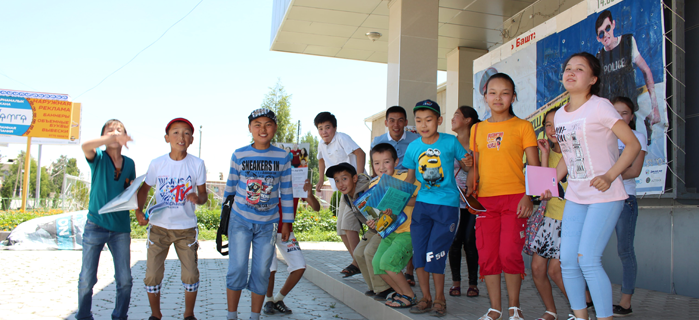 The main goal of our summer camp was to motivate our participants to dream big and to work very hard to realize their dreams. We told students about different academic opportunities and taught them how to set goals, manage their time effectively, and write motivational letters. At the end of the camp, I noticed that our participants became more self-confident and motivated to study hard. Most importantly, we managed to build a networking platform for participants: students have created a group chat through WhatsApp that allows them to stay in touch and exchange information. We were proud to find out that the group now meets regularly to discuss common issues and arranges workshops for other children.
While organizing our camp, we faced many difficulties. The main challenge was the lack of financial support. Therefore we had to sell tickets, which was quite challenging. However, using our marketing skills, we were able to attract 35 participants. We also gained a huge amount of experience by partnering with local businesses, NGOs, and US Peace Corps volunteers. This was truly a great learning experience that taught us many vital skills. In the future, we are planning to organize similar camps in every region of our country by using our new modified format and content.
About the US-Central Asia Foundation
The US-Central Asia Education Foundation Enterprise Student Fellowship Program (US-CAEF) is an academic scholarship program of the US-Central Asia Education Foundation and is administered by American Councils for International Education. US-CAEF provides funding for undergraduate study in business administration and economics through the Enterprise Student Fellowships.
Fellowships fund student enrollment at the American University of Central Asia and the Kazakhstan Institute of Management Economics and Strategic Research, which are leading Western-style institutions in the region. The fellowships are awarded to qualified students based on academic merit and financial need. Classroom experiences are enhanced through the Enterprise Regional Internship Program, which allows students to gain valuable work experience at local companies following their second year. Upon graduation, a select number of fellows take part in the International Capstone Program, a four-month internship program based in Washington, DC. The foundation further strengthens the quality of business education through professional workshops for regional faculty to improve teaching skills, knowledge and course curricula.
About the Future Leaders Exchange Program
The Future Leaders Exchange or FLEX program is a competitive, merit-based scholarship program funded by the US Department of State. FLEX students who pass multiple rounds of testing earn a scholarship to spend an academic year in the United States living with a volunteer host family and attending a US high school. FLEX students gain leadership skills, learn about American society and values, and teach Americans about FLEX countries and cultures. FLEX is a highly competitive program with over 24,000 alumni who have contributed over one million hours of community service in cities and towns across America. The students return home to active alumni networks that carry out inspiring activities. Learn more about hosting a FLEX student.