Image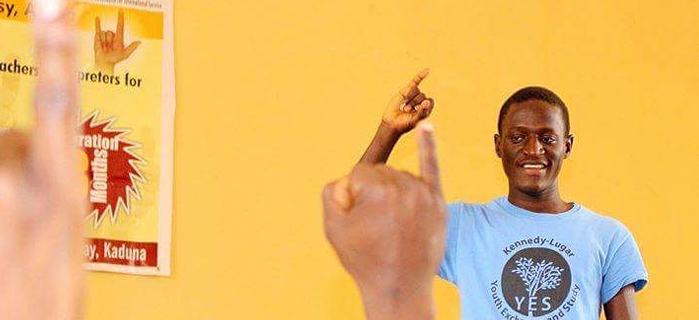 Editor's Note: This article was originally written by the YES Program. Inspired by the values of inclusion he experienced during his exchange year in the US, Nehemiah brought sign language to his hometown in Nigeria.
Living for a year in the United States often provides opportunities for exchange students that would have been unthinkable in their home countries. For Youth Exchange and Study (YES) student, Nehemiah, from Nigeria, spending an exchange year in Arvada, Colorado meant feeling accommodated in a way he had never experienced in his home country. 
At the age of 10, Nehemiah unexpectedly lost his hearing; and the cause remains unclear. At home in Nigeria, his parents made little effort to communicate with him in sign language. Nehemiah describes, "There is a wide communication gap between the deaf and the hearing world. The feeling of isolation is always there."
Even outside of his family's home, the lack of equality and access to public life was evident to Nehemiah. Whether searching for a job, pursuing education, or visiting a healthcare facility, there are significant barriers to living a high-quality life for people who are deaf in Nigeria.
However, in the US, thanks to the laws set in place by the Americans with Disabilities Act, there are inclusion requirements for people living with disabilities across the public sector. People with disabilities are guaranteed equal access and treatment when going to school, interviewing for a new job, or riding public transportation, for example.
Nehemiah was elated to find sign language interpreters at his host high school and at public events and social gatherings and was thrilled to communicate in sign language with his host parents. Nehemiah's host family in Arvada, Colorado had two deaf siblings and two hearing siblings and everyone knew sign language. Upon meeting his host family, Nehemiah felt included and understood in a way that he had never felt before.
"My host parents learned sign language to communicate with their deaf children initially, but now my host mom is a certified sign language interpreter. When I first arrived, I remember my host mom saying I just fit in, and she was right. We took off chatting comfortably in the car as if we have known each other for ages," Nehemiah recalled
Nehemiah's experience in the US sharply contrasted with the inequalities faced by people living with disabilities in Nigeria; so he decided to take a stand in his community when he returned home to Nigeria from Colorado. Inspired by the values of volunteerism and leadership he gained during his exchange year in the US, he founded the Sign Language Acquisition Program with the assistance of the US Embassy and Abuja Support Program.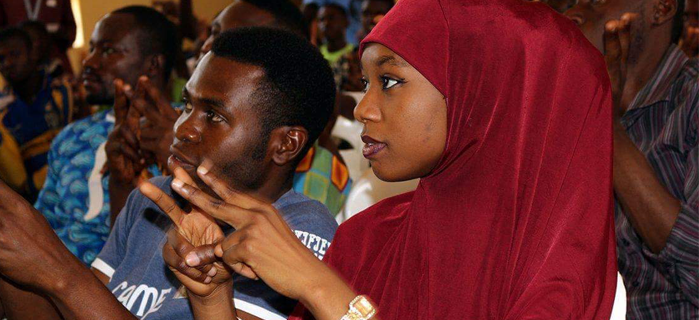 To kick off the program, Nehemiah and a group of volunteers hosted a sign language event to teach the basics of sign language. There was so much interest in Nehemiah's initiative that the event was covered by a local Nigerian radio station and TV channel, spreading deaf awareness and sign language education. The sign language workshops marked an important step in bridging the gap between the deaf and hearing communities in Nigeria.
Nehemiah hopes to continue to promote inclusion and equality for the deaf community even after his sign language program comes to an end. Nehemiah and a group of volunteers plan on launching sign language clubs in local deaf schools to invite parents and family members to learn and perfect their signing. At home, Nehemiah's family has even shown an increased interest in learning to sign.
While Nehemiah hopes that one day his message of inclusion spreads throughout his entire country, he is starting one step at a time by integrating the deaf and hearing communities at home in Kaduna.
About the YES Program
Congress established the Kennedy-Lugar Youth Exchange and Study (YES) program in October 2002 in response to the events of September 11, 2001. The program is funded through the U.S. Department of State and sponsored by the Bureau of Educational and Cultural Affairs (ECA) to provide scholarships for high school students from countries with significant Muslim populations to spend up to one academic year in the United States. 

Students live with American host families, attend high school, engage in activities to learn about US society and values, acquire leadership skills, and help educate Americans about their countries and cultures.
Image