Image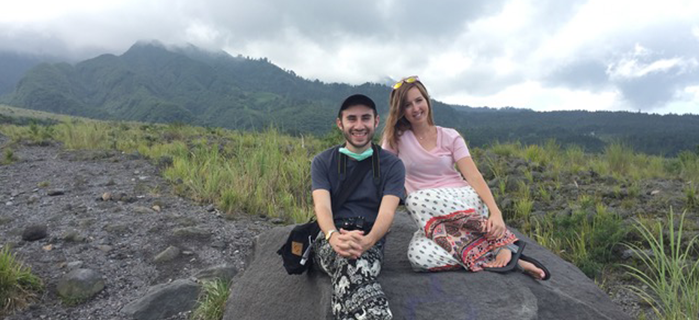 Editor's note: Laura Garvie has called many places home, including the "Paris of East Java," Malang, Indonesia. She attributes her professional-level language skills to her semester-long study through the Indonesian Overseas Program (IOP) in 2016. Laura is currently pursuing a master's degree and continuing to connect with the Indonesian community in her current home, Paris, France.
What story do you tell the most when people ask, "What was your program like?"
When people ask me about my experience as an Indonesian Overseas Program participant, I usually tell them about the incredible adventure of hiking the Ijen volcano complex. While I studied Indonesian in an intense classroom environment Monday through Friday, weekends offered an opportunity to venture out of Malang and I was really never at a loss of where to go next. My experience at Ijen is an appropriate snapshot of the semester because while the difficult seven-hour hike up the mountain in total darkness left me exhausted, the sight of electric-blue flames could not have made it more worthwhile and as the sun came up to reveal the world's largest, highly acidic lake. I knew this was a transformative experience in my life. I made the trip back down the mountain having witnessed a true miracle of nature and having a better understanding of another corner of the world.
How has the program affected your goals?
As a result of the academic component of this program, I was able to progress in the language to the point that I am now able to consider careers using Indonesian and Malay in a professional setting. This has allowed several doors to open for me, and my goal to work in the US Foreign Service has been further cemented.
How are you involved in the global and or local community today?
One of the best, lasting perks of being an Indonesian Overseas Program student has been the relationships I was able to form and my continued role in the global and local community. I can't imagine a time when I will not be in touch with the many people who made my experience in Malang so special and I have enjoyed getting involved with the Indonesian communities back home in D.C. and in the city I currently call home, Paris.
Tell us about someone who impacted your experience.
It would be very difficult to choose just one person who had a great impact on my experience but certainly the first people that come to mind would be my two amazing Indonesian teachers, Mas Hudha and Mbak Vania. They showed great patience and brought an energy to the classroom that made studying something to look forward to each day. They took on many roles, hanging out after class and taking me on weekend trips to nearby parks, beaches, and coffee and chocolate farms! They were truly an amazing support group.
Why are experiences like this important?
Experiences like this make you understand your own privileges and past experiences in a way you never could if you stayed home. By looking out and seeing such a different environment around you, your understanding of your own self and inner being is deepened in a meaningful way. I always cherish the opportunity to get to know people from different walks of life and Indonesian Overseas Program above all, enabled my path to cross with so many kind and inspiring people who made their home feel like my own.
Bonus question: What was the best thing you ate while on program?
To this day, I continue to eat fried rice, tempeh and peanut sate regularly because of my time in Indonesia, but perhaps the best thing I ate and cannot seem to replicate back home would be roti baker. It's essentially toast with your choice of toppings anything from cheese to chocolate sprinkles but can only be found at certain street vendors and only at night. I would often talk my tutor and friends in Malang into spending entire evenings searching for the best one!
---
About the Indonesian Overseas Program
The American Councils Indonesian Overseas Program (IOP) is an intensive semester- or academic year-long overseas immersion program in Malang, Indonesia. The program was established to serve participants from a variety of language levels and backgrounds, including advanced students and those learning the language for the first time.