Image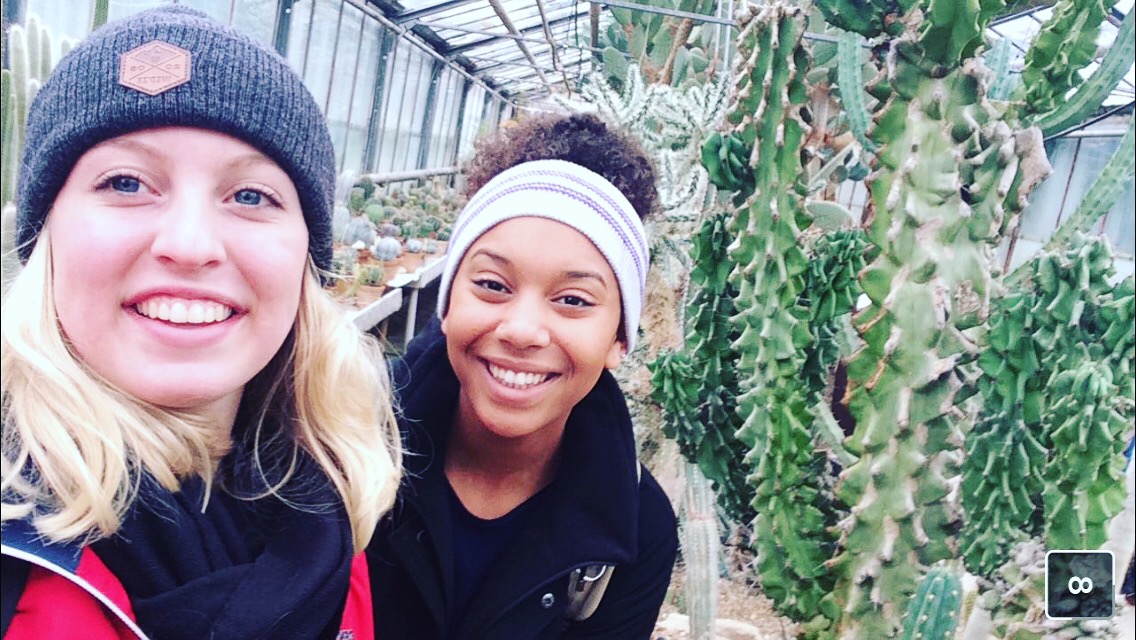 When a speaker presented on NSLI-Y at her school in Texas, Morgan was immediately intrigued. She had enjoyed studying Greek and Latin but wanted a new challenge. 
When a speaker presented on NSLI-Y at her school in Missouri, Texas, Morgan was immediately intrigued. She had enjoyed studying Greek and Latin but wanted a new challenge. With that, Morgan applied for NSLI-Y Russian. She had always been interested in Russian history and culture; an academic year, she figured, would give her more time to learn the language and to better understand her goals for the future.
Still, it is difficult to anticipate what the actual experience would be like. Morgan was selected for the academic year NSLI-Y Russia program in Moldova a country Morgan admits she couldn't point out on a map prior to her selection. Would she manage on her own?
.....
Being Jamaican-American, Morgan stood out in Moldova. People would sometimes stare and some would ask her questions about her background. While this was uncomfortable at times, she found that this provided the opportunity to talk to more people in public and to practice Russian. Another challenge? Being vegetarian in a culture where vegetarianism is not common!
Morgan's host family, local coordinator, and resident director helped her manage these challenges, mitigating her culture shock by helping her understand cultural differences. Like the time Morgan sat on the grass in the park, only to have an older woman approach her to say not sit on the ground. Slightly baffled by the request, she complied. When she later asked her host family about the incident, they explained to her the cultural reasons behind the woman's request.
In addition to her host family, Morgan says her NSLI-Y group considered each other family. Even when there were small disagreements, they were always there to support one another. They had get-togethers in the park, celebrated birthdays, and enjoyed many cultural excursions. If one person didn't understand a language concept, another member of the group would volunteer to tutor them in a caf after class. Morgan says that while homesickness was most challenging at Christmas time, the group support made a big difference.
For language learning, Morgan thrived in the structured environment and loved the daily language classes. She spoke in Russian with her host family, as well as friends in the community and strangers in passing. She always carried grammar and verb books. She also studied other subjects in Russian, such as Roman mythology. She realized eventually that Russian has some of the same cases as Latin, which helped her better understand and use them.
....
Today, Morgan says one of the things she loves most about being able to speak Russian is that she can read works of literature in their original language. Over the summer, her reading assignment for English class happened to be Crime and Punishment, so she is read it in Russian. She is also a musician and loves being able to read the notes in the music in Russian pieces. She also enjoys the "wow" factor when she surprises someone with her language skills.
Morgan's advice for others interested in NSLI-Y is to keep an open mind and be flexible: "Rather than being put off by cultural norms, you can appreciate and learn from them." She learned a great deal about Moldova as well as the former Soviet Union and how actual people who experienced it still feel about it something she says she could never learn from textbooks or US classrooms.
Ready to enter college, Morgan is considering two possible career paths: veterinary medicine combined with linguistics or linguistics and military service. (Morgan works at Cy-Fair Animal Hospital in Houston, the clinic featured on the Animal Planet show, The Vet Life.) "NSLI-Y has impacted my goals 100%," Morgan says. "I never would have considered working for World Vet or joining the Marines if it weren't for NSLI-Y."
About NSLI-Y
Sponsored by the US Department of State's Bureau of Educational and Cultural Affairs (ECA), NSLI-Y provides merit-based scholarships for eligible high school students and recent high school graduates to learn less commonly taught languages in summer and academic-year immersion programs. Scholarships are available for students to study Arabic, Chinese (Mandarin), Hindi, Korean, Persian (Tajiki), Russian, and Turkish. Applications are typically due in late October; visit the NSLI-Y website for further detail.