Image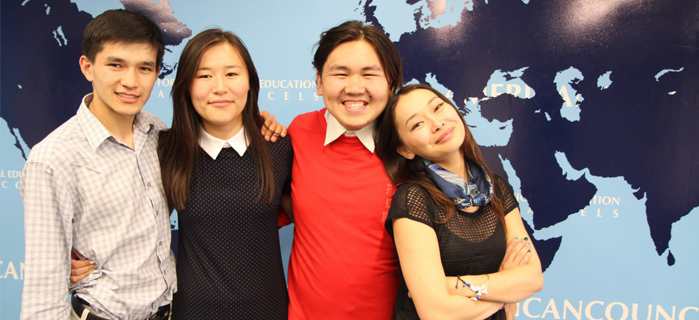 Four FLEX alumni visited DC as part of the GoViral Reporting Tour.
WASHINGTON DC Years after their experience with the Future Leaders Exchange Program ended, four alumni were back in the US this week learning how to GoViral.
The four won spots in the inaugural GoViral Reporting Tour, which gave 20 journalists and media professionals from Central Asia, Armenia, and Georgia a chance to meet with industry professionals around the US and to learn about digital media. The tour is sponsored by the US Department of State and organized by the Foreign Press Center.
The tour wraps up this week in Washington D.C., where the FLEX alumni said visiting the American Councils for International Education office was a "mandatory" stop.
The FLEX program, which is administered by American Councils, provides scholarships to attend a US high school for a full academic year while living with a volunteer host family. All four alumni on the GoViral Tour volunteer in local FLEX offices in their home countries of Kazakhstan and Kyrgyzstan.
"It's like coming full circle," said Azat Toroev, a blogger from Kyrgyzstan and 2014 FLEX alumnus. "American Councils is a special place that changes life for thousands of kids."
"I always credit FLEX for all of my successes," he added.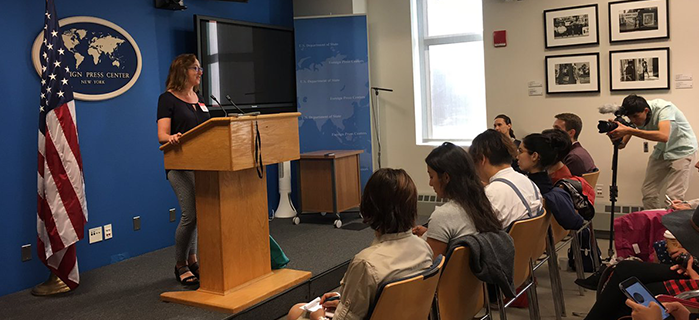 Azat Ruziev, (far right) a 2014 FLEX alumnus, films a presentation at the Foreign Press Center.
Zhanna Tsoy, the Program Coordinator for the Reporting Tour said her FLEX experience helped her English skills, leadership abilities, and confidence.
"I'm sure the program helped with this," she said of her GoViral role. "Thanks to what I got (from FLEX), I am who I am."
The Kazakhstan native, who finished her FLEX year in 2011, explained that it was a competitive selection process to determine the 20 people on the tour.
The four FLEX alumni in the group bonded instantly, she noted.
Nurzhama Dzhanibekova, a camera operator for the Reporting Tour, said FLEX gave her English and communication skills that have helped her find success, but also pushed her in other ways.
"After FLEX, I really changed," she said. "I came back to Kyrgyzstan and set really high dreams for myself. It really made me feel as though everything was possible."
For updates on the GoViral Reporting Tour visit GoViralkz on Facebook, Twitter, and Instagram.
---
About the GoVIral Reporting Tour
The GoViral Reporting Tour is an extension of the GoViral Festival, which debuted in June in Almaty, Kazakhstan, where 1,000 attendees heard from journalists, entrepreneurs, and artists about how to use social media and technology to connect with a global audience. For more information, visit: goviral.kz/en
About the Future Leaders Exchange Program
The Future Leaders Exchange Program (FLEX) is a competitive, merit-based scholarship program funded by the US Department of State. FLEX students who pass multiple rounds of testing earn a scholarship to spend an academic year in the United States living with a volunteer host family and attending a US high school.
FLEX students gain leadership skills, learn about American society and values, and teach Americans about FLEX countries and cultures. FLEX is a highly competitive program with over 25,000 alumni who have contributed over one million hours of community service in cities and towns across America. The students return home to active alumni networks that carry out inspiring activities. Learn more at discoverflex.org.