Image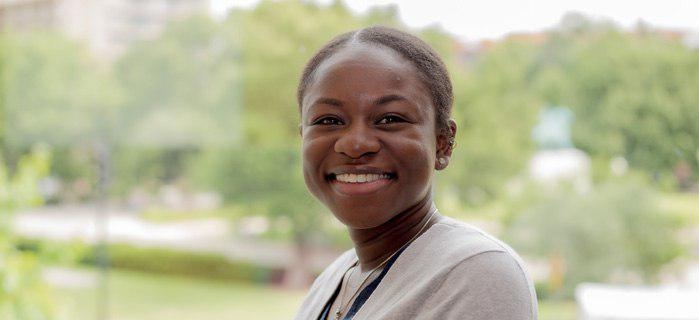 Editor's note: In March, American Councils is featuring profiles of alumnae in different stages of their careers. They are studying and working in different fields, but they all got their start through an exchange program and they're all headed for success.
For Abena Amoakuh, persistence has made all the difference.
She had been studying Spanish since kindergarten but decided to switch to Chinese in college to support her interest in a business career. The language was a challenge, and when she studied abroad in China during her junior year, she often let local friends take the lead when language skills were required.
Looking for a more intensive language experience, she applied for the Critical Language Scholarship (CLS) Program that summer. The U.S. Department of State immersion program is designed for rapid language gains, just what Abena was looking for. But her application was not selected.
Undeterred, she applied again the following year.
This time, she was accepted.
"After studying abroad (in China)… I said I really wanted to commit to this," she said in a recent phone interview. "For me, it was a challenge, and I enjoyed the challenge."
Part of that challenge was the CLS Program's no-English policy. Students commit to only speak in the language they are studying. When Abena arrived in Dalian, China in the summer of 2016, she was the weakest speaker in her group.
Michelle Tong, who was part of the same Dalian group, explained that Abena's fearlessness helped her language improve and their friendship develop.
"Abena is really outgoing and open and she's not afraid to make mistakes," Michelle said. "Her Chinese improved a lot, I think the most out of anyone."

Michelle explained that as a Chinese American, she grew up hearing Mandarin at home, but had never really conversed with non-native speakers before the Critical Language Scholarship Program.
"Friendships just form regardless of language," she said. "That was something that was really special about CLS."

Abena also found that lesson to be true with her host family, who during their first meeting couldn't understand much of what she said. Her five-year-old host sister reminded her of this in her final days as she gushed over Abena's language growth.
"She said, 'American big sister, your Chinese was really bad when you got here. You've improved a lot and I'm really proud of you,'" Abena said with a laugh.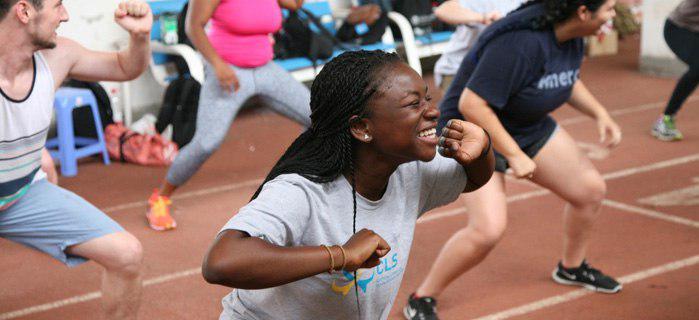 Despite her initial language limitations, her host family welcomed her immediately. They often helped navigate cultural misunderstandings and deflect uncomfortable attention she garnered as a black American in China. Whenever someone stared or asked about Abena, her host sisters were always proud to say, "Oh her? That's our American sister."
Abena said she also enjoyed conversations with her language partner about being black in America and about her cultural identity.
"Yes, I was learning more about Chinese culture, but Chinese people were learning more about American people and American culture and how unique we are," Abena said.
"And I was having those conversations in Chinese," she added.
As an alumni ambassador of the program last year, she shared her experience as a woman of color with prospective scholars. She continues to do so as an alumna. She is also on a new career path.
Last fall, she started working on her master's in public health, which she hopes to someday use while studying African populations in China.
"There are a lot of African immigrants in China and people don't know that," she explained.
She plans to continue improving her language skills in grad school and complete her field research in China. She credits her experience on the Critical Language Scholarship Program with refining her focus.
"We won't be great if we don't know about others, because America is supposed to be such a huge melting pot," she said. "We should understand how other places work and their culture and history."
Abena is thankful that she persisted, and hopes to encourage others to take part in exchange programs.
"It opens your eyes to how your unique perspective can influence others and vice versa," she said. "There's not one person (on program) who's not challenged in some way. It helps them understand what they want to do and who they want to be."
---
About the Critical Language Scholarship Program
The US Department of State Critical Language Scholarship (CLS) Program is a fully funded summer language program for American undergraduate and graduate students. CLS is a merit-based study abroad scholarship providing cultural immersion and rigorous academic instruction in 14 languages essential to America's engagement with the world.

CLS is part of a US government effort to expand dramatically the number of Americans studying and mastering critical need foreign languages. The CLS Program prepares American students to be global leaders by providing critical language and cultural skills that enable them to contribute to U.S. economic competitiveness and national security.

The CLS Program is supported in its implementation by American Councils for International Education.