Image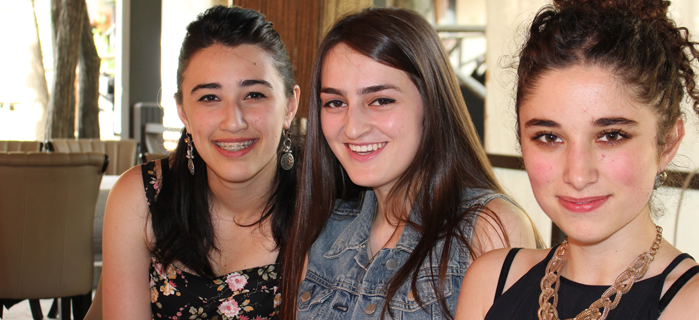 The US Central Asia Foundation launched a new internship program for fellows from Tajikistan. 
The US Central Asia Foundation's (US-CAEF) summer regional internship program offers sophomore fellows an opportunity to take the first steps on their career paths. Formerly held only in Bishkek, Kyrgyz Republic and Almaty, Kazakhstan, the Foundation expanded the internship program to Dushanbe, Tajikistan this past summer. Directors hope that internships in Tajikistan can help fellows foster business contacts that will increase the likelihood of Tajik fellows returning to their country to find work and pursue their careers in their native country, which needs highly qualified, English-speaking specialists in finance, accounting, and auditing.
Four Tajik sophomores, two from each partner university, took part in the first US-CAEF summer internship program in Dushanbe. The quotes below reflect the interns' first impressions about their summer experiences:
Osiya
"I am interning at Deloitte & Touche Tajikistan and I am enjoying my internship a lot. I am glad that this internship offers actual involvement in work (not scanning or coffee
making). Already during the first week of my internship I was sent to the northern capital of our country to audit Khujand International Airport for three weeks.
Deloitte has captivated me with their exemplary attitude toward work and nice staff relationships. Every employee is ready to help you. In addition to auditing skills and practical knowledge, I also found new friends in Deloitte, including Surur, our US-CAEF alumna. I would like to thank US-CAEF for this amazing experience."
Shahlo
"I had my internship at Crowe Horwath ACG, Tajikistan which specializes in audit, accountancy, tax, legal and advisory services. The internship helped me not only improve my auditing skills, but also to realize the importance of keeping up-to-date not only on your industry, but also outside of your field. In addition, this experience has opened new opportunities for me I was offered another internship with this company next summer leading to subsequent employment in the future. I think it was a very good decision to have the program in Tajikistan."
Zuhro Q.
"I did not expect that there are companies like RSM in Tajikistan, which is an auditing company and a branch of RSM international, London, UK that follow international standards and hire highly qualified specialists. My internship with RSM exceeded my expectations it gave me great work experience and made my future path much clearer. The great collegial atmosphere and experience I gained at RSM have motivated me to pursue a career in auditing.
Even though we study in a foreign country, I personally see myself in the future in Tajikistan and I am glad that now I have an understanding of what it is like to work here, what to expect and, of course, RSM might be a company where I see myself when I graduate. I highly encourage future US- CAEF interns to use this opportunity and grow professionally."
Zuhro G.
"From the very first days it was clear that FINCA has a very pleasant corporate culture, amicable and responsive employees. It was largely due to this atmosphere that within this short period I was able to learn so much about the company's international and local operations, financial and auditing procedures, and anti-money laundering and counter-terrorism policies. I had an opportunity to experience the real life business environment; acquired technical knowledge about
Tajikistan's accounting standards, possible financial frauds and infringements; enhanced my knowledge of banking and finance; and refined my knowledge of MS Excel and developed my teamwork and analytical skills."
About the US-Central Asia Foundation
The US-Central Asia Education Foundation Enterprise Student Fellowship Program (US-CAEF) is an academic scholarship program of the US-Central Asia Education Foundation and is administered by American Councils for International Education. US-CAEF provides funding for undergraduate study in business administration and economics through the Enterprise Student Fellowships.
Fellowships fund student enrollment at the American University of Central Asia and the Kazakhstan Institute of Management Economics and Strategic Research, which are leading Western-style institutions in the region. The fellowships are awarded to qualified students based on academic merit and financial need. Classroom experiences are enhanced through the Enterprise Regional Internship Program, which allows students to gain valuable work experience at local companies following their second year. Upon graduation, a select number of fellows take part in the International Capstone Program, a four-month internship program based in Washington, DC. The foundation further strengthens the quality of business education through professional workshops for regional faculty to improve teaching skills, knowledge and course curricula.