Image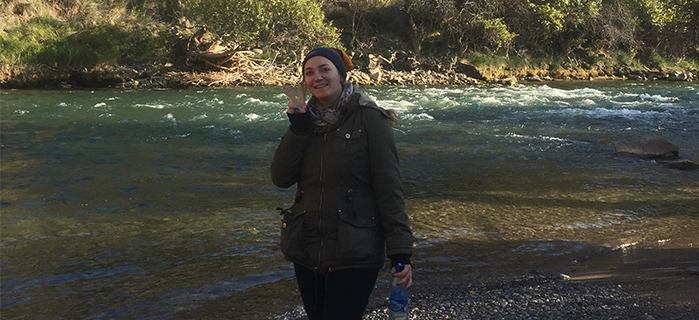 Editor's Note: Victorialyn Keay studied abroad in Almaty, Kazakhstan in the fall of 2017, through the Advanced Russian Language and Area Studies Program. Connecting with locals, especially her host mom, helped her learn about a new culture. It also gave her a new appreciation for her American culture. She brings this cultural understanding and interest in public diplomacy to her current role at the US Chamber of Commerce.

What story do you tell the most when people ask, "What was your program like?"
The Advanced Russian Language and Area Studies Program allowed me to explore and experience a region of the world that I never thought I would have an opportunity to see, let alone live in for four months. What turned out to have the biggest impact on the experience for me was being able to be a part of American public diplomacy in Kazakhstan. When I was in Almaty I volunteered in an English language conversation group hosted by the Almaty American Space. American Spaces, or American Corners, are operated by the U.S. Embassy or Consulate and are located in urban and rural cities around the world. Kazakhstan alone has 11 American Spaces.
I first learned about this program in a public diplomacy class at my school. American Corners are places where host communities can come to learn more about the United States. In Almaty, the American Space hosts English language conversation and debate groups as well as other programs for children and technology workshops. As a volunteer, I was able to sit down with people from the community once a week and talk about their careers, their childhoods, and their dreams for the future. Their stories taught me about modern life in Kazakhstan and allowed me to see life through their eyes. Some days we discussed the advantages and disadvantages of building new factories or more schools in rural villages, and other days we shared our favorite episodes from "Game of Thrones." At the same time I was able to share my own perspective on various issues, such as the cost of housing (an issue which DC and Almaty residents have in common). Some of the group had visited the United States before, but most had not, and our conversation group might have been their first time sitting down with an American student. Every week they amazed me with their openness to discuss their lives and ambitions, and by their pure dedication to learning no matter their age or background. 
How has the program affected your goals?
The Advanced Russian Language and Area Studies Program (RLASP) had a great balance of language immersion and cultural interaction. I felt empowered to find lectures and events happening around the city. RLASP reinforced my dedication to American principles and my (professional) goals. Living in Kazakhstan has also strengthened the idea for me that economic security is national security. Understanding the strategic importance of Kazakhstan is crucial to understanding how economic policy and international security impacts Kazakhstan's neighbors. Living in Kazakhstan has also given me a deeper appreciation for the importance of democratic institutions in a growing economy.  
How are you involved in the global and or local community today?
After returning from Almaty, I started working at the U.S. Chamber of Commerce. As a part of the U.S. Chamber, I get to help support pro-business policy both at home and abroad. Within my first two weeks there I attended a reception we hosted for President Nursultan Nazarbayev, where 20 contracts were signed that were worth $7.5 billion in U.S. foreign investment in Kazakhstan. I would never have guessed that within a month of leaving Almaty, Kazakhstan would follow me to Washington and I would be within a few feet of President Nazarbayev himself! 
Tell us about someone who impacted your experience.
My host mom had the greatest impact on my experience. Her name was Aigul and she was a manager at a company. It was impressive for me to be able to live with a successful, professional woman, especially in a country where the culture still has strong gender norms. Her husband once affectionately called her a 'superwoman'. Aigul was always encouraging and patient with my limited Russian speaking skills. She became my closest friend in the city, and I enjoyed spending time with her. She gave me Kazakh plov cooking lessons and every few weeks we would go out and get our nails done together. She was not only a friendly face but also a wealth of information on my classes or popular sites around the city.  
Why are experiences like this important?
Experiences like the Advanced Russian Language and Area Studies Program are important because you never know what you don't know about another region or another culture. Too often I have had to explain to my friends or my family that Kazakhstan is not a part of Russia. My ability to share in the life and culture of the Kazakh people has given me a unique insight into a region that most people don't know about, and I can now better understand how people from Central Asia view and interact with global partners. At the same time, I am able to share my experience of Kazakh culture, family values, and traditions with my community back home. 
Bonus question: What was the best thing you ate while on program? 
The best meal I ate on the program was a lunch our group had at the house of one of our host families where we learned how to cook baursak, which is a type of puffy sweet bread. I loved to eat baursak with either homemade raspberry jam or Nutella. Samsas are another common Kazakh street food that I really miss. Samsas are savory, meat-filled pastries that are cheap and easy to eat on the move. A day in Kazakhstan is incomplete without a samsa and plov!
---
About the Advanced Russian Language & Area Studies Program 
One of the oldest and most respected overseas Russian immersion programs available to students today, the Advanced Russian Language & Areas Studies Program (RLASP) is designed to improve participants' oral, listening, reading, and writing proficiency in the Russian language and to develop their knowledge of Russian history, politics, culture, and society. Program features include homestays, weekly excursions, travel to other regions of the host country, conversation partners, and a wide range of opportunities to pursue hobbies and personal interests in a Russian context. Program locations include Moscow, St. Petersburg, Vladimir, and Almaty.