Image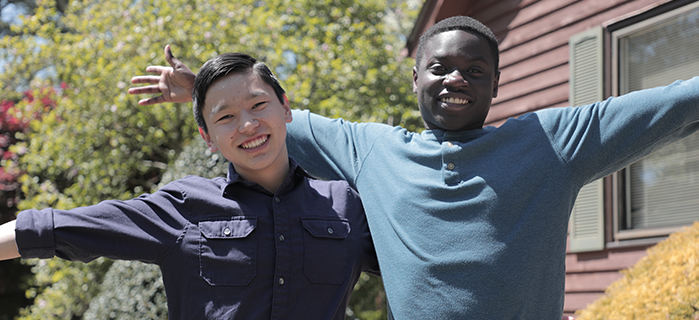 Meder's journey from Kyrgyzstan to America actually started in Ghana.
Last fall, Meder Mukai Uulu was thrilled to learn he earned a scholarship for the Future Leaders Exchange (FLEX) Program. The competitive, merit-based program, which is sponsored by the United States Department of State, has an acceptance rate of less than three percent. FLEX students live with a host family and attend an American high school, and Meder couldn't wait. 
Meanwhile in Raleigh, North Carolina, the Spalding family was preparing to welcome Razaak "Zack" Adams, a Kennedy-Lugar Youth Exchange and Study (YES) program student from Ghana. Zack was to be the fourth exchange student hosted by the family over the years.
Grant Spalding and his wife, Barbara Porter-Spalding, are no strangers to exchange. Both served as Peace Corps volunteers – Mrs. Porter-Spalding served twice. It was a natural fit for the pair to start hosting. They have also worked as host family recruiters for American Councils for International Education, the organization that administers both YES and FLEX programs.
In preparation for his year in America, Meder attended an English camp in Moldova to strengthen his language skills. One of the instructors at camp was Edward Ciobanu, a FLEX alumnus, who helped Meder with more than just his language.
Edward knew Meder hadn't been placed with a host family yet, and with only a few days till the deadline, he reached out to the Spaldings. They had been his host family the previous year.
It was an easy decision for the Spaldings; they were going to host two students.
But first they had to call their host son to-be, in Ghana. When Zack found out another host student needed a placement, he was immediately on board.
"That was really wonderful," Mr. Spalding said. "That just is a reflection of his inner spirit."
"They're both wonderful, caring boys," he added.
Two cultures in one home
They love Mario Kart and bike rides. Macaroni and cheese is their favorite food. They don't quite understand all the rules of baseball, but Zack and Meder have integrated well into the world of American teenagers.
Both sang in the choir their first semester at Athens Drive High School, even singing small solos in one of the performances. (It was only a few words each, a line in the song really, the humble pair were quick to explain.) Choir helped them become fast friends while they got comfortable in their new surroundings.
"Now that I think of it, if it were only me, I would be so bored," Zack said with a laugh. "It's amazing to have someone from another country, another continent, to live with you, with the Americans."
Meder, however, had hoped for a double placement with another exchange student from the start.
"It was my dream, and it came true," he said with a big smile. "I have my host brother, double placement from another country. Two cultures in one home."
Living together has also afforded them a chance to learn about each other's home countries. Meder has learned a few phrases in Twi and Zack has learned a few in Kyrgyz. After they return home, they'd like to host each other.
"It will be my first time in Asia," Zack said.
"It will be my first time in Africa," Meder added.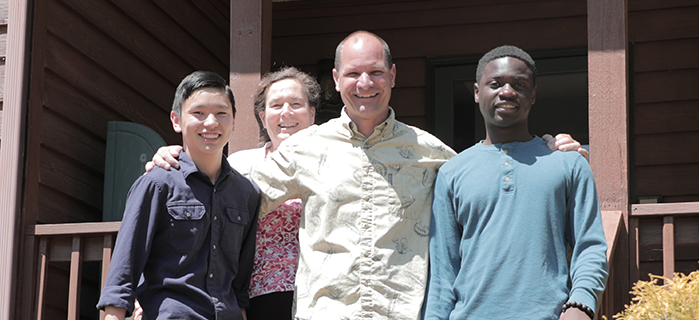 Wilderness adventures
American life has been a blend of adaptation, learning new things, and keeping some old habits. Zack and Meder volunteer often. They love to read and are dedicated to their academics, making the honor roll each term. Both are early risers, even on the weekend.
Zack explained that, at his boarding school in Ghana, he usually got up around 4:30 a.m. each day to start chores before his lessons.
"I had to adjust some things, like the waking up time," he said of his American life. "I'm not used to sleeping in."
He also had to adjust to living in a rural area. The Spaldings have an extensive garden, and access to a series of trails from their backyard. Mr. Spalding said one of his favorite memories of his host sons was the day they went on a "wilderness adventure," walking in the woods as the sun went down.
"They got kind of panicky about getting back before dark and being lost in the woods," Mr. Spalding said, laughing as he recounted the tale. "I thought it was all rather comical because they were 200 yards in the woods and they thought were in the wild."
Double the rewards
Mrs. Spalding-Porter thinks hosting two students made it easier for both to adjust, and knows it has been rewarding for her family and the community.
"People's lives in other countries are not really all that different than your own," she said.
She said Zack usually chooses what the family watches on movie night, and Meder loves helping her in the kitchen and learning new recipes. They refer to their host parents as mom and dad. Mr. Spalding said they had planned to stop hosting this year after their son, David, graduates from high school, but that changed. 
"I haven't been able to let go yet because Zack and Meder have been such wonderful boys," he said. "And so we're double hosting again next year."
---
Want to host an exchange student?
Learn more about hosting a student or contact inbound@americancouncils.org for more information.
About the Future Leaders Exchange Program
The Future Leaders Exchange Program (FLEX) is a competitive, merit-based scholarship program funded by the U.S. Department of State. FLEX students who pass multiple rounds of testing earn a scholarship to spend an academic year in the United States living with a volunteer host family and attending a U.S. high school.
FLEX students gain leadership skills, learn about American society and values, and teach Americans about FLEX countries and cultures. FLEX is a highly competitive program with over 25,000 alumni who have contributed over one million hours of community service in cities and towns across America. The students return home to active alumni networks that carry out inspiring activities. Learn more at discoverflex.org.
About the YES Program
Congress established the Kennedy-Lugar Youth Exchange and Study (YES) program in October 2002 in response to the events of September 11, 2001. The program is funded through the U.S. Department of State and sponsored by the Bureau of Educational and Cultural Affairs (ECA) to provide scholarships for high school students from countries with significant Muslim populations to spend up to one academic year in the United States. 
Students live with American host families, attend high school, engage in activities to learn about U.S. society and values, acquire leadership skills, and help educate Americans about their countries and cultures.