Image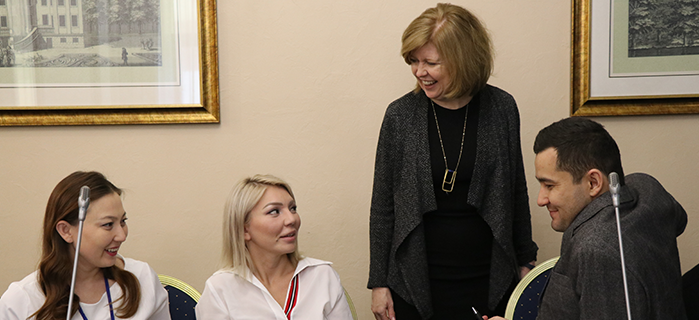 ASTANA, KAZAKHSTAN -- Representatives from higher education institutes in the United States and Kazakhstan met this month for a workshop, the latest event in a yearlong initiative to increase collaboration between universities.
The workshop was hosted in Astana, Kazakhstan as part of the U.S.-Kazakhstan University Partnership Coaching Program. It was funded by the U.S. Embassy in Astana and administered by American Councils for International Education. The 12-month coaching program, which launched in October, supports collaboration and partnerships between institutions of higher education in the two countries.
Adrian Erlinger, manager for innovation and capacity building programs at American Councils, moderated the workshop and led the U.S. delegation to the site visits that followed.
"To create and sustain effective international collaborations, it is critical that partners understand their respective systems to become better prepared for in-person education exchange," Mr. Erlinger said. "The workshop allowed the partners to have face-to-face interaction with U.S. university peers and spend a dedicated period of time to concentrate on the issue of international partnership building."
American experts from Pennsylvania State University, Lehigh University, Washington State University, and California State University-Long Beach presented on the themes of U.S. higher education in context, approving partnership agreements, flexible student exchange models, and faculty collaborations for joint research. Representatives from the Innovative University of Eurasia, Seifullin Kazakh Agro Technical University, Karaganda State Technical University, East Kazakhstan State Technical University, and Satpayev Kazakhstan National Research Technical University gained insight to refine their international relations strategies, and drafted Action Plans to spur future projects with U.S. universities.
At the Seifullin Kazakh Agro Technical University in Astana, the rector welcomed the delegation and outlined priorities for international collaboration and introduced the American university experts to faculty and students working in the areas of precision agriculture, metal processing, tractor maintenance, and oilseed production. The U.S. delegation also traveled to Almaty, where they met the senior leadership from the Satpayev Kazakhstan National Research Technical University and visited research centers, including a FabLab, technopark, digital technology institute, supercomputer, and the metallurgy extraction institute.
"This project is the first of its kind in Kazakhstan to introduce the concept of comprehensive internationalization in higher education," he said. "Participants developed strategies that go beyond student exchange to support the areas of high-level planning, professional development of administrators, curriculum, faculty engagement, and assessing agreements."