Image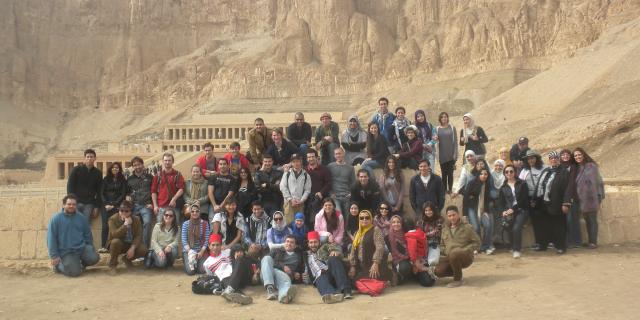 Participants in the Arabic Flagship Program in Alexandria, Egypt, recently returned from a weeklong journey to historic sites throughout Egypt. The group of 57 students, teachers, their families and language partners explored the Pharonic sites of the Karnak Temple, Luxor Temple, Hatchepsut Temple, and Valley of the Kings. The trip came immediately after their final exams and projects, so the group was more than ready for a cultural adventure.
During their journey, they traveled by train from Cairo to Luxor, cruised the Nile River to Aswan, and returned by rail to Cairo. Between Luxor and Aswan, the group made stops at the Edfu and Kom Ombo Temples. In Aswan, they visited the famous High Damn, Philae Temple and the Nubian Village, where they learned about the distinct Nubian culture, language, and its history. On their final day in Aswan, the group visited the Botanical Gardens on Lord Kitchner's Island, the Nubian Museum, and combed the extensive open-air bazaar searching for spices and handicrafts. Of particular delight to the students was the recently opened crocodile mummy museum in Kom Ombo, where the ancient Egyptians worshipped the crocodile-headed Sobek, their god of fertility. Here, they were provided with the opportunity to take a picture holding an actual baby crocodile!
Although the group was aware of the recent turmoil of post-revolution Egypt, these Flagship students were determined to enjoy the rich Egyptian culture. Their fall internships placed them in a variety of organizations in Alexandria; the most popular was the Bibliotheca Alexandria, where they engaged in translation, research, and writing for several departments within the library. Other students worked on awareness-building of women's issues through a government-sponsored NGO. For students interested in music and art, the Gudran Foundation offered them a chance to work side-by-side with some of Alexandria's musicians and artists.
Additionally, the homestay component of the program offered five students the opportunity to live in an Egyptian home, reflective of a variety of social backgrounds, including staying with a retired university dean, medical doctor, lawyer, and an evangelical minister. The homestay experience offers deeper insight into the Egyptian culture, which is absorbed at a more leisurely pace as a student comes to know his or her host family more intimately.