Image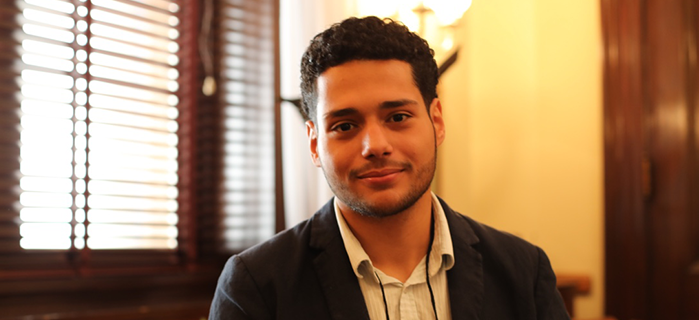 Editor's Note: Earlier this year, select high school exchange students participated in a week-long Civic Education Workshop, which culminated in a single day of meetings on Capitol Hill, where students were thrilled to be in the "People's House" and meet their host representatives.
 

Habib Debaya, Kennedy-Lugar Youth Exchange and Study student
From Tunisia; Hosted in Nebraska
As he waited for his meeting with a staffer from Senator Deb Fischer's office, Habib explained that he was proud to be hosted in Nebraska. He has taken five AP courses at his high school, including macroeconomics and government, and he has learned how to play American football. When the staffer asked him to describe his program, he was ready.
"Everyone gets a different experience, but it's all America," he said. "When we return to our home countries, we're able to bring the skills we develop here to our local communities."

Habib plans to study medicine, but he said maybe later in life, he'll also give back to his country by pursuing politics. 

"Now I see when I go back to my country, it's going to be a different way of seeing things," he said. 
---
Lajla Buric, Kennedy-Lugar Youth Exchange and Study student
From Bosnia and Herzegovina; Hosted in Indiana
Lajla couldn't stop smiling as she recounted shaking hands with the senator of her host state, something she said she never would have believed could happen. 
"He said my ears were cute," she said with a smile, adjusting her cat ear headband. "I was a good representative of my country and a good ambassador." 
"It was high pressure," she added.
She looks forward to returning home, armed with a notebook full of ideas from her week at the Civic Education Workshop.

"I have a young country," she said. "I want to take part in making it better."
---
Teif Elmoslamy, Kennedy-Lugar Youth Exchange and Study student
From Kuwait; Hosted in Michigan
After meeting with a staffer from Senator Gary Peters office, Teif said she was energized to, "save the world, one community at a time."
After meeting Lajla on the first day of the week-long workshop, she knew she had made an instant friend. The two teens crowded next to each other in the cafeteria of the Dirksen Senate Building, swapping stories about their congressional meetings and stories from their host communities. Teif, for instance, started a trend at her high school, to greet friends with the American Sign Language symbol for "I love you." She said it was an extension of her outreach presentations, which shared her culture as a Muslim woman from Kuwait.

"It's a thing everyone does now," she said proudly before Lajla jumped in to brag.
"You are the only [Muslim] they know and they will always associate you with love," Lajla said.
---
Yana Humeniuk, Future Leaders Exchange student (far right in photo)
From Ukraine; Hosted in Maine
She initially thought Maine would be similar to her home in Ukraine, so she looked forward to visiting other places. But she found that every time she left her host home, she missed it, especially her host family. 
"They teach me about American culture and I teach them about Ukraine," she said. 
After shaking hands with Senator Angus King, who has hosted an exchange student in the past, she was quick to gush about her host state.
"I love my experience here and I really love Maine," she said.
---
Ahsan Riaz, Kennedy-Lugar Youth Exchange and Study student
From Pakistan; Hosted in Idaho
Moments after a surprise meeting with Senator James E. Risch, Ahsan was still in disbelief. He had only been scheduled to speak with a staffer when the senator himself popped in.
"No one gets the opportunity to do this," he said with a smile. "I can't explain the feeling that's in my heart when I think of it." 
---
About the Civic Education Workshop
The Civic Education Workshops provide an opportunity for participants to learn firsthand about the U.S. federal system of government and other important concepts through seminar discussions, briefings, dialogue with policymakers at the State Department, and meetings on Capitol Hill. Participants increase their knowledge and build their capacities and commitment to community service when they return to their own countries.
The program is offered to students on the Future Leaders Exchange (FLEX) Program, Kennedy-Lugar Youth Exchange and Study (YES) Program, and Congress-Bundestag Youth Exchange Program (CBYX), which are all funded by the U.S. Department of State.