Image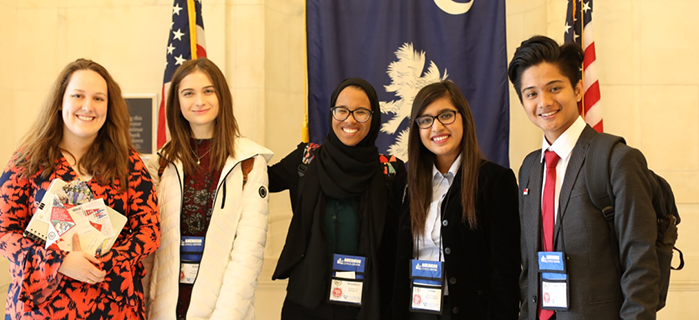 An exchange student has many new experiences during an academic year in America: new foods, new places, new schools, and new families. For a select group of students each year, that list includes meeting elected officials in Washington D.C. through the Civic Education Workshop.
This year the workshop celebrates its 25th anniversary. The weeklong event, which is funded by the U.S. Department of State, offers exchange students a closer look at how American civil society functions. Students participate in workshops about First Amendment rights, grassroots volunteer efforts, foreign policy, and more. Alumni of the program often report that the most exciting event is "Hill Day," when they have a chance to meet with elected officials on Capitol Hill.
Tim Hair is a Program Manager at American Councils for International Education, which implements the Civic Education Workshop.
"[The Civic Education Workshop] was created based on program initiators' belief that it was very important to have an exchange of ideas about civics and democracy and country governments," Mr. Hair said. "I think it is very important for young people to discuss issues that the world is currently facing. Obviously, the issues have changed over the past 25 years, but the importance of discussing them has remained the same, and providing students more historical background about an issue does help them understand and give them some perspective."

This year alone, students took part in more than 500 meetings with members of Congress and their staff, representing students' host communities. Several of those meetings included Kennedy-Lugar Youth Exchange and Study student, Habib Debaya, a Tunisian teenager who is hosted in Nebraska.
"In Tunisia, I would never meet a politician," he said. "For me, an exchange student from North Africa, to meet a politician, it's quite a culture shock."
The workshop is also offered to exchange students on the Future Leaders Exchange program and the Congress-Bundestag Youth Exchange program. The workshop was created in 1994, the same year FLEX debuted, and later expanded to include YES in 2003.
Attending the workshop is the latest challenge for students who have already navigated a competitive process to earn a spot on their respective exchange programs. For some students, the workshop is a defining moment during exchange. Alumni from Montenegro and Georgia have replicated the event in their home countries, and numerous alumni from around the world have been inspired to work with organizations in the civil society sector.
"The overall impact of the program is both immediate and long-term," said Megan Lysaght, program manager for the Kennedy-Lugar Youth Exchange and Study Program. "Students finish the week feeling energized to maximize their impact when they return home. Once Civ Ed students become alumni, they have a proven track record of leading both their fellow alumni community and in their chosen professions."
---
About the Civic Education Workshop
The Civic Education Workshops provide an opportunity for participants to learn firsthand about the U.S. federal system of government and other important concepts through seminar discussions, briefings, dialogue with policymakers at the State Department, and meetings on Capitol Hill. Participants increase their knowledge and build their capacities and commitment to community service when they return to their own countries.

The program is offered to students on the Future Leaders Exchange (FLEX) Program, Kennedy-Lugar Youth Exchange and Study (YES) Program, and Congress-Bundestag Youth Exchange Program (CBYX), which are all funded by the U.S. Department of State.