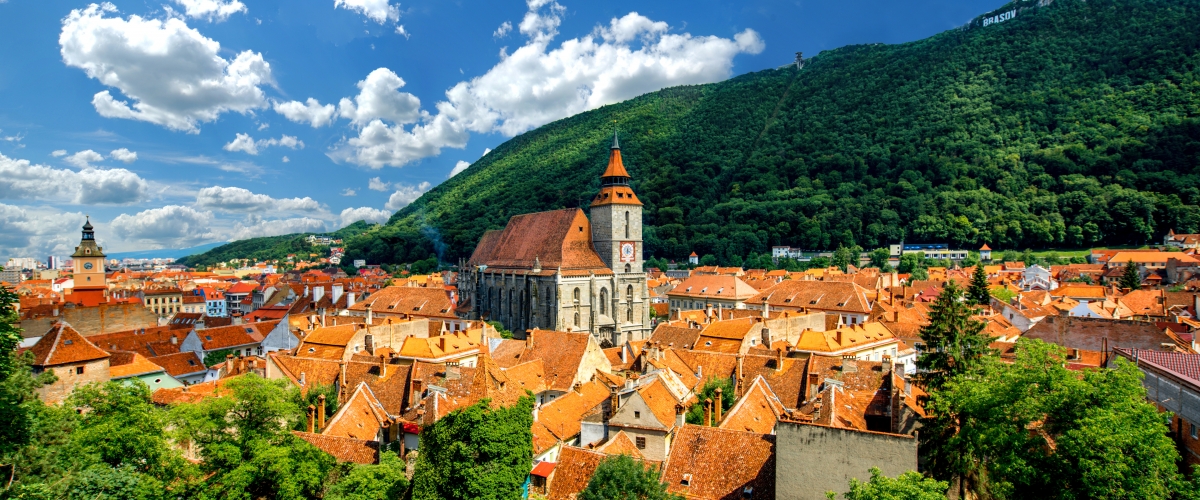 AC Romania is in Bucharest, a vibrant and colorful city situated on the banks of the Dambovita River. In the period between the two World Wars, Bucharest's elegant architecture and the sophistication of its elite earned it the nickname of "Little Paris." According to a recent census, nearly two million inhabitants live within the city limits, making Bucharest the sixth-largest city in the European Union by population.
In 2015, we launched AC Romania with one staff member at an office hosted at the Romanian American University. Today, our team of six operates from the city center of Bucharest in an area called Victory Square. 
Currently, AC Romania coordinates on two major programs: the Future Leaders Exchange (FLEX) and recruitment for the American University in Bulgaria (AUBG). Despite keeping busy with these large-scale initiatives, we never pass up the chance to deliver training to young people through various partnerships. One of our most recent efforts was a youth camp called Girls Up! that promoted confidence and self-esteem amongst Romanian girls and young women.
We've welcomed back two cohorts of Romanian FLEX alumni in 2017 and 2018 (with 2019 soon to follow). We also work with program alumni from across Moldova. So you can often find us hosting social evenings and networking events.
We pride ourselves in our strong partnerships with the US Embassy, the Ministry of Education, American Corners, the Israeli Embassy in Romania, Tei Youth Center, and a dense network of schools, universities, and other key partners across Romania.
Featured Programs
4/4 For Friends: Sponsored by the US Embassy in Romania, we spent a day performing community service with local youth to promote volunteerism and honor the legacy of Martin Luther King, Jr. This project began small but now includes 4,000 volunteers, 250 local partners from 38 counties, and more than 10,000 volunteering hours combined. Two new partners recently joined on: Coca Cola HBC Romania and UrgentCargus Romania. On our last day of service - April 4th, 2018 - several celebrities and Embassy staff joined the volunteering, including: His Excellency, the US Ambassador to Romania, Mr. Han Kleem; Deputy Chief of Mission Abbigail Rupp; Public Affairs Counselor Ron Hawkins; His Excellency the Romanian Prince Nicholas and his wife; Rio 2016 Olympic Champion in Fencing Loredana Dinu; singer Doru Todorut; and soprano Irina Baiant. This 2019, we will continue our work with the US Embassy and expect to attract more than 5,000 volunteers.
Camp Kennedy: Sponsored by the US Embassy in Romania, this project empowers 25 Romanians ages 16-18 (in 2017) and 15-17 (in 2018) to become active citizens, improve their English language abilities, and about US democratic values. Our goal is to provide these young citizens with tools to engage in lifelong civic activism and social responsibility. The camp includes study visits at the DNA department, Parliament, the Presidency, and government. We are proud to now partner with the Ministry of Youth and Sports, which provides accommodation and meals for all camp participants at one of its youth centers in Bucharest.
Elie Wiesel Study Tour: This initiative is sponsored by the US Embassy in Romania and organized in partnership with the Embassy of Israel in Romania and the National Institute for Holocaust Studies. The Elie Wiesel study tour is for high school and university students (ages 18-25) from across Romania, with knowledge on the Holocaust and communism and a strong motivation to study more on these topics. The 2017 tour (our first iteration) earned a special prize at the National Youth Gala for its promotion of gender equality and combating discrimination. We held our second tour in July 2018, which included an extended agenda with stopovers in Slovakia and Hungary, and a pre-departure orientation seminar sponsored by the Tei Youth Center in Bucharest. We also welcomed new partners, including the US Consular Section and the Jewish Culture Center in Krakow. The Elie Wiesel Study Tour will return in 2019, thanks to support from both the US and Israeli Embassies.
---
Featured Media
Contact Us
Frumoasa Street,
No.8, Ground Floor,
010987 Bucharest
Romania