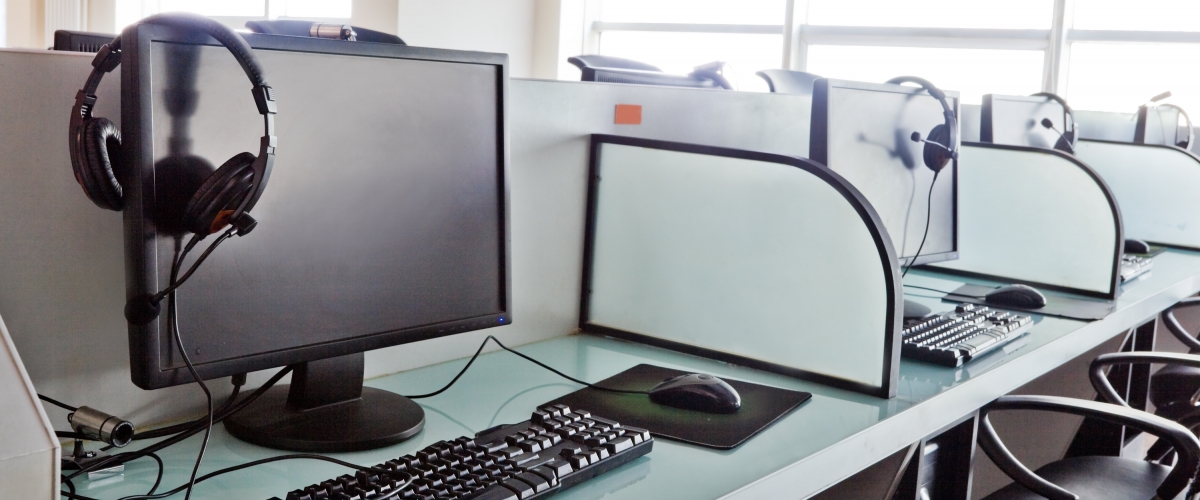 The National Examinations in World Languages (NEWL) is an online proficiency exam for language learners of Arabic, Korean, Portuguese, and Russian seeking college placement and/or credit.
Test Center Requirements
Typically, lab-based NEWL exams are administered at the school attended by the examinees. Sometimes, however, this is not possible and the students must travel to another school or an independent testing center. Although American Councils provides a list of known testing centers that have hosted students in the past, it is the responsibility of the teacher or exam coordinator to find an outside testing center and make arrangements for lab-based exam administration.
Personnel Requirements
In order to effectively set up and administer the lab-based online assessment, we require that each test center provide a proctor and lab technician. American Councils staff follows up with every test center to ensure that they are properly equipped to successfully administer NEWL, and for that reason, these individuals must be fluent in English.
 
Proctor
A proctor is a person who logs in and monitors the examinees during a lab-based examination. To the extent possible, this person should not have knowledge of the targeted language, nor have any stake in the examinees' results (e.g., the examinees' teacher or program coordinator). Proctors will receive their instructions directly from American Councils using the email address provided.
 
Lab Technician
A lab technician is generally a computer lab administrator or assistant. This person is responsible for setting up the lab before a lab-based exam is administered. They will be coordinating with American Councils staff in order to set up workstations and perform quality assurance tests for each workstation. Lab techs will also receive instructions directly from American Councils using the email address provided.

The number of admin personnel will depend on the number of examinees and testing rooms.
 
Network Requirements
The main requirement for these sections is 1,500 kilobits per second, per student.

You can easily check your bandwidth by going to: www.speedtest.net
 
Computer Requirements
The following requirements must be met for each machine to administer the exam:
Hardware (Macintosh or PC)
Mac or Windows workstations (laptops are not recommended and student-owned laptops are prohibited)
2GB+ RAM
A good set of headphones (built-in microphone recommended but not required)
A working microphone (can record clear audio without interference)
Software
Windows 7+ OR Mac OS 10 (any version)
A Web Browser (Chrome (recommended), Firefox, Safari, or Internet Explorer)
NOTE: Browsers will need to be set to accept cookies from exams.actesting.org
At least one week prior to your exam, you will need to certify as many workstations in your lab as the number of students tested (with a few extras in case of emergency). We recommend that, for every five students, you have one extra machine set up. Please see table below.
 
Extra Machine Setup
Easy math: # of students x 1.20
| | |
| --- | --- |
| # of Students | # of Extra Machines |
| 1-5 | +1 |
| 6-10 | +2 |
| 11-15 | +3 |
| 16-20 | +4 |
| 21-25 | +5 |
| 26-30 | +6 |

Register as an Independent Test Center
If you are an independent test center* interested in allowing outside students to take the lab-based NEWL exam at your center, please register below

REGISTER AS A TEST CENTER

*Such as a library, university computer lab or separate testing facility.
Note: If you are a school with students interested in taking a NEWL exam, please fill out a NEWL application here.

 
How You Can Help
By becoming an official NEWL Test Center, you allow interested students to take the NEWL exam(s) at your computer lab. This is especially beneficial for homeschooled students or students whose schools do not have a valid computer lab. You help accelerate students' college degrees by allowing them to possibly earn college credit through NEWL scores.
 
Get Involved
Your institution is listed on the NEWL website as an approved test center, which gives your center exposure and informs students that your lab can be utilized for outside test administrations. The test center will receive a certificate upon completion of the administration (per year) thanking them for their service and helping students further their education. The test center will receive $9 per student tested. Please note that test center forgoes its $9 for students who take the exam using a reduced fee.