STARTALK-DLI Clearinghouse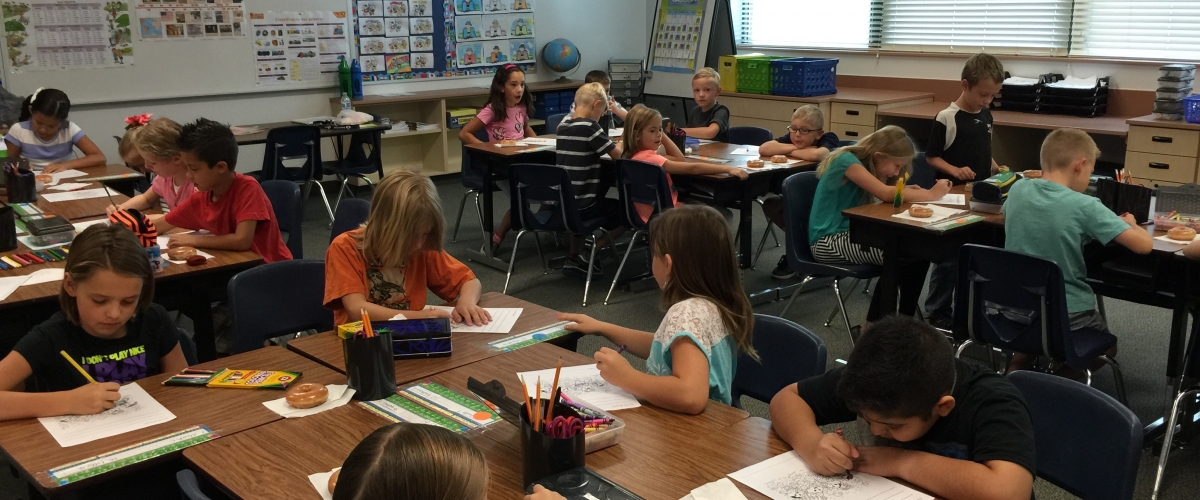 STARTALK
STARTALK is a program funded by the National Security Agency and administered by the National Foreign Language Center at the University of Maryland. STARTALK's mission is to increase the number of US citizens learning, speaking, and teaching critical need foreign languages. STARTALK supports summer programs for students (K-16) and teachers. See: startalk.umd.edu
DUAL LANGUAGE
Dual language education teaches literacy and content in two languages. While the majority of dual language programs in the US teach in English and Spanish, an increasing number use a partner language other than Spanish, such as Arabic, Chinese, French, and others. Typically, dual language programs use the partner language for at least half of the instructional day throughout elementary school.
Generally, these programs start in kindergarten or first grade and extend for at least five years; many continue into high school. These programs aim for bilingualism (the ability to speak fluently in two languages), biliteracy (the ability to read and write in two languages), academic achievement equal to or better than that of students in non-dual language programs, and cross-cultural competence. Dual language programs can be found in public, charter, magnet, and private schools. See: en.wikipedia.org/wiki/Dual_Language
STARTALK-DLI Partnership
This initiative addresses needs within the language education field in two ways:
Incorporating Dual Language Immersion (DLI) programs, which are rapidly emerging across the country, into the STARTALK network creates a natural K-12 progression in language learning by connecting academic-year study with summer learning.
Incorporating STARTALK critical language programs into the DLI system is a natural mechanism to maintain and improve student competence over the summer break, to promote retention in academic programs and provide local incentives to establish new DLI programs in these languages.
The Clearinghouse
The Clearinghouse is intended as a resource for educators and administrators invested in critical language learning. It offers expert information, data, and resources related to STARTALK and Dual Language Immersion education to inform partnerships between these two programs.
History
The STARTALK-DLI partnership initiative has been funded by two STARTALK Infrastructure Projects from the NFLC:
In 2017, to determine the feasibility of the partnership between STARTALK and Dual Language Immersion (DLI); and in 2018, to build exemplary partnerships and pilot the sustaining infrastructure, known as the Clearinghouse. In the 2017 project, the Clearinghouse website concept was vetted with experts in both STARTALK and DLI, and with the leadership of NFLC and American Councils. Experts also agreed to be members of the Clearinghouse's advisory board. In the 2018 project, the advisory board members were consulted for the design and planning, including Clearinghouse functions and resources.
The site currently is housed within the American Councils website and serves as a pilot to be vetted among STARTALK and DLI experts, as well as existing partnerships. If an additional year of funding through a 2019 Infrastructure Grant is approved, more resources will be added, and the Clearinghouse will be fully deployed. 
STARTALK-DLI Operation Logic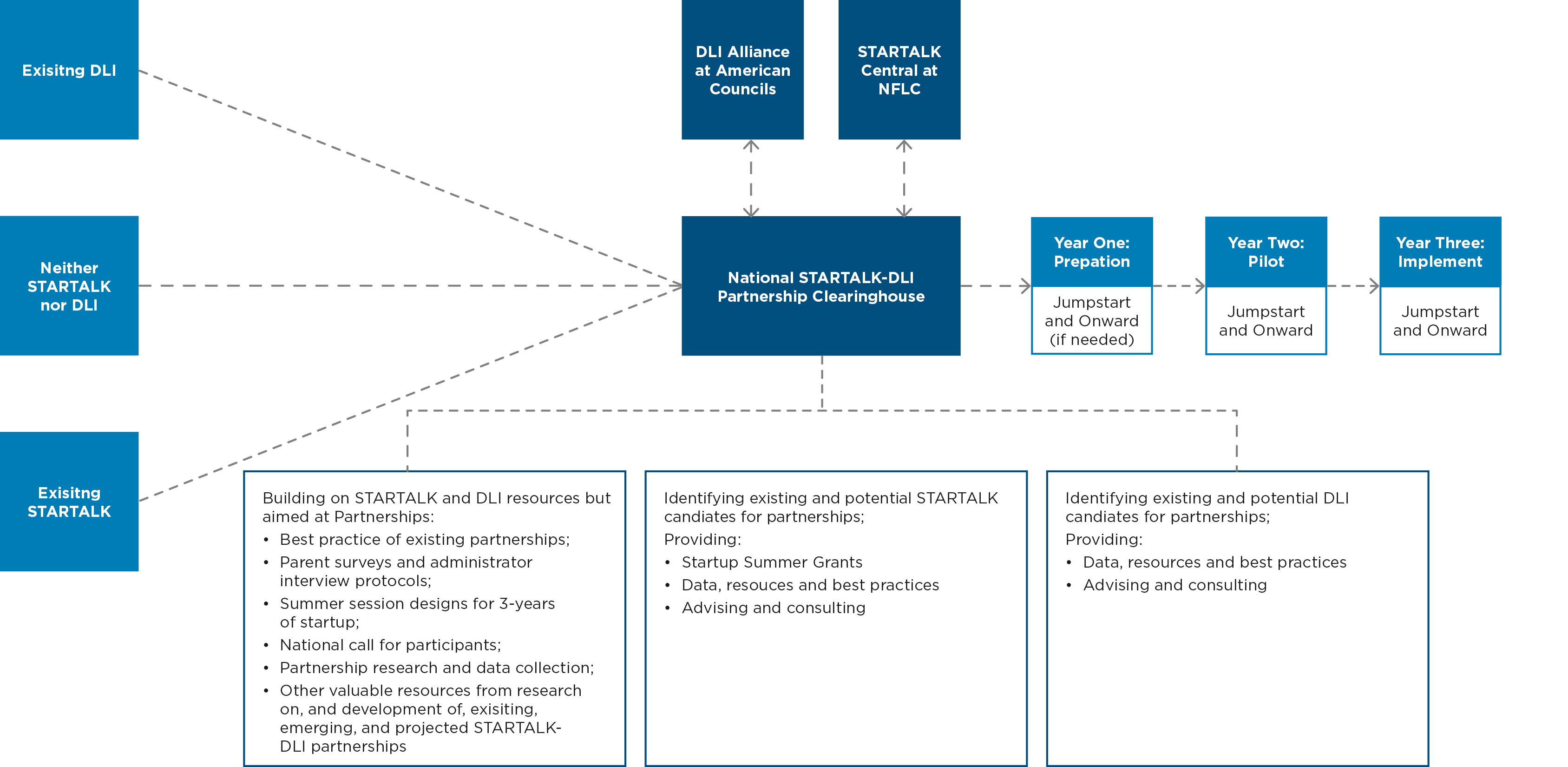 The preceding graphic is intended to illustrate how the partnership would function. 

First, any existing school or district desiring to strengthen its DLI program with a summer session goes to the Partnership Clearinghouse for the relevant information and services listed in the lower boxes. If further information is needed on STARTALK, the direct link is provided.

Depending on whether the DLI program is just beginning or continuing -- and assuming that any successful partnership will take anywhere from one to three years to plan, pilot, and implement -- examples of existing partnerships under these specific conditions will be provided.

This information is based on past experience assisting schools and districts seeking to implement, extend or improve their Dual Language Immersion (DLI) programming with the addition of summer programming provided by STARTALK.

Examples will be added regularly to provide justification for investing in this initiative as well as to offer guidance in design, implementation, and funding.

While the Clearinghouse supports partnerships seeking to improve teaching and learning through summer programs, its ultimate vision is to encourage schools and districts to establish summer student, teacher, and combined programs on their own that complement yearlong DLI programming.
Advisory Board
This effort is guided by an advisory board comprised of nationally-recognized researchers and practitioners in STARTALK, Dual Language Immersion, and language acquisition.
Michael Bacon, Director of Dual Language, Portland Public Schools
Peggy Boyles, President of Peggy Boyles and Associates, consulting on foreign language curriculum, assessment, professional development, and program evaluation.
Richard Brecht, Co-Director, American Councils Research Center; Professor Emeritus, University of Maryland
Dan Davidson, Director, American Councils Research Center; President Emeritus, American Councils for International Education
Myriam (Mimi) Met, Ph.D., Independent consultant working with more than 150 Dual Language Immersion programs in and beyond the US since 2009.
Gregg Roberts, Director of Dual Language Studies, American Councils Research Center
Robert (Bob) Slater, Coordinator, National Alliance for Dual Language Immersion Research; Co-Director, American Councils Research Center
Ann Tollefson, Independent consultant on Dual Language Immersion and STARTALK, with a particular focus on teachers
Project Sponsor
The National Security Agency's STARTALK language program at the National Foreign Language Center at the University of Maryland sponsors this project.
The American Councils Research Center (ARC) and the National Alliance for Dual Language Immersion Research (NADLIR) are responsible for its implementation.
Project Team
ARC staff: Richard Brecht (project lead), Gregg Roberts, Robert Slater
Consultant: Ann Tollefson
Team leader: Peggy Boyles
Advisors: Michael Bacon, Mimi Met