Image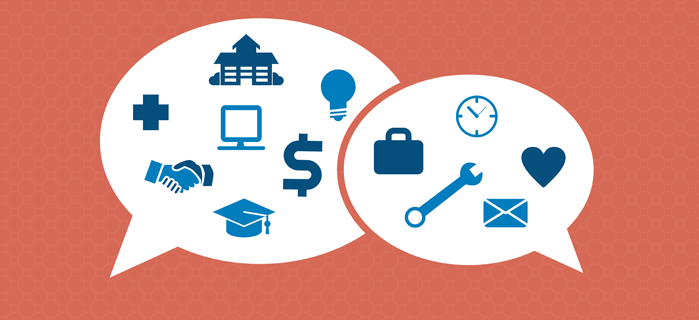 Take your language skills beyond the classroom and use your second (or third or fourth!) language to make a difference in the lives of others. Even if you are just practicing your skills and aren't fully proficient, these are great opportunities to go beyond a conversational partner, study group, or class.
1. Support displaced Syrians through Arabic conversation practice
NaTakallam, a language startup by Columbia University grads, provides online language learners a new opportunity to learn Arabic from native speakers all while giving Syrian refugees a means of gainful employment.
Meaning "we speak" in Arabic, NaTakallam connects Arabic learners with Syrian refugees for authentic conversation practice. It doesn't get much better than practicing a language and helping your conversation partner and their family work towards a more stable life at the same time.
Bonus: If you're looking to expand your Arabic skills more or want to be involved in a great cause for the Arabic speaking community, connect with our friends at the #ISpeakArabic campaign.
2. Teach a language class to underserved students
Not all schools across the US offer foreign language classes. In fact, foreign language classes are often the first to be cut from the curriculum when budget cuts come into play. Students enrolled in low-income schools are disproportionately affected by school budget cuts and consequentially, receive far fewer opportunities to learn a world language.
If you speak a second language, consider teaching an introductory language and culture course to students who may never otherwise receive exposure to another part of the world during school. It could change their life.
Bonus: If you're in the Washington, DC area, have we the group for you! Visit the D.C. Language Immersion Project and get involved in civic diplomacy, support your love for language learning, and help those so urgently in need.
3. Contribute to Google Translate to help refugees
Do you speak English and Arabic? Google (and refugees) need you. Groups of people living in conflict zones the world over are on the move. These individuals often rely on apps like Google Translate to understand signs and even conduct conversations with people in a new country when they first arrive.
Google announced last year the need for more translation contributions from English and Arabic speakers. Every word translated assists a person fleeing violence to communicate and locate resources more effectively.
Bonus: You will even earn badges and recognition from the Google Translate community for each contribution. That's a kind of social media badge you can be proud to share (not that earning Snapchat Trophies aren't cool on a different level).
4. Volunteer with multicultural communities in your city
Mandarin-speaking elders need the same company and kindness as English-speaking elders in nursing homes. According to the Center for Applied Linguistics (CAL), Hindi is the 4th most commonly spoken language in homes with school-aged children in the US Homeless shelters open their doors to people of many linguistic backgrounds. Emergency services struggle to provide translation services for different language communities. After-school programs or tutoring would enormously benefit from your contribution.
Most cities have pockets of heritage speakers. Local language corps often seek volunteers with specific language skills to reach out to these diverse and often underserved groups of people. You can use your language skills to help bridge the cultural gap in public services in your community.
Bonus: Our colleagues at CAL have a pretty comprehensive list of heritage communities in the US to get you started.
5. Join a mission as a humanitarian professional
You don't have to be a medical professional or an expert in international development to contribute during a humanitarian crisis. Organizations like Doctors Without Borders or the American Red Cross often need dedicated translators and interpreters with specific languages during natural disasters.
Language volunteers are not only needed on the ground, but sometimes in the US too as organizations work to coordinate large amounts of supplies, logistics, and people during response efforts.
Bonus: Tell them American Councils sent you because #LanguageMatters in so many different ways.