Image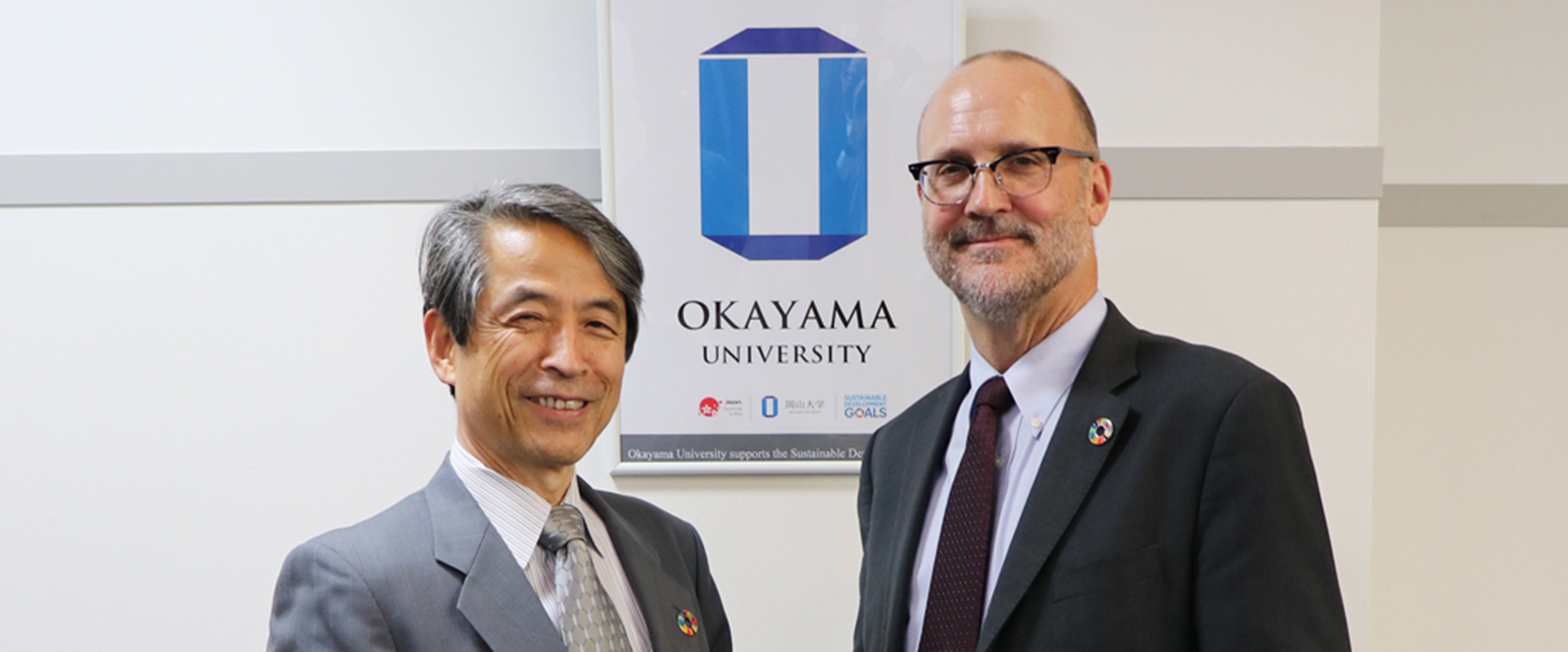 American Councils was proud to participate in an international symposium at Okayama University, a Critical Language Scholarship (CLS) partner, to discuss the United Nations Sustainable Development Goals (SDGs) and US-Japan relations as part of the university's 70th-anniversary celebration. 

The international symposium, "Towards Greater Okayama as the Center for the US and Japan Youth Development to Advance the Sustainable Development Goals (SDGs)," included panel discussions featuring American Councils' Acting President David Patton, Ph.D., CLS Program Assistant Director Andrew McCullough, and four participants currently studying at Okayama University on the CLS program. During the panel, the CLS participants contributed to the discussion showcasing the Japanese language skills they have honed this summer.  
John Cuturic, who attends Kent State University, described the experience of speaking in formal Japanese in front of 200 attendees as a nerve-wracking, yet exciting opportunity. In addition to studying language this summer, he and the other participants have learned about SDGs, and he hopes to continue developing his knowledge of both.  

"One of the best ways we CLS students can use our experience in Japan to contribute to meeting the SDGs is to help facilitate international partnerships," he said. "Seeing the work [on SDGs] that's being done at Okayama University and in the rest of the prefecture has inspired me to get more involved in the future."

Western Kentucky University student Jayden Thomas shared his experience promoting SDGs through his role in the student government association. He explained that while sustainability is often boiled down to "going green," it needs to include a focus on social issues, like reducing poverty and food insecurity. 

"It means teaching people what small steps they can take to make the world a better place," he said.

Hirofumi Makino, M.D., Ph.D., the president of Okayama University, invited American Councils to the event during a visit to Washington, DC last year.

During the symposium, Dr. Patton was invited to deliver a keynote speech, highlighting how American Councils promotes the SDGs through partnerships with universities and institutions around the world. Dr. Patton also highlighted several notable alumni who studied Japanese through CLS, including an entrepreneur who has created opportunities for more students to study in Japan and an engineer at Apple. 
"There is a direct correlation between success on an intensive, overseas academic immersion program and a person's increased ability to engage in complex and nuanced problem-solving," Dr. Patton said. 
"The fact that we are seeing accelerated professional growth in alumni of CLS and other well-designed programs comes as no surprise."  
While the focus of the CLS program is intensive language immersion, Dr. Patton explained that the alumni are also learning how to engage in a global economy, among other key skills. This is one of the common ties among all American Councils' alumni, he noted. 

"A local education is no longer adequate in today's global economy," he said. "The need for an international skill set has never been so acute. There is no better or more effective way to build these critical skills than a well-designed international education program. Ensuring that more Americans and international participants have the opportunity to take part in these programs is at the core of American Councils' mission."