Image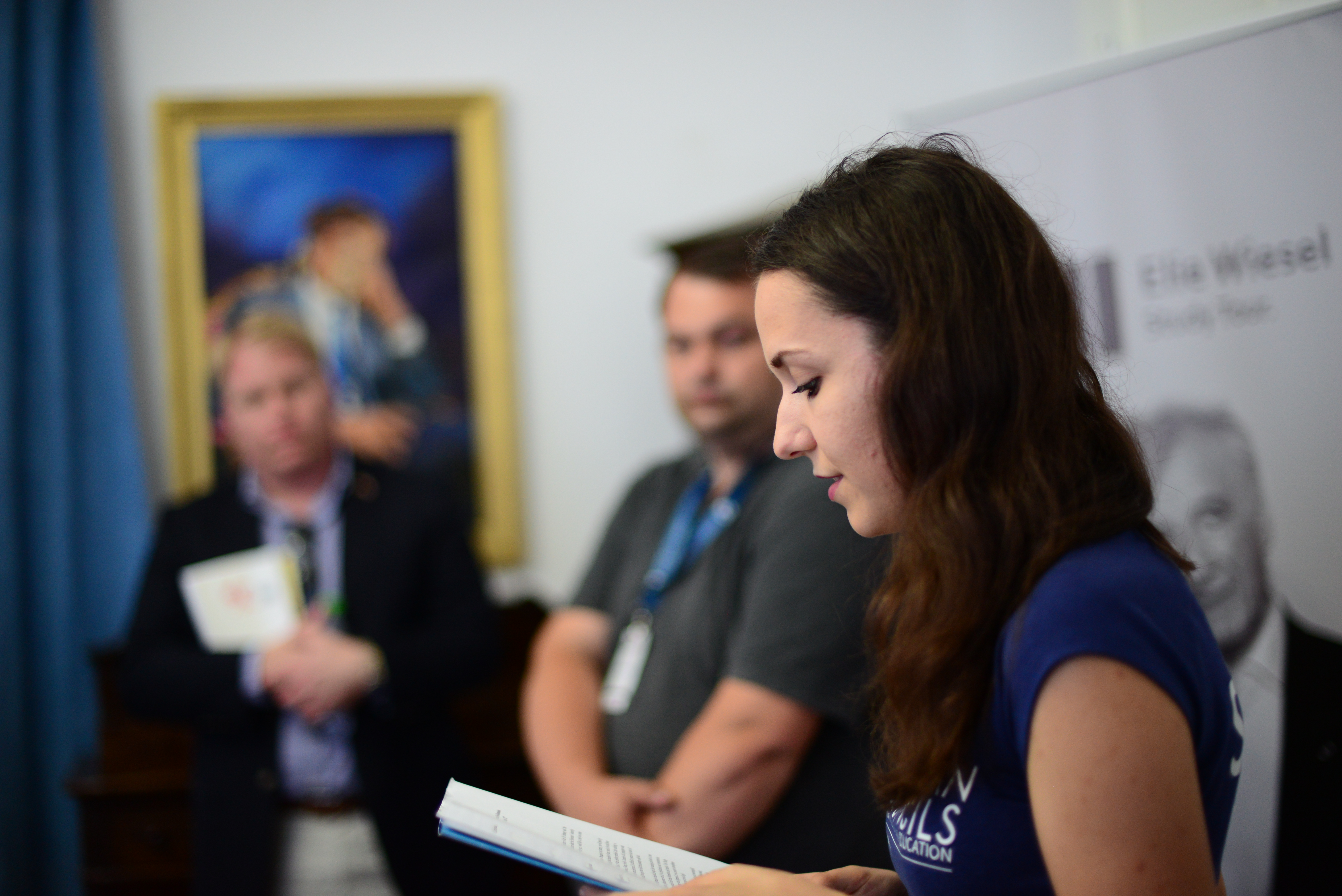 American Councils for International Education won two national awards last week at the Romanian Youth Gala.
BACAU, Romania--American Councils for International Education won two national awards last week at the Romanian Youth Gala.
American Councils Romania earned second place in the cultural category for the 2017 Elie Wiesel Study Tour, which shared Holocaust-era history with a group of students. The tour also won a special award for combatting discrimination and promoting gender equality.
The Ministry of Youth and Sports in Romania each year honors projects that support youth around the country. This year, there were more than 100 entries in the competition.
Ramona Omet, program coordinator, said the special award was a thrilling surprise.
"I climbed the stage and tried to find a few words to say," she said of the announcement. "It's a great honor."
Elie Wiesel was a Romanian-born Holocaust survivor who became a writer, professor, and political activist, speaking out about the horrors he lived through until his death in 2016. He was awarded the Nobel Peace Prize in 1986.
The Elie Wiesel Study Tour was funded by a grant from the US Embassy in Romania to help young Romanians (aged 18-25) better understand the history of the Holocaust through discovering the life and work of Elie Wiesel. Eliza Chirila, a country representative for American Councils Romania, said the Embassy has already granted funding to hold the program again in 2018.
The tour includes a visit to Auschwitz and the Schindler Factory in Poland and the Elie Wiesel Memorial House in Romania. Following the program, which included discussions, movies, and thematic workshops, all 2017 participants held follow-up activities in their schools, universities, and local communities.
"If we are not aware of the errors of the past, we may do them again," Ms. Chirila said. "We need to be fully aware of what respecting human rights means, as well as global peace and equality. And what better way to learn this than by experiencing and visiting the places profoundly marked by history?"
---
About AC Romania
The American Councils office in Romania was established in September 2015, in the vibrant city of Bucharest. Situated in the north area of the city and hosted by the Romanian-American University, the AC office here is small but full of energy and activity.
Currently, the Romanian office coordinates two main projects: the FLEX exchange program's Romania component and recruitment for the American University of Bulgaria. Whether staff is welcoming the first Romanian FLEX Alumni on their return from a successful exchange year in the United States in 2017, working with alumni from Moldova, or engaging in new projects in innovation, the Romania office is never dull.
AC Romania has placed a priority on developing strong relationships with the US Embassy, the Ministry of Education, American Corners, and a dense network of schools, universities, and other key partners across the country. Learn more: americancouncils.ro or romania@americancouncils.eu