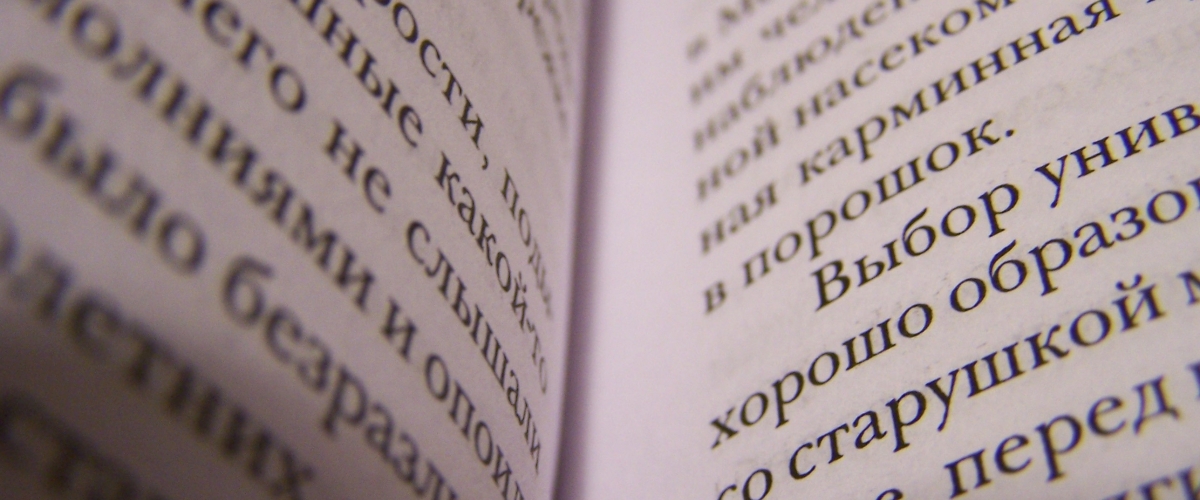 The National Examinations in World Languages (NEWL) is an online proficiency exam for language learners of Arabic, Korean, Portuguese, and Russian seeking college placement and/or credit.
Sample Items
We currently have a database of sample items for NEWL Russian pulled directly from previous exams, which we are continuously expanding. To review those sample items, please visit our NEWL sample items webpage at: https://exams.actesting.org/samples/newl/.
Please note that we at American Councils Assessment emphasize drawing exam materials directly from the cultures and contexts from which we are testing, so we would advise all instructors to have their students read and listen to authentic material (books, news reports, TV shows, etc.) and to prepare them to answer questions drawn from those sources. 
---
ABOUT RUSSIAN
The NEWL (Prototype AP) Russian test is intended for secondary school students of Russian language who wish to engage in a rigorous university-level study before high school graduation.

The Prototype AP Russian Language and Culture course is designed to provide students with a learning experience equivalent to that of an upper-intermediate (approximately second year) college-level Russian language course. Both traditional and heritage learners1 are encouraged to take the Prototype AP Russian Language and Culture course, a standards-oriented, proficiency-based course designed for students at Intermediate High to Advanced Low on ACTFL (American Council on the Teaching of Foreign Languages) scale.2

Such a course enriches students of all backgrounds in understanding Russian culture and furthering language proficiency. At the completion of the course, students are encouraged to take the Prototype AP Russian Language and Culture Exam. The exam is designed to provide a set of measures of functional proficiency in Russian for use as a predictive assessment for continued language study beyond high school and as a placement tool by American colleges and universities for entering freshmen with prior study of Russian.3
With its focus on proficiency, the Prototype AP Russian Examination is largely independent of any specific Russian curriculum in measuring student performances. It addresses the question, "How well do students perform in the language?"

Test specifications reflect The College Board World Languages Framework and the proficiency guidelines developed by the American Council on the Teaching of Foreign Languages (ACTFL).

Test items are based on the tasks, skill domains, and performance indicators published in the World-Readiness Standards for Learning Languages (W-RSLL).4 The World-Readiness Standards and the ACTFL Performance Guidelines for K-12 Learners represent some of the best current thinking among second language specialists on how well students should perform in a language (other than English), taking into account the student's particular stage in the learning process and the relative difficulty of the target language.
Consistent with the World-Readiness Standards for Russian, performance targets are presented at different proficiency levels in three modes of communication (presentational, interpretive, and interpersonal) and six domains (comprehensibility, comprehension, language control, vocabulary, cultural awareness, and communication strategies).
NEWL is endorsed by the American Council of Teachers of Russian (ACTR)5
THE RUSSIAN EXAM CONSTRUCT
The Prototype AP Russian examination consists of three subtests, all of which are aimed at the direct assessment of functional proficiency within interpersonal, interpretive, presentational modes of communication, based on authentic speech samples.
For information on test sections and times please see About NEWL
Each of the exam sections contribute equally to the overall final Prototype AP grade. The Prototype AP Russian Examination targets language skills at levels of difficulty that are appropriate for American second language learners of Russian, beginning with Novice High through Intermediate High levels.
Reading Comprehension
The reading comprehension section consists of short, authentic texts followed by one to three multiple-choice questions in English. Text types are varied and include a formatted layout, such as announcements, schedules, and brochures, as well as paragraph length. The topics range from personal information, basic needs, social conventions, and routine tasks, to formal announcements, pamphlets, etc., and to more advanced topics with lengthier prose text. Topics are those that will be of interest to high school students taking the exam and address both the interpersonal and interpretive modes of the Standards for Foreign Language Learning and are in keeping with the Fairness and Equity guidelines as put forth by Educational Testing Services.
Integrated Tasks
The writing and speaking sections will be based on an integrated task model, the same model used in the Russian written integrated tasks in the Russian Prototype-AP Examination prior to 2015.
The writing tasks will have audio prompts including prompts in the target language, to which examinees will submit their responses by typing in the target language, as they have in previous years. An appropriate target language keyboard must be enabled on each computer used for testing. The speaking tasks will have audio and written prompts. Examinees will use their headsets with microphones to record their spoken responses via a recorder embedded in the ACTesting browser window. You will not need to install any special software on the computers used for testing. Examinees will be able to use scratch paper to develop responses for both speaking and writing.
Trained raters will rate the speaking and writing responses against the ACTFL proficiency scale, and score reports will include the overall NEWL numeric score (1-5) and a suggested ACTFL-equivalent score for each skill.
Scoring the Prototype AP Russian Exam
Students' scores on the writing and speaking sections are combined with the results of the computer-scored multiple-choice questions. The multiple-choice scores are converted to proficiency scores using cut-scores, which are set during a standard-setting meeting. The scores on each section are combined and their appropriate weighted contribution to the final composite score is factored in. The composite scores for the Prototype AP Russian Language and Culture Exam are converted to the 5-point AP scale:
| | |
| --- | --- |
| NEWL (5-point) Grade | Suggested Semester Placement |
| 5 | 5th (first semester of third-year) |
| 4 | 4th (second semester second-year) |
| 3 | 3rd (first semester of second-year) |
| 2 | 2nd (second semester of first-year) |
| 1 | 1st (first semester of first-year) |
References
Native speakers are individuals whose first or primary language is Russian and were educated principally in Russian, in Russian speaking countries. Heritage learners are speakers of Russian heritage who were educated primarily in the US and learned Russian at home; they differ from native speakers in that they were not educated in Russia.
 
See the ACTFL proficiency scale at www.actfl.org.
 
See Marshall, Camelot. "Examining the Validity of the 2010 Prototype AP Russian Exam through a College Comparability Study," in The Russian Language Journal (Volume 60, 2010).
 
National Standards in Foreign Language Education Project (NSFLEP). (2014). World-Readiness standards for learning languages (W-RSLL). Alexandria, VA: Author. Retrieved from: http://www.actfl.org/publications/all/world-readiness-standards-learning-languages.
 
Full endorsement from The Board of Directors of the American Council of Teachers of Russian (ACTR) http://www.actr.org/uploads/4/7/5/1/47514867/actr_endorsement_of_newl_russian.pdf