POLAND-U.S. INNOVATION PROGRAM (PLUS-IP)
Symposium on Clusters and Regional Economic Development: October 8-9, Warsaw, Poland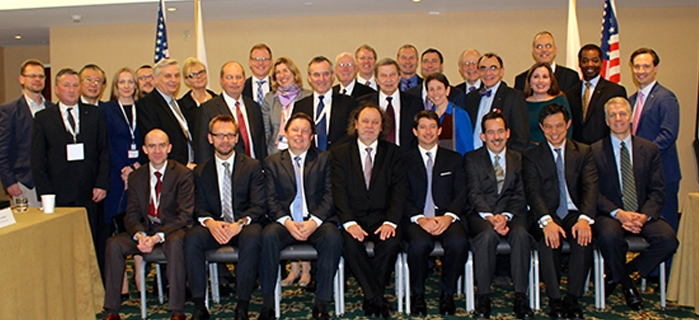 What: Poland-U.S. Innovation Program (PLUS IP) Symposium on Clusters and Regional Economic Development
Where: Marriott Hotel, al. Jerozolimskie 65/79, Warsaw, Poland
Hosted By: Polish Clusters Association and American Councils for International Education
Date: October 8-9, 2015
Time: 9:30-18:00
Venue: Warsaw Marriott Hotel, al. Jerozolimskie 65/79
Cost: Free
About the Poland-U.S. Innovation Program
PLUS-IP (POLAND-U.S. INNOVATION PROGRAM) is a public-private partnership between the U.S. Department of State and the Ministry of Science and Higher Education of the Republic of Poland to advance bilateral innovative ventures and R&D across government, business, and academia. PLUS-IP promotes access to capital, more rapid and effective commercialization of technology, strengthening and expanding regional innovation clusters, improving collaboration in key economic sectors, and fostering the innovation ecosystem.
The Poland-U.S. Symposium on Clusters and Regional Economic Development on October 8 will serve as the first symposium devoted to Poland-U.S. regional cluster collaboration, and facilitate discussion among cluster organizations, business and industry associations, regional government, and universities. The Symposium provides the unique opportunity for U.S. and Polish experts to exchange best practices on cluster development, explore opportunities for collaboration, and identify areas to strengthen the development of innovative ventures through the cluster model. The program on October 9 will be devoted to site visits at leading technology startup incubators, and meetings with Polish government officials working in cluster and economic development.
For More Information and to RSVP
To learn more about the Symposium and to register, please contact Paweł Nowicki – Polish Clusters Association, Board Member (p.nowicki@btminnovations.pl) and Adrian Erlinger – American Councils for International Education, Program Manager (aerlinger@americancouncils.org).
Follow the conversation on Twitter #PLUSIP